This post is sponsored by VTech. All opinions are my own.
I'm really close with my grandparents and our family even has a great relationship with all three sets of my husband's grandparents. We are so grateful to still have them so much a part of our lives. When Christmas rolls around, we are often brainstorming on what would be a great gift for grandparents. Here are some great gift ideas for your loved ones.
5 Great Gifts for Grandparents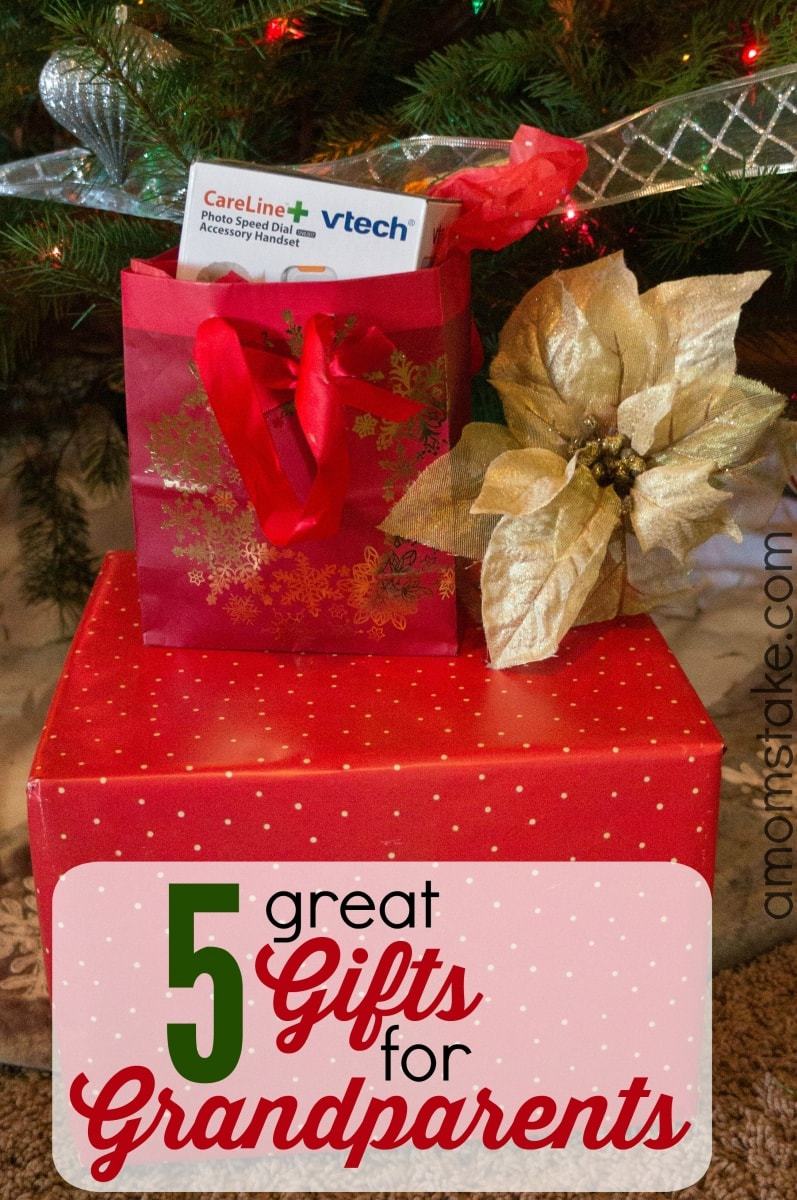 Pictures – The years our family gets a new professional family picture, this is always our go-to gift. A 4×6 or 5×7 sized picture is perfect for grandparents as they often prefer lots of smaller pictures to show off all the grandkids or family members to one larger picture. Pick out an inexpensive picture frame and send out your family pictures already framed as a nice gift for your grandparents.
Clock – A clock is a meaningful gift that is also useful for their home throughout the year. Pick a clock with large easy read numbers whether you choose something for an end table or from the wall. You can also look into watches or a classic timepiece for grandpa.
Blanket – Blankets are a wonderful gift – like delivering a warm hug – when you can't be near. You can make a personalized blanket with your family photo, quilt something so it's homemade, or choose a heater blanket if they need even extra warmth. There are a ton of varieties to choose from so it's a sure pick for any grandparent.
Restaurant Gift Cards – Grandparents love to get out of the home and enjoy a meal together. Pick out a restaurant with a mellow atmosphere and keep dietary restrictions in mind. There is nothing that excites my grandparents quite like a restaurant gift card. They always end up inviting us along to go out to eat with them, which makes for a fun and memorable gift.
Safety Items – As your grandparents age and need additional help and care, a really thoughtful gift is something that can assist them in their day-to-day lives. Think of items like a GPS to help them navigate around town or a safety home phone system that will help you stay connected and protect your grandparents.
On the 9th day of Christmas my grandkids gave to me.. peace of mind and security! This year, we will be giving my grandparents a VTech CareLine™ Home Safety Telephone system. These phones will help my elderly grandparents stay connected with their loved ones without frustrations!
The boxed set comes with a corded phone with extra large numbers and four picture speed-dial buttons that will let them easily make calls. I love that the pictures can be swapped out to personalize the phone so they can quickly and easily see just who they want to call. My grandparents call the same few people for the majority of my phone calls. My dad will definitely make their speed dial list. They call him a few times a day, every day. With a corded base phone, they don't have to worry about losing their cordless phone, so they don't have to worry about not finding their phone.
The CareLine system also does include a wireless handheld unit so they can move about their home while they talk giving flexibility and security in perfect balance. It also includes a portable safety pendant that will allow my grandparents to make an emergency call wherever they might be. If you have an elderly grandparent that is prone to falling, this is an absolute essential for their safety! The pendant can be worn around their neck or clipped to a waistband.
You can add on additional handheld units with the photo speed dial buttons on the handheld phone if they need a larger home phone system. I think my grandma, especially, will love the pictures that remind her of her loved ones and that we are all just a short phone call away from her when she needs us or just wants to call and chat. The system also includes a Caller ID announce where the phone will call out the names of your caller before you answer the line.
This VTech system gives security, independence and peace of mind without any monthly monitoring fees, installation costs or contracts to burden your grandparents.
What is your favorite gift to give to grandparents?