You might remember my Paint Chip Valentines. Well, the next season is here. I had so much fun creating a couple sentimental cards for St. Patrick's day using a single sheet of cardstock and a couple of paint chips.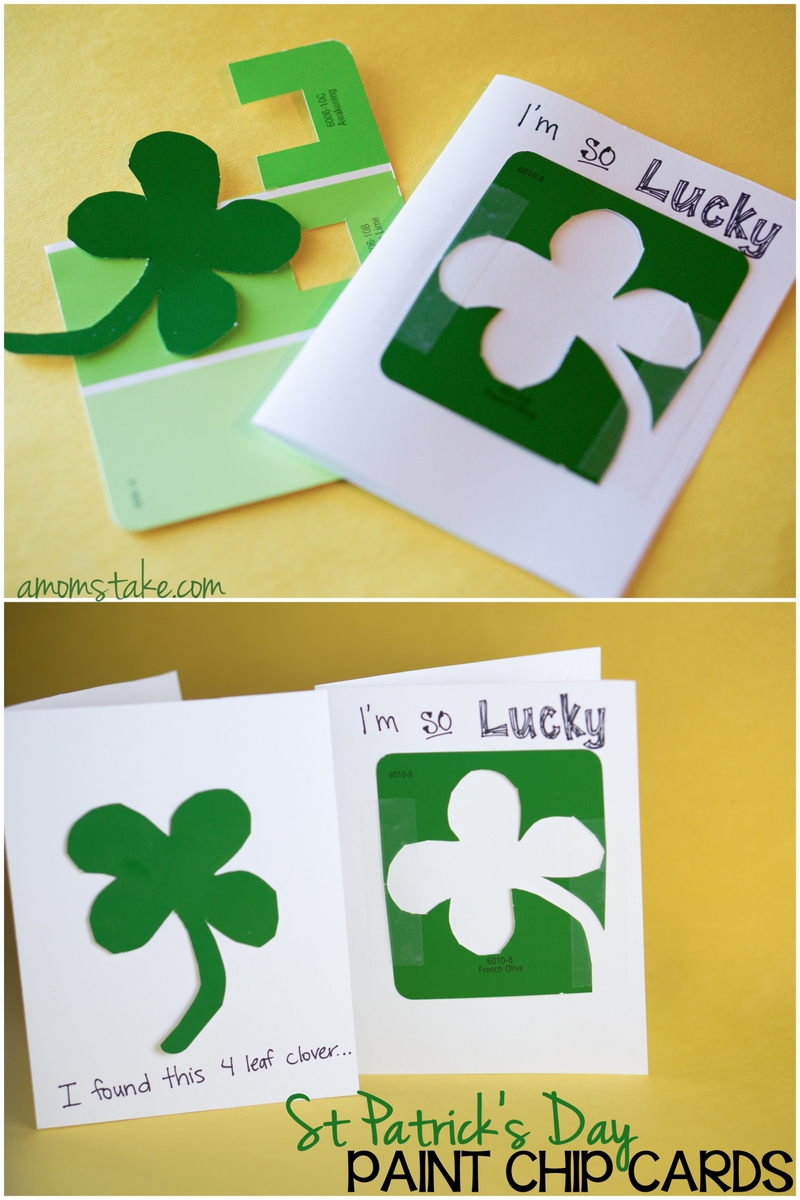 All you will need to create these simple, homemade
paint chip cards
is:
Cardstock or printer paper
Paint chips
Permanent marker or dark inked pen
Tape
4 Leaf Clover Paint Chip Card
Cut a single piece of cardstock in half hamburger style. Fold both halves you just cut into half again hamburger style to create your card. You'll use one half piece of cardstock per card. You can also use a sheet of printer paper folded into fourths if you don't have cardstock, but the printer paper is thin so it may bleed through the paper if you write with a permanent marker.
Cut out a four leave clover from a large paint chip sample. Look for one that is square or a wide rectangle with a single color or go for an ombre effect. Be careful when cutting as you can save the outside of your cut to create your next card. Tape the clover to the front of the card.
The sentiment I wrote on this card reads:
Front: "I found this 4 leaf clover…"
Inside: "and I'm giving it to you, because you are more special to me than the clover could ever be. Happy St. Patrick's Day!"
Lucky Friend Paint Chip Card
Use the remains from the card that will give you a cool inverted clover. Tape this paint chip to the front of your card. Cut a rectangle of a coordinating green color and tape it inside your card in the center of the card. You will use this card to highlight a single word from your inside message, so size it accordingly.
This card reads:
Front: "I'm so Lucky"
Inside: "to have a friend like you!"
Of course you can come up with your own clever phrasing, shapes and designs to create completely custom cards for St. Patrick's Day. The point is, get creative and give it a try! It's extremely inexpensive and it's actually a lot of fun! Plus, your recipient will love that you took the time to make something homemade.
Have you ever sent a greeting or card for St. Patrick's Day?