Having a small bathroom doesn't mean you have to sacrifice on style! These ideas can help you not only add your small bathroom design, they can also help you find or add more storage space. I couldn't believe the difference the few small changes we've made over the years in our home has changed the feel of our bathroom.
I received a SwitchArt frame and compensation for this post. All opinions are my own.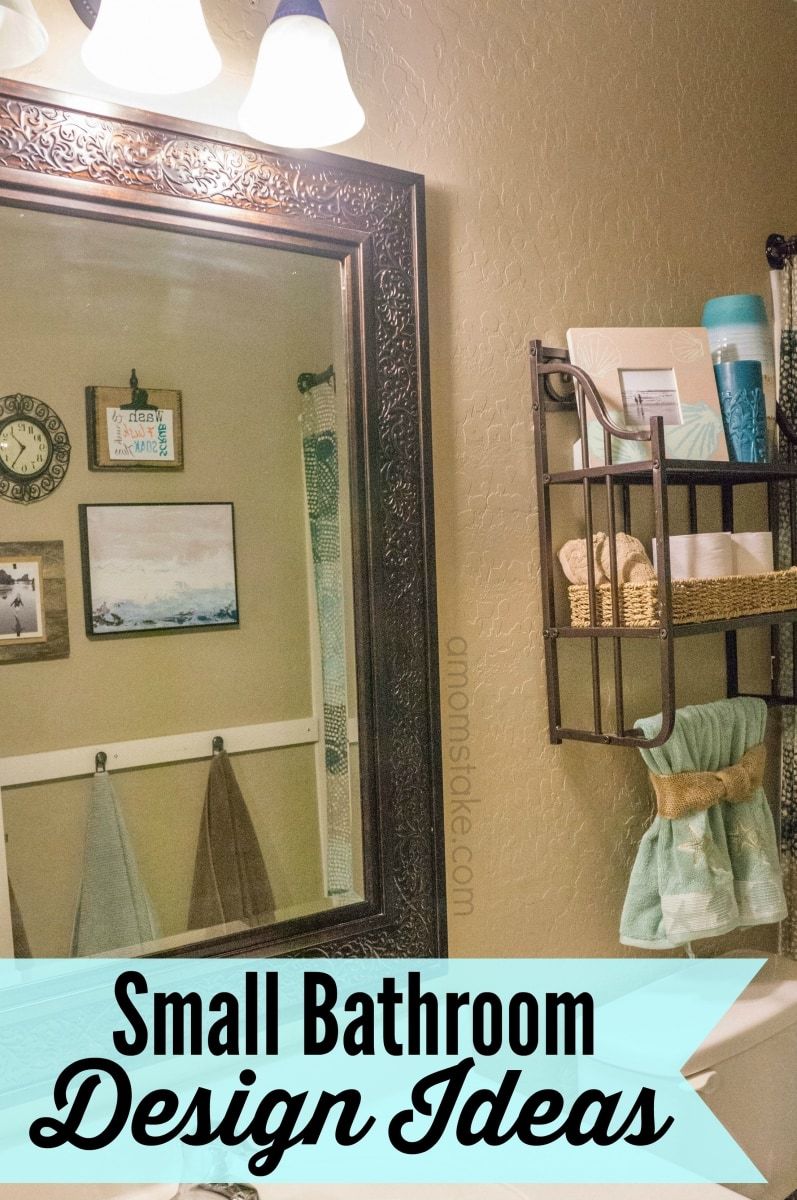 Use Texture – Adding in different textures will give your bathroom depth and interest. Some of the pieces I used in my design to add in interest included a ceramic vase, burlap ribbon, a woven basket, plank wood frame, metal storage shelf, and other elements.
Add Color – Pick a color scheme and run with it! Don't be afraid to add in the opposite color on the color wheel for some contrast or other hues in the same color family. A good place to start your color scheme is your shower curtain if your bathroom needs one. The shower curtain takes up a lot of the visual space in the room and can be perfect for inspiring your theme. I got my shower curtain at Target and I absolutely love it!
Make More Storage Space – Small bathrooms always suffer with little storage space. You can easily add more storage, function, and a place for decor with an over the toilet storage shelf or tall shelving unit. I choose a simple wall only unit as I didn't want my splashing boys to ruin a tall standing unit. The hanging rod at the bottom gives a place to hang hand towels where we otherwise didn't have room. We added a storage basket with extra toilet paper rolls on the shelf and wash cloths.
Replace the Builder's Mirror – One way to make a huge impact in your small bathroom is replacing your builder installed mirror. We replaced this bathroom's mirror with a large mirror we picked up at Walmart and just pulled off the builder installed one from the wall. You can also just frame your builder installed mirror with some molding. We framed our master bedroom mirror, and loved how it turned out! Had we done that mirror first, we likely would have just framed this bathroom mirror, too. Both ways look great!
Use Pictures and Art – You should make your space personalized with your own interests and style. Like for me, I love "beach" bathrooms, but I don't want it to look overly beachy. Just a few touches are perfect for me. So, I printed out a few pictures of our family at the beach in black and white and framed them. They bring back memories of fun times and are perfect for our space. I also made a cute bathroom words printable art that clipped onto a unique frame we have in our space. I love the hanging clock because it adds style and function. We also hung a really unique SwitchArt frame.
SwitchArt
SwitchArt is this really cool magnetic frame that can be customized throughout the year with magnet art. You can easily swap whenever your space needs an update! I selected this great everyday print that works wonderfully with our color scheme. I love the print, and it's the main image we'll have up in our bathroom.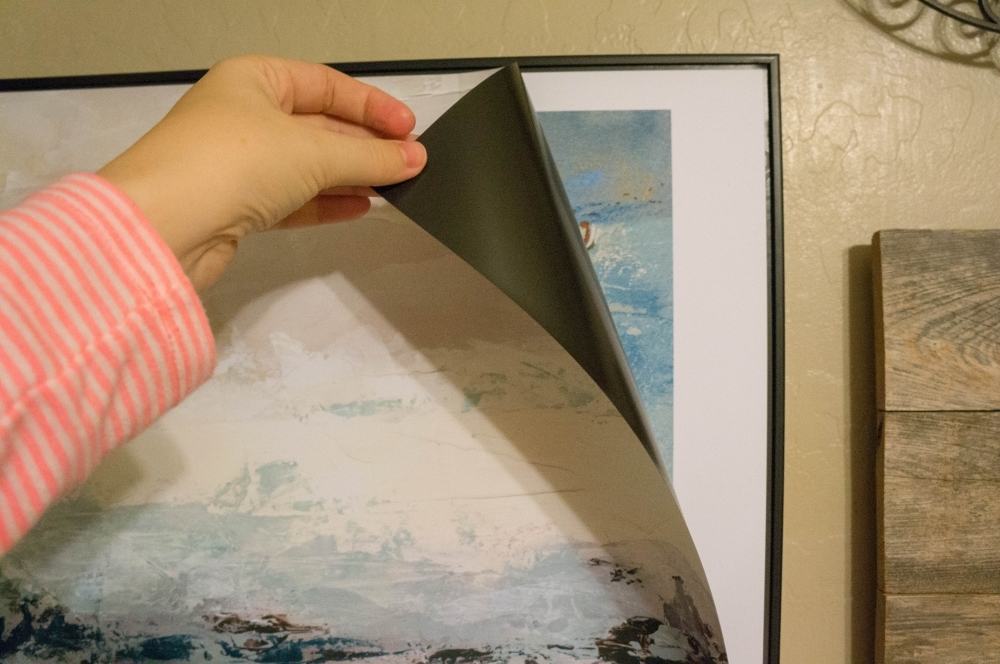 When Christmas rolled around, I could easily pull off the top magnetic print and switch places with my secondary print I store safely below it. In just a few second my small bathroom design was updated and it changed the whole room's feel to reflect the Christmas spirit.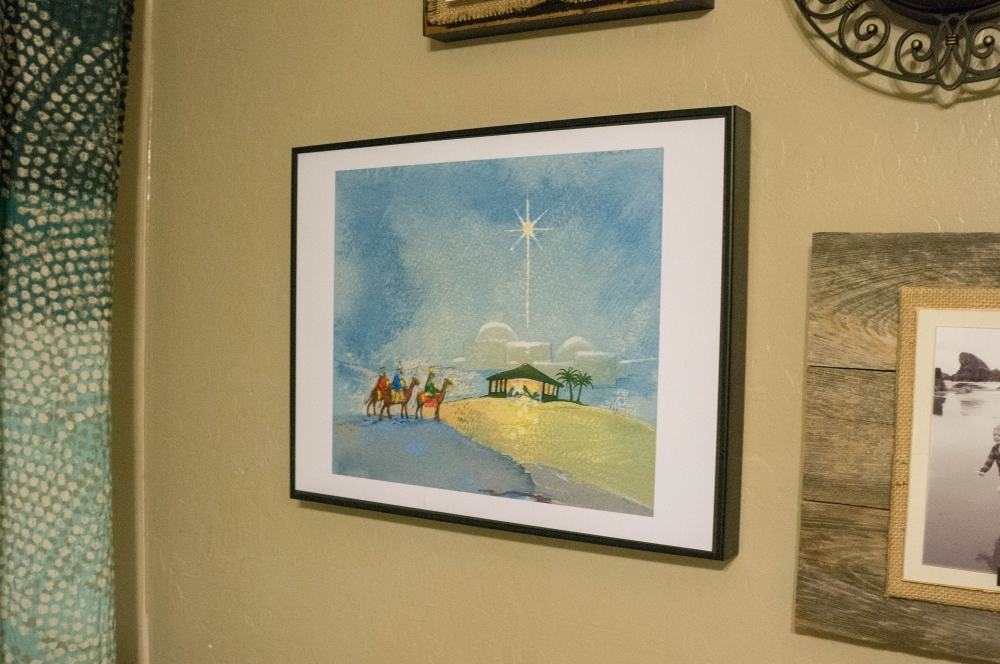 SwitchArt is available at Art.com where you can pick from tons of available art prints or even print out your own family or vacation photos onto a magnetic sheet to work with your SwitchArt frame. You could even upload one of the cute holiday printable art pictures to switch up your frame throughout the year. I love being able to switch up the picture without having to mess with removing the back and rehanging the frame.
Check out all the SwitchArt prints available or start uploading your own images to customize your own small bathroom! You can purchase SwitchArt frames and prints at Art.com.