This article is republished on my new PRIMARY blog — PrimarySinging.com!
Head over there to see loads of resources and printables for Primary music leaders!
Today, it's all about the tips and tricks for singing time flip charts!
When I was first called as a Primary Singing Time leader and started searching the web for how to get started I heard about "flip charts." It seemed so foreign to me from how I learned the songs when I was in primary (think singing it over and over and pictures on the wall that were pulled down as we learned parts of the song.)
But flip charts make sense. It can be an easy way to introduce a new song for the opening and closing song in Primary and perfect for refreshing a song you've learned in the past. I don't fall into the camp that once I've taught the song that the kids should have the words committed to memory for life – heck, I still need a reminder of the words sometimes! Plus, these easy to use flip charts fit right inside my singing time binder!!
Affiliate links are used in this post.
Getting Started with Singing Time Flip Charts
Essential Supplies for Primary Flip Charts:
Tips & Tricks for Singing Time Flip Charts
Use Split Rings! – I didn't want to hassle with multiple pieces of paper or being tied to the podium. I wanted to be able to hold the words, move about the front, still be able to lead and make hand motions / signals, all while using a flip chart for those times when they're needed. Split rings was the game changer that let me have an individual "book" that flips around the rings during the song so I could move about the room while just showing a single page at a time, and easily hold the flip chart without losing the order or pacing of the song.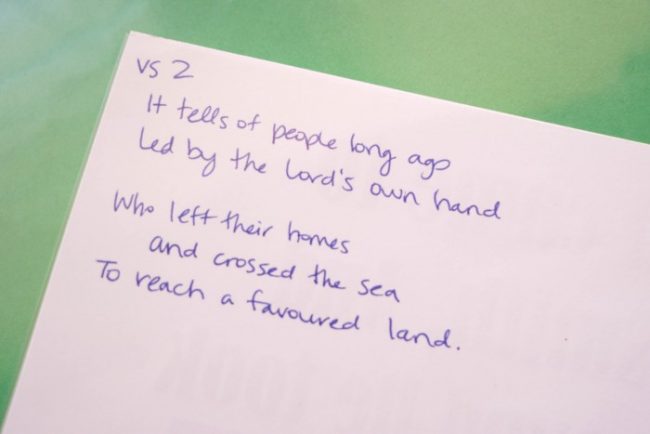 Write Words on the Back – A great trick you can, and absolutely should, use is writing the lyrics on the back of the flip chart printed pages. I'll arrange all the pages into the sheet protectors, then write the lyrics from the front page onto the back page – the one that will be facing me while I'm holding the flip chart.
This allows me to follow along, know when to flip the chart, and have a helpful reminder of the words easy to see! Sneaky, sneaky!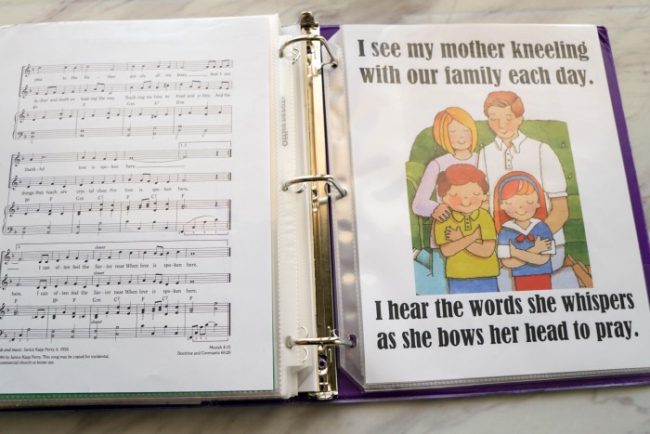 Keep them in your Singing Time Binder – At the end of each month, I update my singing time binder to hold all the songs for the upcoming month. I've shared a whole post about how I set up my Singing Time binder, including lots of printables I stuff inside so be sure to pop over to that post next.
I'll also prepare any flip charts that I'll want to use for the month. Often, this means pulling out the papers from previous flip charts to make room for the new monthly songs to take their place. I keep songs I plan to use again that year in their setup, but switch out others that I won't be using again that year to reuse the same rings.
What works best for me is using the same opening, closing, welcome, and birthday songs for the entire month. See my Singing Time Song List post for more information and my printable list! I'll even stick to the same 3 songs we'll practice throughout the month.
My flip chats are stored right in my singing time binder directly behind the printed music. This makes it a cinch to find and access during singing time. I'll simply open the binder rings, pull out the flip chart, and we'll get right to singing!
Condense (More lyrics per page) – One of my pet peeves with flip charts is too few of words per page. I prefer a verse to have no more than 4 pages, where possible. Some songs are too long to fit this limitation, but most work great with a smaller main picture and 2 phrases per page.
For example, in the song "If the Savior Stood Beside Me," I created a flip chart that fit two phrases on a single page. This turns the first verse into just 2 pages, rather than 4-6! That means a lot less fumbling with flipping the pages! It really makes it much easier to lead with less page turns.
In another example, the song "An Angel Came to Joseph Smith," I put the entire 1st verse lyrics on a single page!
Most welcome and birthday songs can fit across 2 pages making it easy to simply flip the chart from the front to the back (no split rings necessary)!
I have shared the flip charts I have created. I always aim to use as few pages as possible – saving me paper, ink, and struggle while leading!
Lyrics Book – One last trick you can use, I got this idea from Camille's Primary Ideas, is to print out the entire verse (no pictures) as a reference point for practices or for use in the Primary program! I found it clunky to use during everyday weeks as I was trying to balance a lyrics book with my singing time binder and any props for the week and it was just too much. You can grab the Primary Program flip chart version under each of the flip charts, too!
I do use the lyrics book for those review weeks leading up to the Primary Program. I used the lyrics book on my music stand while conducting the program – no other big posters or props were needed! Worked great and helpful for those kids that still needed the words.
I simply lined all the songs up in the order in which they would be sung with a second copy facing me so I could easily follow along, get my own words reminders where needed, and flip through the entire program with ease.
How I Use Flip Charts in Primary
I use flip charts every week during singing time. I'll use them for the opening and/or closing song, sometimes for the welcome and birthday songs if they aren't as familiar to the kids, and even for some of the wiggle songs. For example, I have a simple flip chart for the Books of the Book of Mormon and I use the words to the articles of faith when we sing those songs.
I'll also use my Singing Time flip charts for the year's program songs. Sometimes I'll introduce the song the first time with the flip charts, other times I won't use them until we're simply reviewing the song. I love using flip charts while we're doing a silent movie of the song or listening to a special arrangement of the song.
By presenting the words I've found that the kids sing more confidently and the teachers help by singing along as well.
I don't use flip charts for every song and every lesson, though. Usually, when we're learning the words for the first time or doing an activity such as instruments or a body rhythm pattern we won't use the flip charts as all. But having them ready and available has been priceless!
How to Make Easy-to-Flip Flip Charts
Start by creating and printing flip charts for the songs you'll be learning throughout the month or year. There are lots of great resources for free flip charts that are already made (and I linked to my favorite source above — a site that let's me edit the charts to make them more words per page).
When you have your flip charts printed and ready, slip all the song pages into sheet protectors. Line them up in order following the song. Then, you'll slightly pry open the split ring, being careful not to permanently bend open the ring. You just want it open up enough that you can slip the sheet protector hole punch spots through the ring.
Once you have a few pages slipped into the opening of the ring, you can easily twist the split ring around and around until all the sheet protectors pop through on the other end of the ring's opening and they'll now be securely held together – connected by the split ring!
This is just like putting keys onto a key ring – only these are much smaller rings so that they fit into your binder nicely without taking up extra room. They're also more likely to be bent open, which can cause the sheet protectors to get snagged when you're flipping. Be careful to only pull open the ring just a little, don't bend/pry it open.
That's all there is to it! Repeat to add one split ring to each of the 3 hole punches along the edge of your sheet protectors and you'll be able to simply, and easily, flip through your singing time flip charts all while dancing and moving about the room!
More Resources for Primary Music Leaders
See all our posts categorized under LDS for more helpful resources for Primary music leaders, including how I get organized for primary with my singing time binder and what works best for me for nursery singing time!

Singing Time Binder Organization & Lots of printables!!
Nursery Singing Time Ideas