We are big dinosaur fans over here, we even have a dinosaur themed bedroom! So when we were asked check out a new Amazon Original Kids series, Dino Dana, and share a fun dinosaur themed craft, we were thrilled to partner. We took a spin on our favorite Christmas activity, creating salt dough ornaments, and turned it into a fun STEM experiment to take a closer look at dinosaurs with our own salt dough dinosaur fossils.
I received compensation for this post. All opinions are my own.
Salt Dough Dinosaur Fossils
You'll Need:
1 cup Flour
1/2 cup iodized salt
1/3-1/2 cup water
Toy dinosaurs
Acrylic paint (optional)
Q-tips (optional)
Directions:
Combine flour and salt. Slowly add water, stirring until combined then mixing by hand. You want dough that is soft and holds together well, but isn't sticky. If it's sticky, add more flour. If too dry, add a little more water.
Press the dough out flat an press the dinosaur toys into the dough to create imprints of the dinos to create your fossils. You can stamp the side, their face, even their footprint onto the dough.
Watch us make our Salt Dough Dinosaur Fossils
Let your fossils dry out overnight or bake for 1 hour at 300°F.
You can optionally paint the fossils, either in the inside of the fossil print or around the outside, if desired. Use acrylic paints and some q-tips to make it feel like an official excavation task.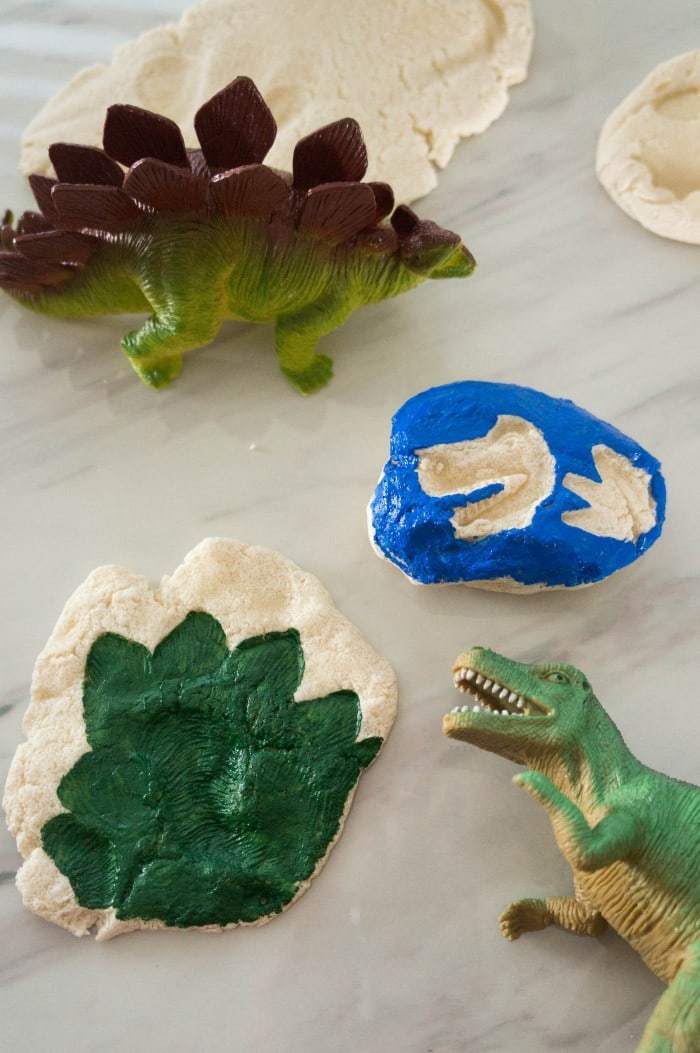 We had so much fun creating our salt dough dinosaur fossils together. It gave us a chance to talk about dinosaurs and have some fun together.
My boys have been really into dinosaurs, lately. We started watching Dino Dana together, it's a new series designed for preschoolers, that debuts this week on Amazon!
We got to take an exclusive sneak peek at the first 5 episodes of the new series. It follows Dana, a "paleontologist in training" who has a very adventurous and curious spirit. She sees dinosaurs all around her in her everyday life and teaches little life lessons while incorporating dino facts. The STEM-based show, Dino Dana, combines CGI animation of favorite prehistoric dinosaurs with a live-action setting that follows two sisters.
My 2.5 year old was completely enthralled with the show, and even I was hooked. Dana is a sweet and easy to relate to character that I'm happy to introduce to my kids. My son giggled with delight when the dinosaurs entered the scene and we bought got caught up in the episodes.
If you have a dinosaur fan on your hands, that can't get enough about learning about different dinos, set aside a dinosaur discovery day. Start by making these salt dough dinosaur fossils and then sit down to an episode of Dino Dana while they bake.
Check out the trailer for Dino Dana here, to learn more about this new hit series!
If you're already an Amazon Prime member, you'll be able to watch the new Amazon Original Kid series, Dino Dana, for free with your membership.