My favorite holiday to make fun themed goodies for is the 4th of July! I just adore treats in bold red, white and blue colors! These patriotic star cookies form an easy and base to make homemade ice cream sandwiches!
Patriotic "Star" Ice Cream Sandwiches
Ingredients:
5cups flour
2 tsp baking powder
1 tsp salt
1 1/2 cup unsalted butter, softened
2 cup granulated sugar
4 eggs
Red & blue gel food coloring
1 pint (round container) vanilla ice cream, frozen
Directions:
Cream the soft butter with sugar until the combination is smooth not grainy to the touch in a mixing bowl.
Add all 4 eggs and vanilla, then mix.
Sift into the mixture the flour, baking powder, and salt. Mix until all the ingredients are thoroughly blended.
Divide your batter into thirds, placing each into separate bowls. Add red gel food coloring to one, blue gel food coloring to the next, and leave the third portion as is. Use your hands to knead the dough and evenly distribute the food coloring. Wrap each ball of dough in plastic wrap and cool in the refrigerator for at least one hour, or overnight.
Remove the dough from the fridge and allow to soften for 5-10 minutes. Roll out the dough on a floured counter. Flour the rolling pin and your hands. Knead each of the cookie dough balls until the dough doesn't stick to your hands, adding a little bit of flour if needed. Then, knead together the three colors of dough until just combined for a tie-dye look or keep blending for a more mixed look, like we did for these cookies. It makes the dough resemble a bit of a fireworks look!
Roll out the cookie dough to about 1-2 cm thick, and use a large star cookie cutter to punch out star shapes in your dough. I really like this set for a variety of sizes! They can cut through fruit, sandwiches, cookie dough, or whatever else you can think of!
Place the dough cutouts onto a parchment lined cookie sheet.
Bake the cookies on the top rack of the oven at 300°F for 30 minutes, or until an inserted toothpick comes out clean. Allow to cool on cookie sheet for 10 minutes, then move to a wire rack to cool completely.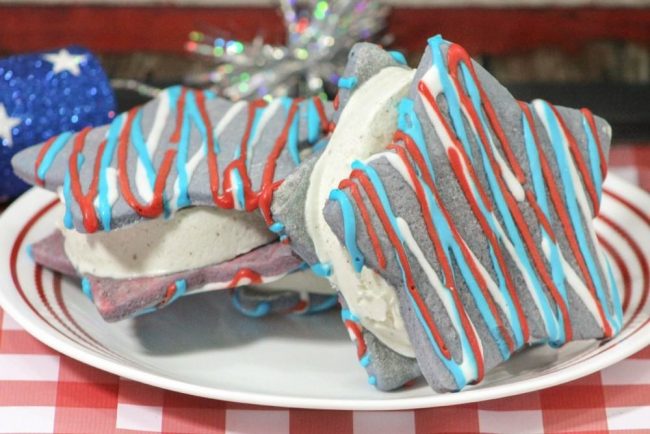 Assemble the Cookies:
Cut the ice cream into 2 inch round pieces by cutting through the ice cream carton with the ice cream still inside.
Remove the carton from each ice cream circle and place the ice cream circle between two star cookies.
Return the cookie sandwiches to the freezer on a plate or cookie sheet for 15-30 minutes or until frozen. Frost with a colored glaze frosting to top off the cookies, if you'd like, or serve them as is.
These homemade patriotic star ice cream sandwiches are the perfect treat to make for your 4th of July or other summer parties!
Want another really fun, super easy and delicious patriotic recipe? Try our fruit pizza recipe next!