I received Lindsay olives samples and compensation for this recipe and kids lunch box packing tips in this post. All opinions and ideas are my own.
Have your children ever complained, "Not another PB&J" about their school lunches? Most of the time, my kids are just fine and happy with the simplicity of a sandwich but they always get so excited when they open the lunch box to something different! There's a lot you can do with food to make it fun, so let me share ideas for packing your kids lunch box and a creative recipe, too!

I made a Chicken & Olives pasta salad for this kids lunch box, pictured above. My boys love all kinds of bread, so to make sure the meal was appealing and fun looking for them, I tossed some of the salad into a piece of flatbread. You can add whatever fun sides your kids like. I added grapes and vanilla yogurt as sides. The vanilla yogurt can be eaten alone or used like a dipping sauce for the pasta salad. The yogurt will add a sweetness to the salad wrap. My kids love dipping and so they thought that was a lot of fun!
Kids Lunch Box Packing Tips!
Try different cuisines – One of my kids is super picky and so when we served won tons one meal I thought he'd take one glance and say no way. He surprised me and it instantly was one of his favorite meals.
Bento Boxes! These are all the craze these days, and for good reason. A small portion of a variety of foods is a really appealing and fun way to present lunch. Plus, it gives your child lots of different options which is especially good for those picky eaters. You don't need anything official to give this a try, wrangle up a few different shaped small tupperware containers, try cupcake liners, or make a diy cardboard lunch box divider!
Include veggies even if they don't eat them. Just having them there will help your child get used to vegetables and they just might surprise you one day and give them a try!
Surprise your kids with a thoughtful lunchbox notes from time to time!
Add in dipping sauces! A dipping sauce makes everything more fun. It doesn't need to be only ketchup or ranch. Try salsa, a lite salad dressing, apples sauce, yogurt, or sprinkles!
Add in Lindsay Olives to your kids lunch box! Kids always love popping olives onto each of their fingers and then eating them up!
Make School Lunches Fun!
You really can make your lunchboxes unique and fun by just dreaming up a possibility and then working with your kids to create the elements to build your theme! We had fun creating an "Ant's Picnic Parade" Lunchbox. When thought of fun ways we could use Lindsay olives in our lunchbox and ants came up right away! They are perfectly shaped and colored to make a whole army of marching ants. Ants and lunches always go hand-in-hand when you're having a picnic, so we threw together a lunch based on our own favorite picnic ingredients! We included a PB&J, chips, watermelon, cookies, mashed potatoes, and of course our adorable olive ant!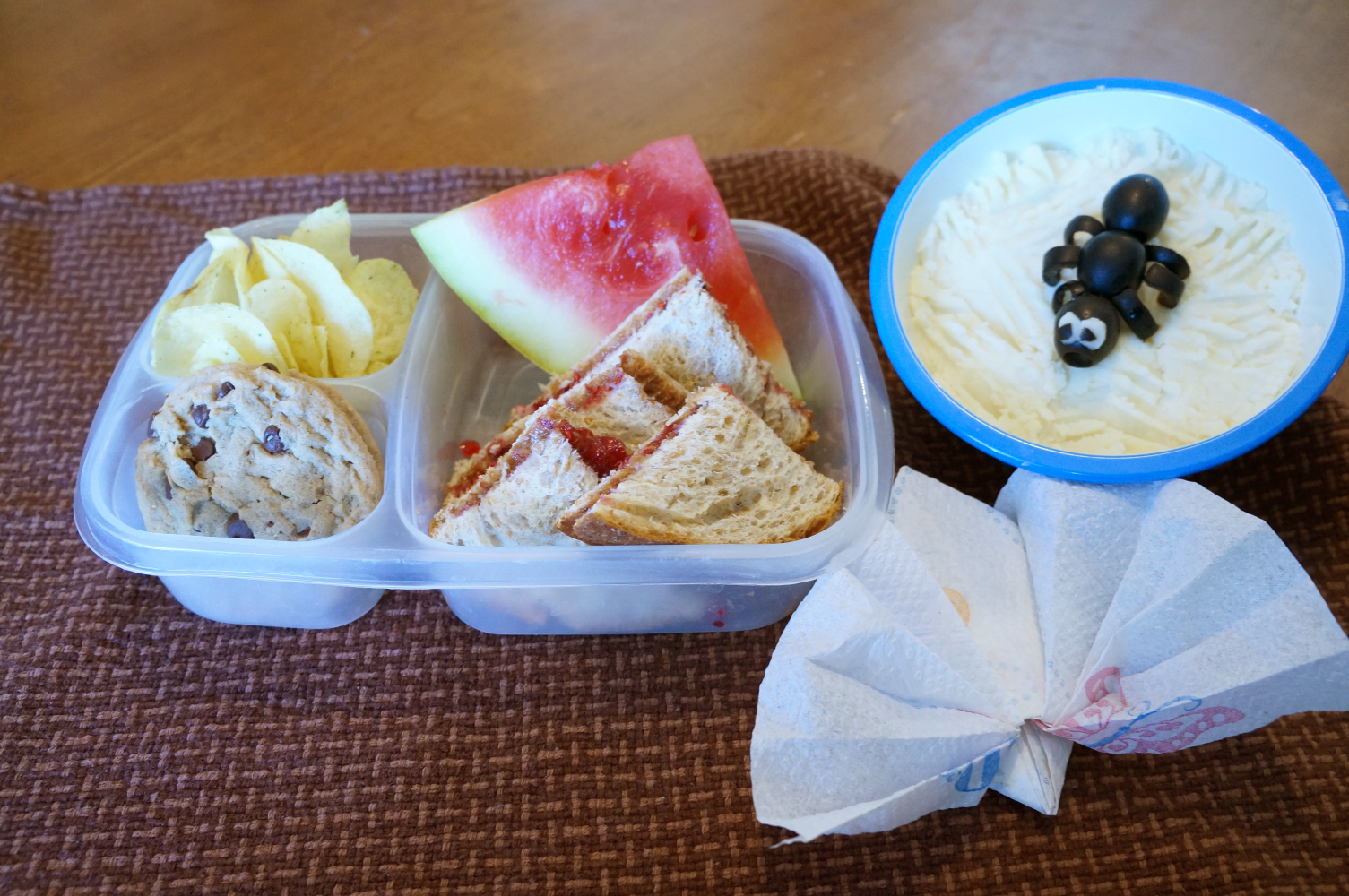 The key is to not restrict yourself to the packaged product but to allow yourself to think up your own possibilities and themes and then the ideas will easily start rolling out of what other things you can include that make just the perfect element to complete your vision. You can also include cute extras like the butterfly nap we made above that makes lunchtime more fun!
Chicken & Olives Pasta Salad Recipe
This recipe is one that is yummy enough that moms will want some, too. The recipe makes enough that you can multi-task making lunch for you and your kids at the same time! Here's the recipe so you can save or print it for future use.

Chicken & Olives Pasta Salad
Light and healthy meal option that is simple to make and tasty too. Great as a side or a light lunch. Perfect way to use up noodle and chicken leftovers by adding a few ingredients!
Ingredients:
1 cup Noodles, cooked
½ cup Chicken, shredded or diced
½ cup Mozzarella Cheese, shredded
¼ cup Diced Tomatoes
¼ cup Lindsay Sliced Olives
2 Tablespoons Italian Dressing
1 teaspoon Parsley (fresh or dried)
Directions:
Cook noodles of choice per package directions. Or, use leftover noodles!
Mix together noodles, chicken, mozzarella cheese, tomatoes, olives, and Italian dressing, and parsley.
Serve as a cold salad or serve inside a warm pita of flatbread!
Here's another quick and fun lunch idea that kids love – Chicken Salad!
What are your best ideas for making your kids lunch box fun and creative?