March brings with it the time to work on a new song – If the Savior Stood Beside Me!
Today, I'll be sharing 7 different singing time ideas you can use and incorporate in your own Primary singing time lesson plans!
*This post has also been republished on my new blog specifically for Primary singing time ideas, PrimarySinging.com*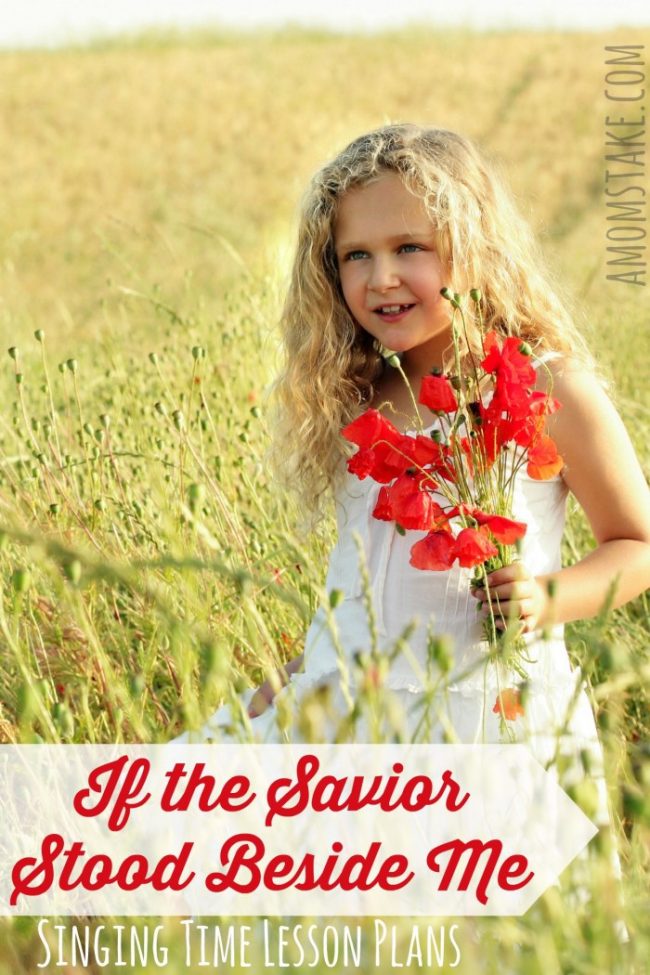 7 Singing Time Ideas for:
If the Savior Stood Beside Me
1. If the Savior Stood Beside Me – Unscramble
Use word strips to create a challenge for Senior Primary with a focus on the words – and the right order! This song is such a tongue twister that this lesson plan can really help the kids learn the order and it's a lot fun, too! With a game and challenge built in. Get the lesson plan and printable here!
2. If the Savior Stood Beside Me – Picture Match
A Junior Primary version of the unscramble game, this picture based unscramble is handed out to each class to work through while you sing. See how we're using this Picture Match game for teaching If the Savior Stood Beside Me with two printable flip charts!
3. If the Savior Stood Beside Me – Silent Movie
A silent movie can be a powerful way to share the message of a song in a unique way to help bring the message closer to your Primary kids hearts. For this lesson, we shared a silent video with a piano version of If the Savior Stood Beside Me. Get inspired with this testimony building lesson plan.
4. If the Savior Stood Beside Me – Draw the Song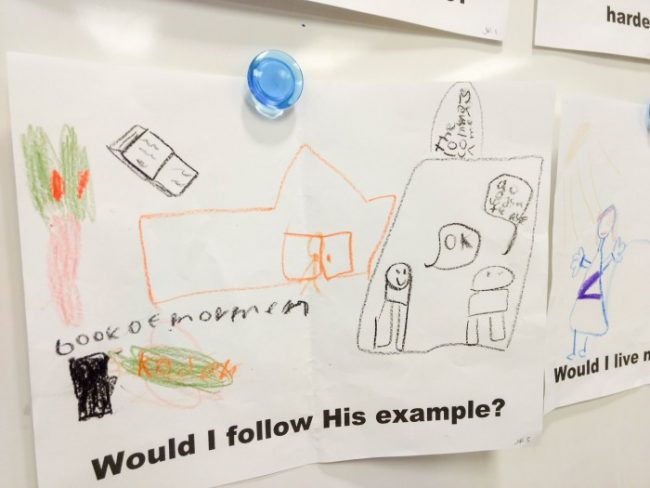 A simple, low-prep activity that is fun for both Junior and Senior Primary is this draw the song lesson plan! You'll pass out parts of the song to each child, or class, and let them help you create a flip chart. See how we extend the activity and grab your printable here!
5. If the Savior Stood Beside Me – Song Story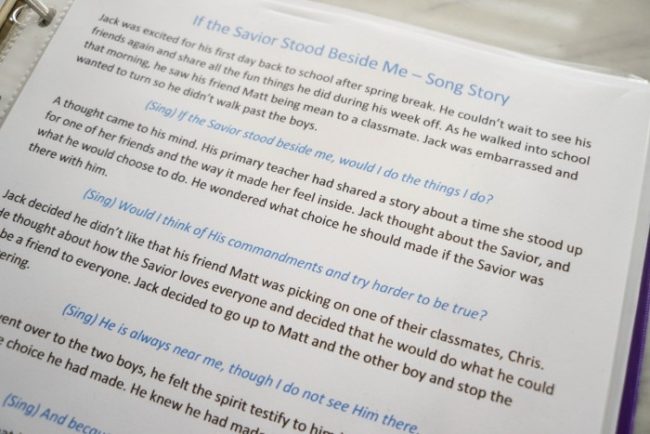 One of my most favorite ways to introduce a new song or simply share it in a different way is to weave the song into a story. We've taken part of the 1st verse and the 3rd verse to create a beautiful song story to share with your Primary. Visit this post to print and save the If the Savior Stood Beside Me song story.
6. If the Savior Stood Beside Me – Contrasting Choices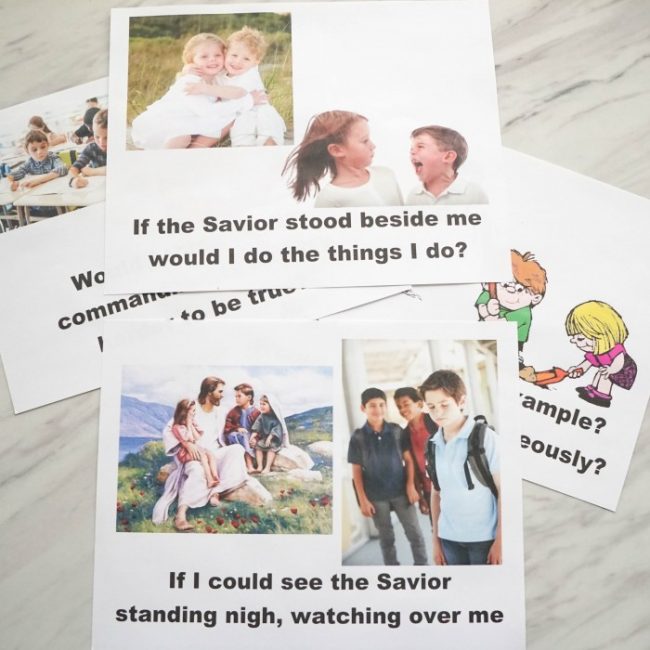 Work through the different questions presented in If the Savior Stood Beside Me with a contrasting choices activity. This can open up an opportunity to talk about what the words of the song are teaching us in a kid-friendly way!
7. If the Savior Stood Beside Me – Clap Instead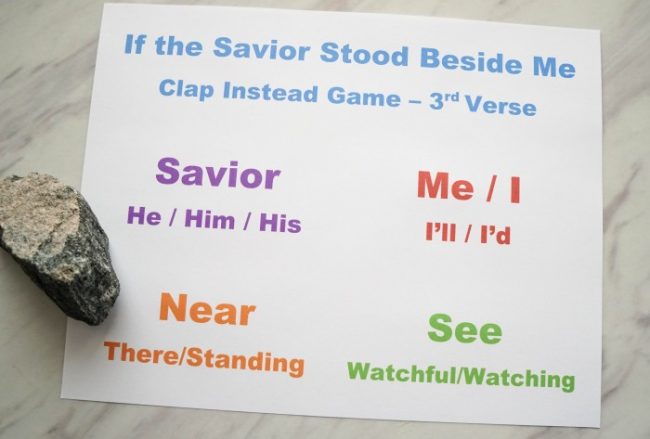 Finally, use this If the Savior Stood Beside Me Clap Instead game to help you review the song! I'll be using it to reinforce the 3rd verse.
Pin Me to Save This Post!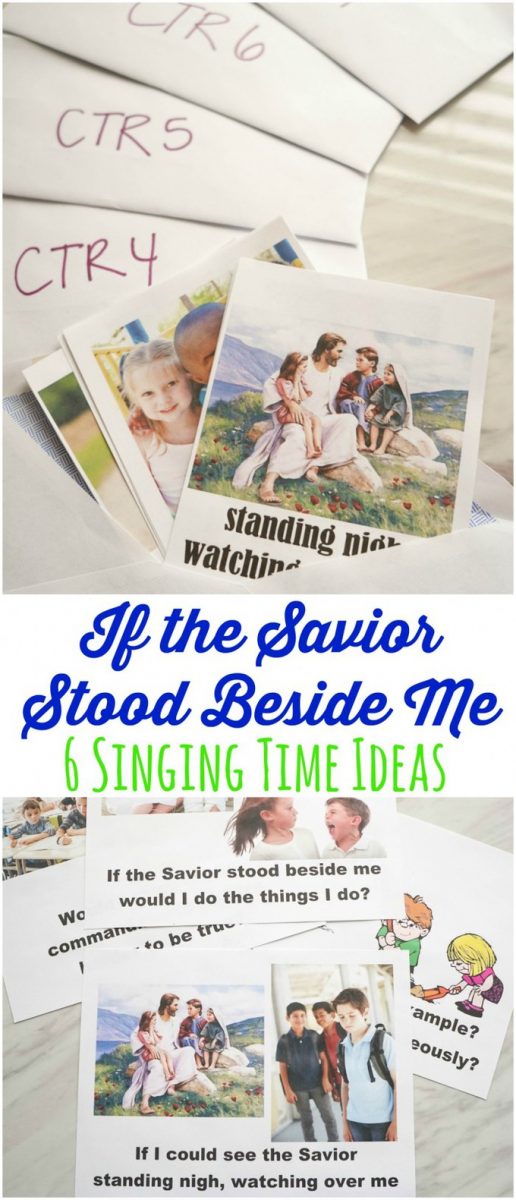 How I Use These Singing Time Ideas
I like giving the kids a variety of songs each week during the singing time block. I always plan 3 activities and aim for about 7 minutes each activity. Sometimes we only make it through 2 of the activities, but it's easy to stash away that extra idea for review later or for the next week.
Look to give a variety to your 2-3 activities that included:
Logical Thought – A code or unscramble, learning the words, feeling the spirit, ect
Movement – Use instruments, body rhythm, hand actions or other activities to gets the kids moving
Calm Down Activity – Close with a calm activity that engages the song like a silent movie, song story, rolling rhythm sticks, or other in-chair activity that will get them ready for sharing time
For example, this past week I did:
The kids were engaged in thinking about the order of the words and their meaning and following the clues they heard as we sang through the song. They loved the challenges and silently sang the word strips they skipped over singing.
Then we got a bunch of wiggles out with a high energy song.
Finally, they were ready to settle into their seats and the room was nearly silent as they were all engaged in watching a video about children like them that were color blind / deaf and getting to see / hear for the first time.
More Singing Time Ideas
Head over to see all our singing time ideas on PrimarySinging.com!
The Primary Singing Time Song List can help you follow along with my monthly schedule where I use the same songs for wiggles, opening, welcome, birthday, and closing throughout the whole month!
Primary Singing Time Song List
Share what ideas you are planning to use to teach this fun, but tricky, song to your Primary in the comments to help add to this post even more great lesson ideas!