March brings with it the time to work on a new song – If the Savior Stood Beside Me! Today, I'll be sharing 6 different singing time ideas you can use and incorporate in your own Primary singing time lesson plans! I've included printables where possible, so be sure to grab those, if helpful!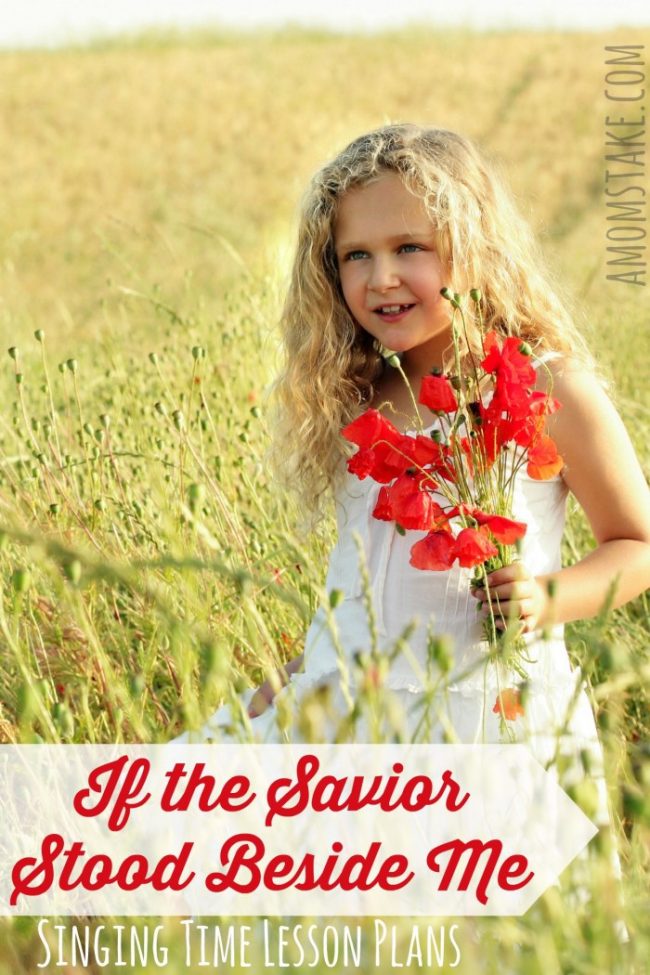 6 Singing Time Ideas for:
If the Savior Stood Beside Me
1. If the Savior Stood Beside Me – Unscramble
For this game each class will receive an envelope with pictures (Jr) or word strips (Sr) that the will try to unscramble while we sing along the song. This game gives them a concrete view of the words and pictures and helps them to think logically about the order of the words. The song words are so tricky that it's a really great game to help them understand why the words go in the order that they do by seeing them in front of them.
In Junior Primary, create a mini copy of your flip chart for each class. I condensed down my large flip chart into 8 different phrases / parts of the song. Then made the pictures smaller and added some additional pictures to give each of the phrases a picture to go along with the phrase for the younger non-readers.
It's great to use the same pictures as your flip chart when you can so your youngest primary classes can follow along and match by watching you use the flip chart. Because everyone's flip charts are different and I get my flip charts from other bloggers, I'm not sharing the image scramble here – just modify the flip chart you choose to use! Have the Junior primary flip over 2 pictures that they get to SKIP singing!
** If you aren't tech savvy, you can always print out a duplicate of your own flip chart and then have one child hold each page of the flip chart. Call up 2-3 kids to help unscramble the flip chart as you sing through the song a few times. 
For Senior Primary, I gave them word strips that were scrambled. I included a copy of mine here. Just cut long and skinny strips with just one phrase on each strip and then mix them a bit so they are out of order and put them in an envelope!
Have each class choose any two phrases to flip over (upside down). Their class will sing ONLY the upside down phrases creating a sort of popcorn affect with different classes singing different parts. Continue having them flip over 2 more at a time until you make your way through the whole song. When there were just 2 word strips left facing up in front of each group I told them I wasn't going to sing at all and let them carry the song. The kids LOVED the challenge and were thrilled to sing the song over and over!
Click Here —> to Download If the Savior Stood Beside Me – Word Scramble 
2. If the Savior Stood Beside Me – Silent Movie
Find a movie clip you like from the LDS Media Library and play the movie clip on mute. Then, accompany the movie clip with an instrument only or instrument and vocals version of the song, If the Savior Stood Beside Me.
I choose this video of I Stand All Amazed by Vocal Point. The mouth moving was a little off, but the point came across beautifully of recognizing who the Savior was and what it might mean for how we should be and shows that he did everything for us. There are lots of different clips you could choose to go with it.
I paired it with just a piano version of the song that I downloaded from lds.org. You can look for a pretty piano arrangement or even a vocals arrangement if you'd like to. Either way, you will just use the audio from the second clip with the video from the first clip. (Unless you find something you love that does both!)
3. If the Savior Stood Beside Me – Draw the Song
Assign a phrase to each class (5 for JR and 4 for SR Primary). Give them a simple blank piece of paper with their phrase on the bottom. Have the class work together to draw a picture to signify the song.
I'll sing through the song a few times while the kids are working on their drawings and have them join me in singing when they're finished (or sing along while they draw).
Once all the drawings are complete you can display them up on the board and sing through the song with the primary together as a whole. Then, have each class sing their drawing only and work your way through the whole song again a second time.
Click Here —> to Download If the Savior Stood Beside Me – Draw the Song
4. If the Savior Stood Beside Me – Song Story
Tell a story that follows closely to the lyrics in the song. You'll share a part of the story, then sing a short line of the song that correlates, then continue along with the story. This is a really captivating way to share the song, engage the children with a story that helps them to think about the words of the song, and helps them to quietly listen and feel the spirit. Song Stories always have a powerful effect in my Primary class.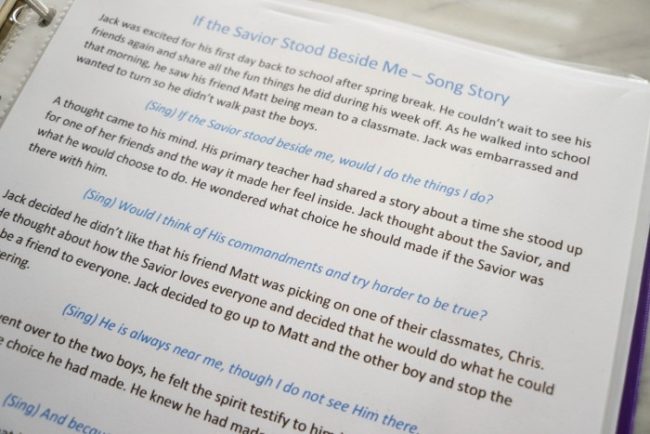 I created a story about Jack who decided to stand up against a his friend bullying one of their classmates. It includes the first two lines of verse 1 and the third verse as part of the Song Story. You can download my story and use it or adapt the idea to make it your own!
Click Here —> to Download If the Savior Stood Beside Me – Song Story. 
5. If the Savior Stood Beside Me – Contrasting Choices
Offer contrasting choices – one that follows the Savior's example and one that doesn't – for each phrase of the song. Then let the kids help you decide which one is right and what the different examples have to do with the song phrases.
We will sing through the song and then let the primary pick one choice to talk about. We'll cover the "wrong" choice. You could also simply circle the "right" choice. This lets you easily sing through the song 4-5 times with a little bit of conversation that helps connect the words to their meaning.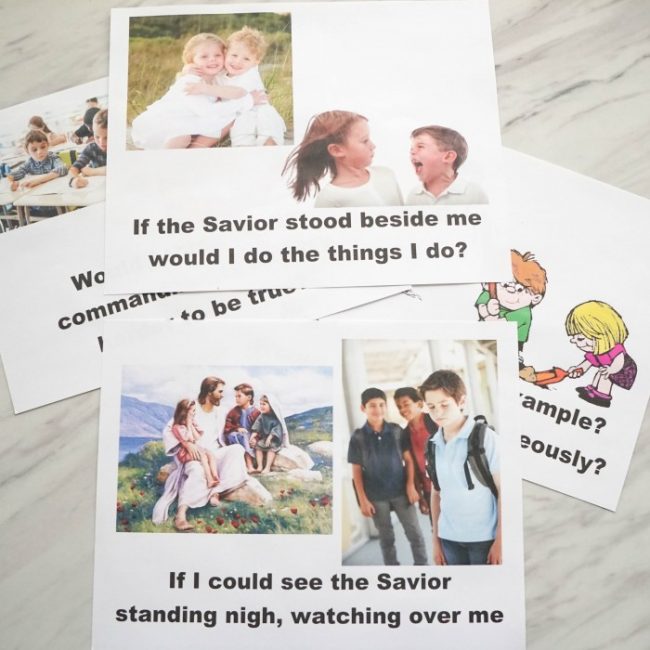 If the Savior stood beside me, would I do the things I do?
Be loving to my siblings / Yell at my siblings
Would I think of His commandments and try harder to be true?
Cheat on a test / Work hard at school
Would I follow His example? Would I live more righteously?
Fighting with siblings over toys / Working hard together as a family
If I could see the Savior standing nigh, watching over me?
Thinking about how the Savior would act / Being worried about what my friends will thing
Click Here —> to Download If the Savior Stood Beside Me – Contrasting Choices
6. If the Savior Stood Beside Me – Clap Instead
Pick a few keywords from the song lyrics and have everyone CLAP instead of singing the word. I'll be using this activity for the 3rd verse. You could also pat, snap, stand up / sit down, or other actions for the words if you want to mix up the activity a little.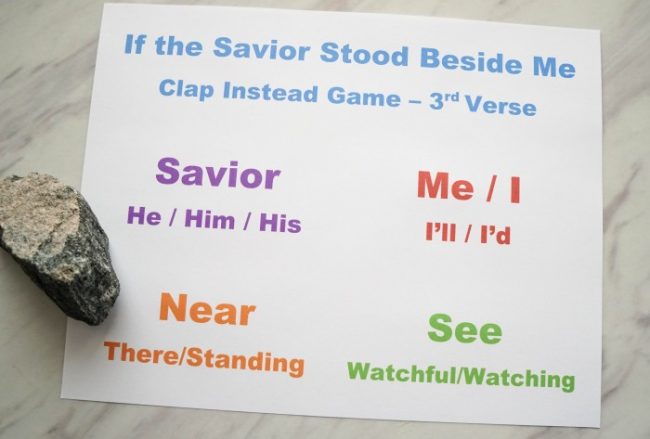 Here are some ideas of words you can substitute with a clap.
Words from the 1st Verse:
Savior / His
I / Me
Would
Do (Think / Follow / Live)
Words from the 2nd Verse
Savior / His
I / Me / My
Would
Say (Words / Share / Speak)
Words from the 3rd verse:
Savior (He / Him / His)
Me / I  (I'll / I'd)
Near (There / Standing)
See (Watchful / Watching)
It will work best to clap for just one of the word choices each time you sing through the song. For an added challenge for Senior primary – have one side of the room clap instead for one word while the other side of the room claps for another! You can let each side of the room pick their "word" to clap for by the color.
My Primary also had us add Snaps, which worked great! You could add a different motion for each of the words – clap, snap, stomp, patsch, stand/sit, dab, etc.
Click Here —> to Download If the Savior Stood Beside Me – Clap Instead
Pin Me to Save This Post!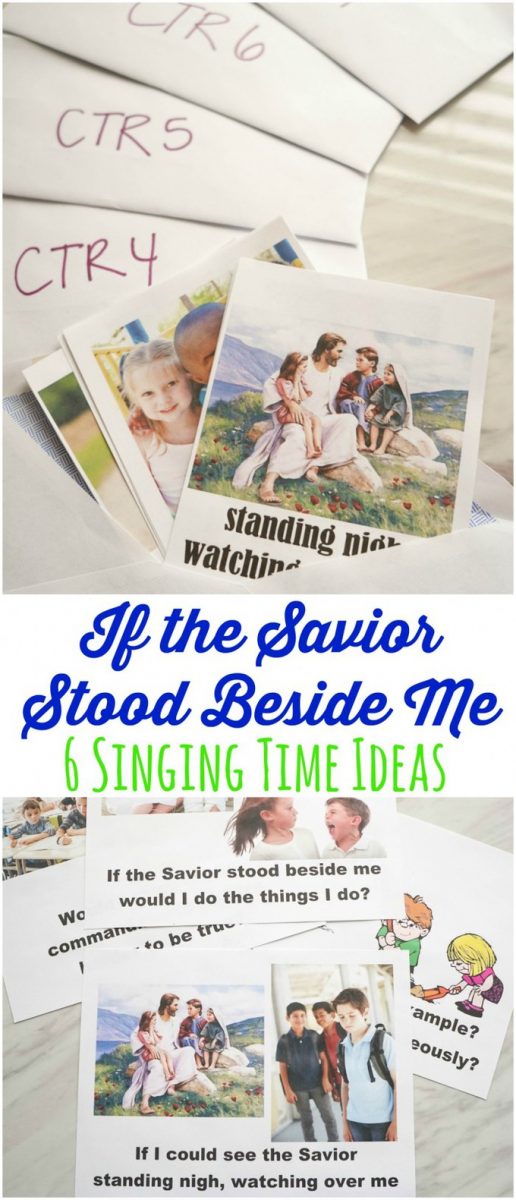 How I Use These Singing Time Ideas
I like giving the kids a variety of songs each week during the singing time block. I always plan 3 activities and aim for about 7 minutes each activity. Sometimes we only make it through 2 of the activities, but it's easy to stash away that extra idea for review later or for the next week.
Look to give a variety to your 2-3 activities that included:
Logical Thought – A code or unscramble, learning the words, feeling the spirit, ect
Movement – Use instruments, body rhythm, hand actions or other activities to gets the kids moving
Calm Down Activity – Close with a calm activity that engages the song like a silent movie, song story, rolling rhythm sticks, or other in-chair activity that will get them ready for sharing time
For example, this past week I did: 
If the Savior Stood Beside Me – Unscramble
An Angel Came to Joseph Smith – Jingle Bells
My Heavenly Father Loves Me – Video About Eyes & Ears
The kids were engaged in thinking about the order of the words and their meaning and following the clues they heard as we sang through the song. They loved the challenges and silently sang the word strips they skipped over singing. Then we got a bunch of wiggles out with a high energy song. Finally, they were ready to settle into their seats and the room was nearly silent as they were all engaged in watching a video about children like them that were color blind / deaf and getting to see / hear for the first time.
More Singing Time Ideas
Head over to see all our singing time ideas under the LDS tag on our site! Our Primary Singing Time Song List can help you follow along with my monthly schedule where I use the same songs for wiggles, opening, welcome, birthday, and closing throughout the whole month!
Primary Singing Time Song List
Share what ideas you are planning to use to teach this fun, but tricky, song to your Primary in the comments to help add to this post even more great lesson ideas!