We know how resolutions tend to go, don't we? We set some far out goal in our mind that isn't realistic and don't set up a plan to help us succeed. I'm going to show you how to set goals you will stick to! It's not hard to make a plan for your goals, and it only takes a few minutes to do. By creating a plan you set yourself up for success.
This is a sponsored post, I am a Sears blogger, though all opinions are my own.
How to Set Goals (and stick to them!)
Think About Your Goals – Don't start your goal by throwing out some big idea (like one of the top 5 new year resolutions) and think that is what you want your target to be just because it sounds like everyone else's goals.It has to be a goal that actually matters to you and that you're ready to work towards with everything you've got.
Make a Plan – Figure out how you are going to get there. How are you going to do it? What is going to motivate you to make this goal stick when other tries have failed? What will keep you motivated when it gets hard, time consuming, or you're just feeling like skipping out on your plan? If you don't answer these types of questions, you will be quick to turn toward excuses.
See Your Goal Daily – Post your plan where you will see it daily. That could mean in the bathroom, on your nightstand, in your kitchen, or anywhere else in your home. By seeing and remembering your goal every day, you'll keep that desire to change strong.
Get Support – The best way to really make your goals work for you is to make yourself accountable. For me, that's having someone else I need to report back to and that will cheer me on, support and encourage me, and prompt and remind me when I need that type of support. You can turn to online support groups like a running app group or a parenting forum or you can turn to your parent, siblings, spouse, or close friends.
My Goals Printable Art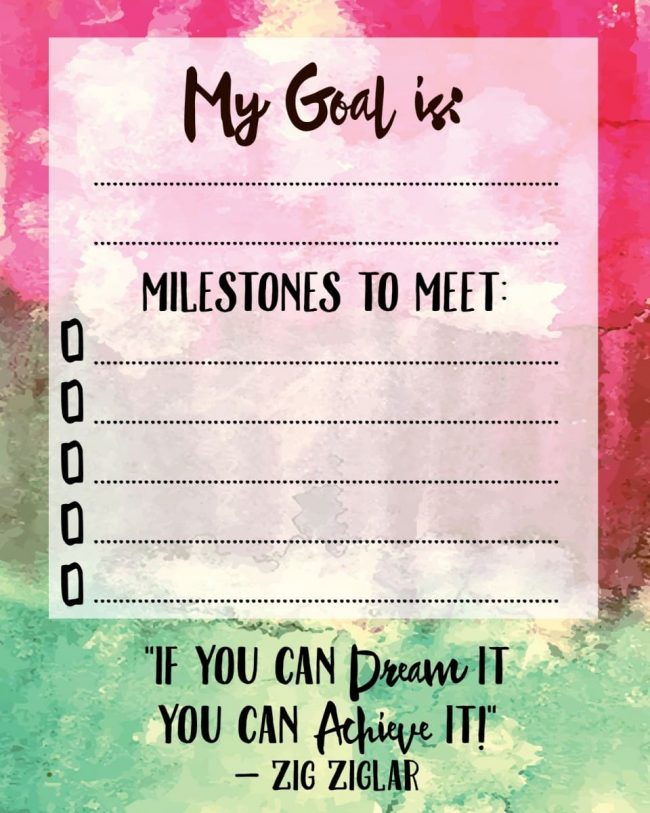 *** Click Here for the Full Sized Image ***
To help me set my goals this year, I've made this 8×10 printable My Goals art. (Click the link or image above to print the My Goals Printable Art) Print it on a sheet of cardstock or on 8×10 photo paper. Then, frame it and use a dry erase marker to change, update, and track your goal. Placing your goal front and center in your life will keep you motivated and accountable towards your goal!
My two big goals this year are to spend more quality time together as a family and eat healithier. We do spend time together, but sometimes it feels rushed or busy with all the things that have to get accomplished in a household full of kids like laundry duty, homework piles, and appointments. By filling in my goal, and a few ways will make family time together quality time, I am reminded each day to focus on my goal.
One of the ways I'm really focusing my efforts this year is to spend more time around the dinner table at home talking to each other and eating a meal together. We've been known to spring for pizza and all eat around the family room or pop in a movie and miss the conversation. Home cooked meals also helps reach my goal of eating healthier, too!
To help with my goals this year, I turned to Sears. They have all the products you could want to help you with your New Year's resolutions, whatever they may be. With products for fitness, health, home, and more. With my goal to eat at home around a dinner table more, I went looking for a solution to make meal prep easier.
I found this Big Mouth Food Processor at Sears that can tackle small tasks or large tasks with two different bowl attachments and a shredding, slicing, and chopping blade to tackle most any job I can send it's way. It will help me tackle more home cooked meals and bring us to the table to spend those oh-so-precious minutes together!
Sears is America's #1 fitness retailer with all the top fitness equipment and sporting goods. They also carry a huge assortment of products for the home including small kitchen appliances, fitness wearable tech, mattresses, and more to help you tackle whatever your resolution is this year.
Sears can even save you time with the all-new Sears App that lets you browse and shop right from your phone to compare features, read reviews, find deals and more. When you find that perfect item, you can purchase and pick-up using In-Vehicle Pickup and pick up your product in under five minutes without even leaving your car! Some products are even available for same day pickup, when in stock at your local Sears.
Let us know what your New Year resolution is and how you'll meet it below!