Every day my son surprises me. I'll head into his room to check on him and find him laying in bed reading a book. Or come across him cuddle up in our bean bag chair with a different book in tow. Whenever we go somewhere, he's got a book in hand. His love of reading really shouldn't surprise me anymore, but when I see him get lost in a book for over an hour, I can't help but feel surprised. It's not supposed to be like this, right?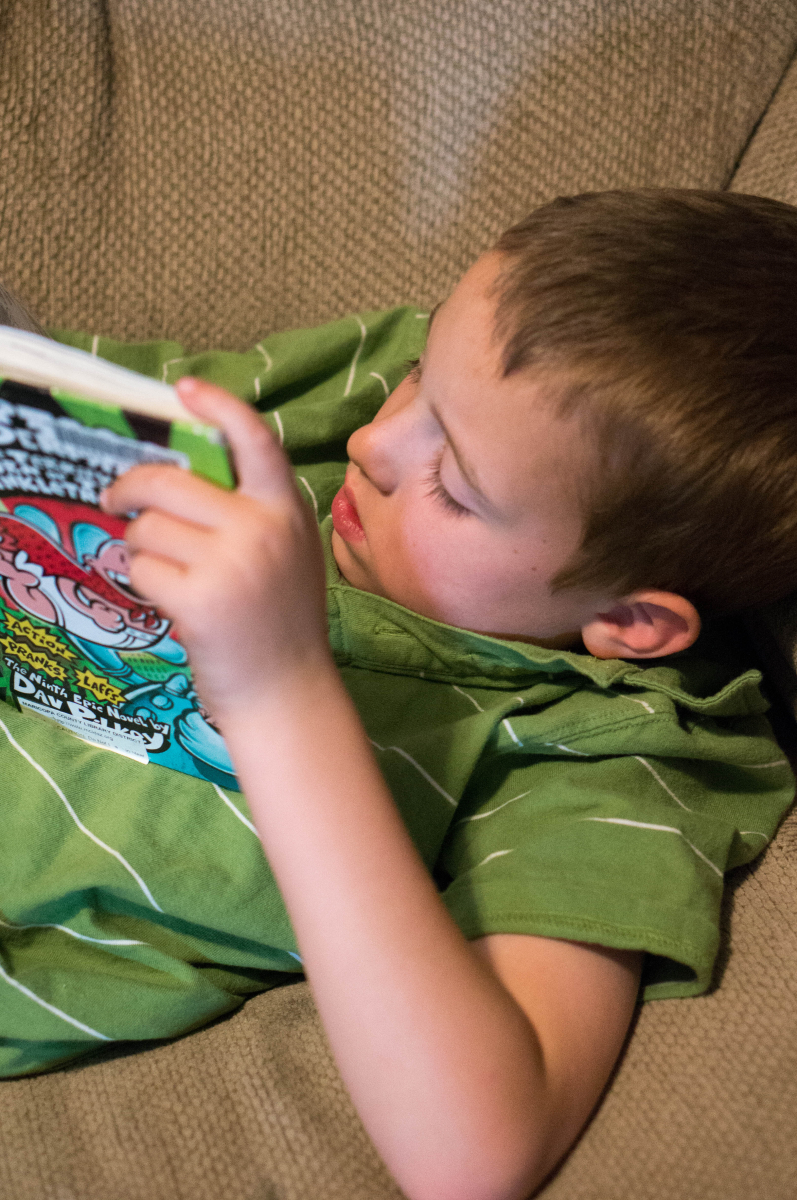 I always thought I would need to nag my son to read but he has found books that he truly enjoys reading and as long as I have new titles from the library ready for him, he won't put it down. There have been many, many times we've had to ask him to not bring his book to the dinner table. Such a strange concept.
Of course, I absolutely love the fact that he enjoys reading and do everything I can to encourage his love of reading. There are a few things I have found that encourages him to pick up his book and get lost in a story.
How to get Kids Excited to Read
1. Find Books Your Kid Loves – Picking out books that my son thinks are fun to read is the #1 way I've found to get him reading. Here are my sons absolute favorites, in order of early readers to more challenging books:
Elephant & Piggie Series
Fly Guy Series
National Geographic
Big Nate
Captain Underpants
2. Read books based on movies – Challenge your child to read a book about a movie, or read the book together. Then, watch the movie together and compare how the movie and book compare. My husband has been reading The Hobbit to our boys and then watching the movies as they get far enough through the story. It's been a fun nighttime ritual for them, and all my boys love cuddling up in the bed for a special reading time with dad.
3. Schedule and encourage reading every day – Pencil in a little time into your daily schedule for reading. Even if it's just 5-10 minutes for reluctant readers. Opening the book is the hardest step, once the book is cracked, chances are they'll start to get sucked into the pages.
4. Have new books on hand ready to enjoy – Plan a weekly trip to the library to find new books and return old books. Or set up a neighborhood swap and switch books with friends!
5. Subject matters – All kids have different interests. Not all kids will love reading fictional stories. If they love animals, try a book that tells a true story or if they love arts, try a book filled with gorgeous paintings and a whimsical story.
6. Reading challenge – A challenge can get your kids jumping through hoops to earn a prize or even just fill out a chart. Putting them up to a fun challenge is the easiest way to self-motivate your child to read.
Scholastic has a free Summer Reading Challenge that has a goal to beat last year's world record for minutes read! My son thinks it is so incredibly cool to be part of setting a world record! The goal is already progressing so fast with over 130-million minutes logged by participants. The goal is to pass 176-million minutes to pass last year's record. The Summer Reading Challenge is powered by EVEREADY®.
The online platform is easy for my son to use and log his minutes read. He thinks it's so fun when he gets to pick a badge for completing the weekly reading challenge. A lot of times, we'll login together as all the kids want to check out the new constellations and make sure he's recording his minutes properly.
My son just finished a space unit at school, so he absolutely loves hearing from a NASA Astronaut to learn more about the constellations. He is counting down to our own backyard reading under the stars party so he can try to find the new constellations he has been learning about.
Visit scholastic.com/summer to start your children on their own Summer Reading Challenge and help far surpass the world record of summer reading.

How do you get your kids excited to read?