Throwing a party for kids can be exciting and overwhelming at the same time. There are lots of things to think about. What kind of food are we going to serve? How many kids are we going to expect? What kind of things should we do to keep the party going and the kids having fun?
This conversation was started in behalf of Chuck E. Cheese's. All opinions are my own.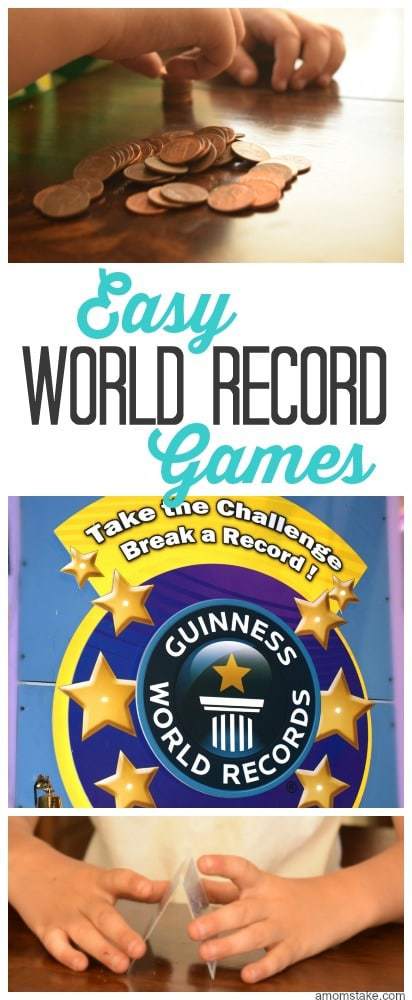 Party activities are essential to have a great party and to keep the kids from destroying your house. If kids aren't kept busy and the party doesn't have structure, the children will run restless and cause chaos. Chuck E. Cheese's is partnering with GUINNESS WORLD RECORDS™ for their 40th birthday, so we thought A GUINNESS WORLD RECORDS™-themed party would be tons of fun. We thought it could be fun to have the kids do some easy world record challenges to try and beat.
We've come up with 15 fun, and easy records the kids can try to compete to take on the title of the party record holder. Even if they can't beat a world record, they will have a good time trying to beat each other.
15 Birthday Party World Record Games
1.Stack the Pennies – See who can make the tallest stack of pennies in :15 seconds
2. Spinning Pennies – Challenge the kids to see who can keep the most pennies spinning at one time.
3. Biggest Bubble – Give the kids a piece of bubble gum. See who can blow the biggest bubble.
4. Card Tower – Let each child take a turn seeing how tall of a card tower they can create.
5. Card Thrower – See who can toss a card across the room the farthest.
6. Jumping Jacks – Who can do the most jumping jacks in 1-minute.
7. Hand Full of Balls – Challenge the kids who can get the most bouncy balls in their hands
8. High Bounce – Let the kids try to bounce their bouncy ball the highest.
9. Balloon Blow-up – See who can blow up their balloon the biggest in :15 seconds.
10. Keep it Up Balloons – Bounce balloons off your hands keeping them off the floor. Count one tap for each bounce. Most bounces wins this challenge.
11. HandStands – See who can do a handstand for the longest.
12. Balancing Chopstick – See who can balance a chopstick on one fingertip the longest.
13. Chopsticks Pick-up – Use two chopsticks and see how many items you can pick-up in 1-minute.
14. Happy Birthday Melody – Award a winner for the loudest singer of "Happy Birthday"
15. Party Blower Record – Hand out the party blowers and see who can blow for longest.
Supplies for World Record Games:
Pennies
Deck of cards
Bouncy Balls
Balloons
Chopsticks
Party Blowers
How to Play the World Record Games:
Explain the rules for each mini-challenge before you get started on the specific challenge. Give the kids 5 minutes to practice, then start the challenge clock. Give the 1st place winner of each challenge round a star sticker. They can collect them on their shirts, hands, or create a simple punch card they can score on. You can play each game a couple of times if you'd like. Prepare a prize for the child with the most stickers and a runner-up prize for all the other children of a party goody bag.
If you want an easy and stress-free birthday party for kids, Chuck E. Cheese's is the perfect location. When you book a party at Chuck E. Cheese's, the birthday child gets 1000 tickets and each kid gets 3 slices of pizza. Plus, the best part, the kids have fun, you become the best parent, and your house is saved.
What would be another fun World Record challenge for a kid's party?