Chicken and waffles: the perfect blend of sweet and savory. However if you're like me and trying to make smarter eating choices this year, the typical chicken and waffles dish may be out of the question. That's why I've decided to create my own take on chicken and waffles: Chicken and Waffle Sliders. The best part about this dish is that you can enjoy those tasty sweet and savory flavors without the guilt.
This is a sponsored post written by me on behalf of Van's Foods. All opinions are entirely my own.
Chicken and Waffle Sliders
Ingredients (for 4 sliders):
– 1 chicken breast
– 1 t olive oil
– seasonings (I typically use a dash of salt, pepper, and garlic powder)
– 2 Van's Power Grains Waffles
– honey (1 T for dipping)
– 4 toothpicks (optional)
Instructions:
1. Put olive oil in a saucepan and grill chicken over medium heat.
2. Grill chicken until it is no longer pink in the middle.
3. Add desired seasonings. As I mentioned above, I typically season my grilled chicken with a dash of salt, pepper, and garlic powder.
4. Toast Van's Power Grain Waffles.
5. Sandwich your grilled chicken between your Van's Waffles.
6. Cut into 4 small pieces. To keep sliders together, you can insert toothpicks.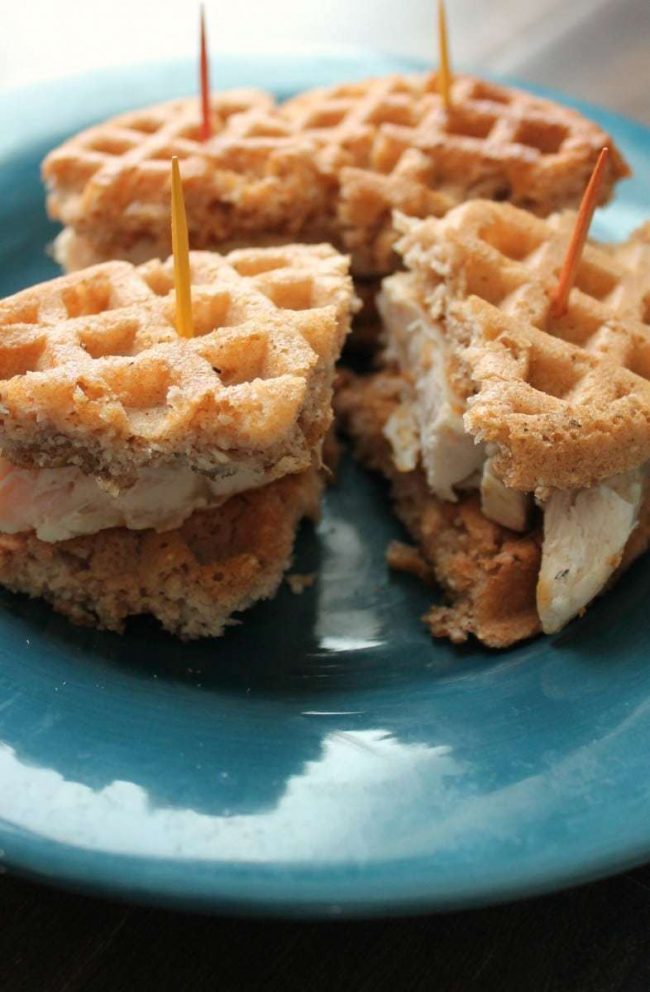 7. Serve with honey for dipping.
I absolutely love using Van's Power Grains Waffles in this recipe. Not only are they packed with 10g of protein per serving, but they are made with many nutritious grains: steel-cut oats, millet, brown rice, and cracked red wheat. Plus, their thick and delicious texture makes them taste homemade.
Every morning for breakfast, my son requests Van's Power Grains Waffles; and I'm perfectly okay with that. Van's Waffles are the perfect wholesome breakfast or snack option to help my entire family kick the new year off right. Because of his love for Van's Waffles, he was quite delighted to try these delicious Chicken and Waffle Sliders. Being the pickiest eater in the world, you know a recipe is delicious when you get two thumbs up from this kid!
Just in case you're looking for one more reason to love Van's Waffles, all waffles are are non-GMO project verified and contain no artificial ingredients. Why wouldn't I use Van's Delicious Power Grains Waffles for my Chicken and Waffles Sliders?
Van's waffles are available at grocery stores nationwide. To find a retailer near you, be sure to visit the Van's Foods store locator.