BOB, first known as "Beast of Burden" and quickly shortened to it's no known acronym BOB, started by making bike trailers. When their success revolutionized the biking world and the owners started families, their success quickly spread to create a line of top quality strollers that held the same high standards as their bike trailers.
Using tough polymer wheels and an easy-fold frame along with many features while still being able to keep the stroller relatively lightweight, the strollers became a success! Since then, the BOB strollers have only become better and better with new improvements over the years including a swivel front wheel, seating for two, and more!
We had the privilege to be able to review a BOB Revolution SE Duallie Stroller. With 3 young children and a 4th on the way, I needed a top quality double stroller that would let me get outdoors but not be difficult to push.
I have heard nothing but positive things about the BOB line of strollers so I couldn't wait to try one out myself! First, check out all the awesome features of this stroller!!
Features of the BOB
Revolution SE Stroller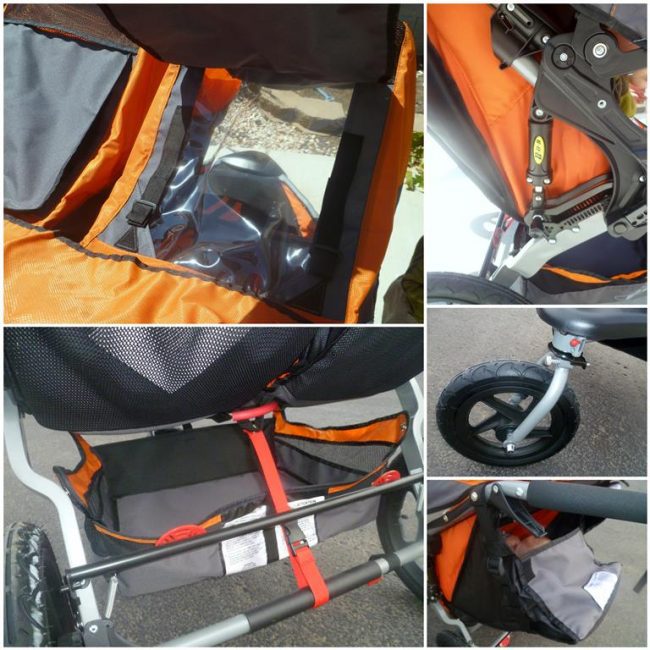 Features: (Clockwise from top left) Large canopy with viewing window, Adjustable suspension system, Swivel or locked front wheel, Seats recline independently to 70 degree recline position, large storage basket and one-step parking brake!
Front Wheel Swivels or locks in place for jogging and terrain
Easy, two-step folding, lightweight frame for convenient transport and storage.
State-of-the-art, adjustable suspension system provides an exceptionally smooth ride.
Car Seat Adapter available to add a Britax, Grago, Peg Pergo, or Chicco car seat to the stroller
Ultra-padded, adjustable reclining seats for enhanced seating comfort. Five-point padded harnesses help keep your children comfortably secure.
Independent multi-position canopies adjust for protection against the elements. Large viewing windows let you keep an eye on your babies.
High-impact polymer composite wheels with pneumatic tires and tubes take on tough terrain.
Low Boy Cargo Basket provides plenty of undercarriage storage. Additional space in large seatback pockets. Internal seat pockets provide a great place for snacks and toys.
A simple twist of the front wheel tracking adjustment knob keeps you rolling straight.
When engaged, the parking brake helps secure a stopped position.
Padded handlebar for comfort; wrist strap helps you secure stroller when strolling and provides handy fold lock when folded.
BOB Revolution SE Duallie Review
Even though the summer heat here in Phoenix has kept us from being outdoors too much this summer, we have really enjoyed our BOB stroller! All 3 of my boys ages 22 months – 5 years have been very comfortable sitting in the seats and strolling along.
The BOB provides such a smooth ride for the kids with the very high quality shocks that absorb the bumps along the path. The seats can recline 70 degrees which allows you to accommodate an infant as young as 2 months. Children under 8 weeks can use an infant car seat adapter.
I really love that the wheel can be switch from locked to swivel position with gives the flexibility to go off the paved path and jog with ease but also gives you much easier turning control when you are on a smooth path. I LOVE the huge canopies!
They provide so much shade and since they can easily be adjusted to several positions, they give just as much shade as needed without blocking the view! I also really like the one step brake that is so incredibly easy to operate locking both tires in one motion.
The folding was a bit tricky to figure it all out at first, but once we learned how to fold the stroller, it is now so simple and really quick and easy to fold or unfold the stroller.
The Revolution SE has lots of storage space with an open under stroller storage basket that can hold a lot as well as built in pockets in both seats and along the seat backs.
You can add on a parent organizer tray as well which adds cup holders for the adults, this accessory is sold separately.
Check out my video review of the BOB Revolution SE Duallie Stroller!
You can find the BOB Revolution SE stroller with single or duallie seating on Amazon or at a retailer near you! For full information on this stroller, visit http://www.bobgear.com/. The Duallie has an SRP of $659.
Disclosure: I received a BOB Revolution SE Duallie stroller in exchange for my honest review. I was not compensated in any other manner. The opinions expressed above are my own and any claims should be verified on the sponsor's site.