I received a complimentary Zoku Quick Pop Maker and accessories in exchange for this post. All opinions are my own.
Nothing is more fun when cooking with the kids than when the reward at the end is a delicious treat! We had the opportunity to check out a Zoku Quick Pop Maker and create our own homemade popsicles. Here's a look at the three popsicle recipes we made.
We made a vanilla base popsicle, a banana pudding popsicle, and a yogurt popsicle. All three were really yummy and a great hit!
I had an absolute blast playing with the Zoku Quick Pop Maker! The Zoku sits in your freezer and waits until you're ready a treat. Then, you pull out the Zoku and can make homemade popsicles in 7-9 minutes! It's incredibly neat how quickly it can freeze a popsicle and have it ready to enjoy right when you want it. Typically, when you want to enjoy homemade popsicles, you have to prepare them at least a day in advance.
You start by sticking the popsicle stick into the Zoku and then pour in your popsicle ingredients into the molds. You can jazz up your popsicles by adding fruits or other ingredients by placing them into the molds before your popsicle mix and sticking them to the inside of the molds and allowing them to freeze for a few seconds before adding your popsicle mix. You can get really creative and make artistic popsicles by tilting the Zoku to create angled designs or whatever else you can come up with. The popsicle will freeze in 7-9 minutes for your first 3 popsicles. After your first round is frozen, you can make up to two more batches if you work quickly so that the Zoku stays cold enough to complete all 3 batches.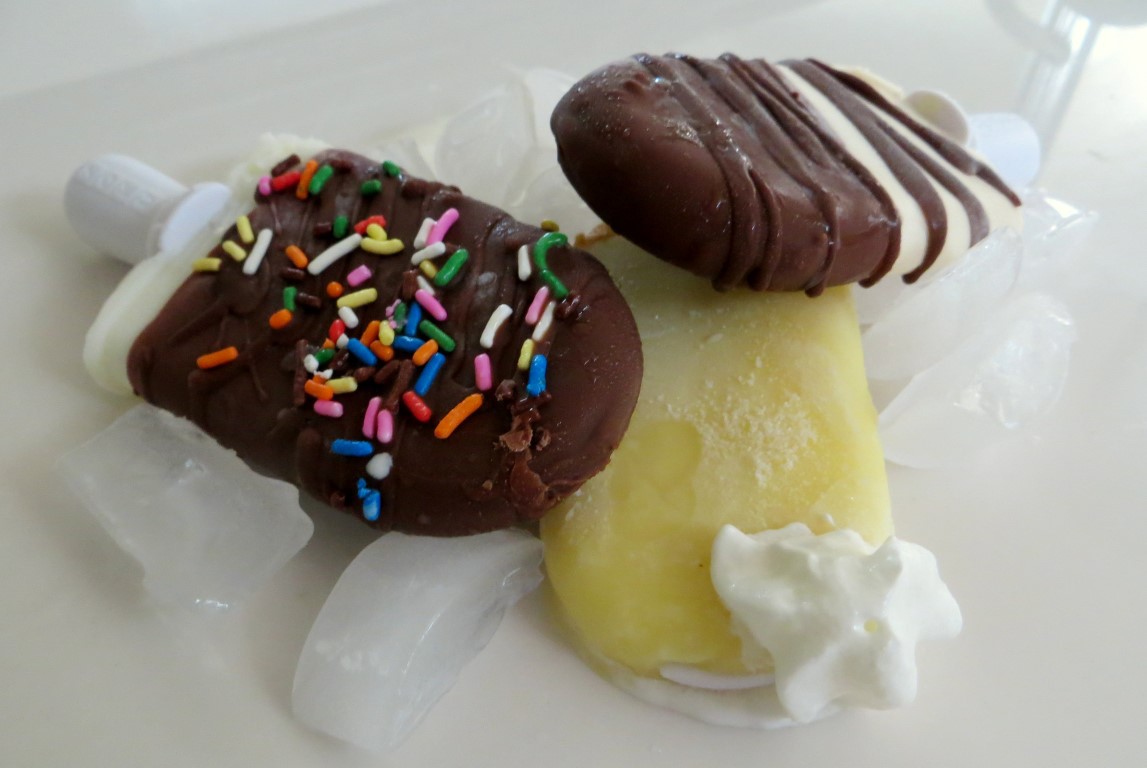 Zoku offers a variety of really fun accessories to take your popsicles to the next creative level with kits to make characters, words, and designs on your pops. Or finish off your popsicles with the Chocolate Station. The kit includes lots of recipes including directions on how to make homemade magic shell! This leaves you with a chocolate that is thin and easy to work with but that hardens within a few seconds once on your popsicle so it's not messy. Plus, it gives that bit of a crunch of a chocolate shell that really adds to the popsicles. I really enjoyed using the Chocolate station! I loved learning how to make a homemade magic shell, which was so surprisingly easy!
When the popsicles were finished, my kids were so excited to try their popsicles they just helped me make. They loved the popsicles! I loved the absolute ease of making popsicles and all the options you have to make something really unique. I really love the Zoku Quick Pop Maker!
You can pick up a Zoku Quick Pop Maker and accessories on Amazon.