Getting up in the morning can be hard. We all crave that extra half hour of sleep. There are a few things you can do to transform your mornings to have a welcomed and happy morning routine. I'm excited to share these simple tricks to wake up happy and on the "right side" of the bed. These ideas for your morning routine can make all the difference.
This post is sponsored by Philips Wake-up Light. I received samples and compensation for this post. Affiliate links are included below. All opinions are my own.
How to Wake Up Happy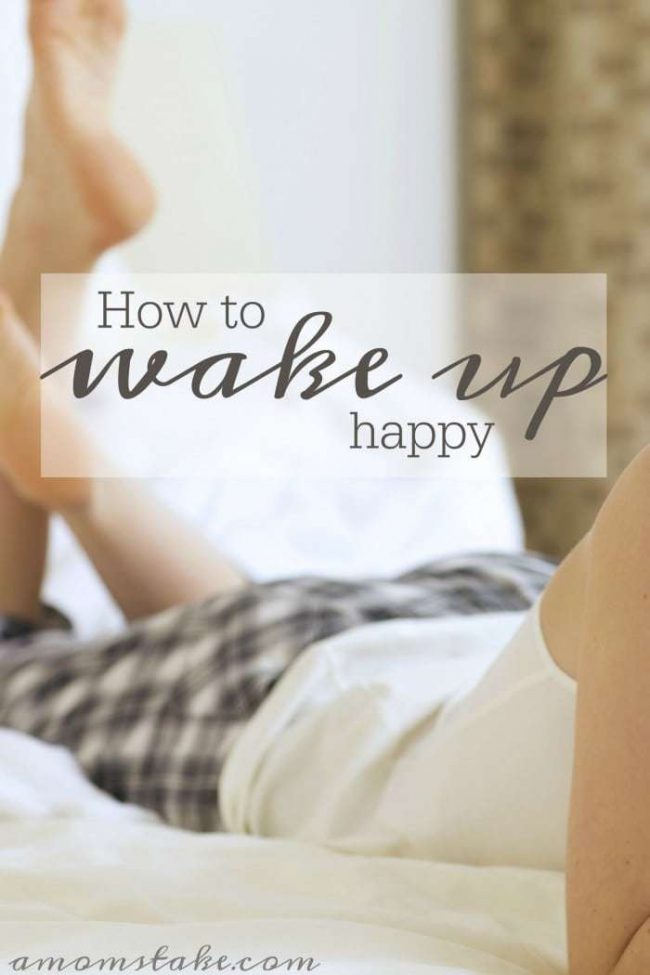 1. Keep a Schedule – Keeping a consistent schedule for what times you go to bed and wake up will make it easier to wake up on time and without fuss. Your body will try to maintain a regular schedule and the more you can help with that the better you'll sleep both if falling asleep quickly and getting those quality rem cycles.
2. Wake Up Naturally – There's nothing like a blaring alarm to ruin your morning. When your body adjusts to your schedule, you'll find yourself naturally awaking right around the same time each day. One of the best ways to wake up naturally is waking with the sunrise. The natural transition from dark to light will wake you gently from your sleep instead of an abrupt alarm to interrupt your dreams. Philips Wake-up Light helps you wake up naturally, no matter what your awake time is. This one lamp uses a range of colors in light to simulate a natural sunrise and sunset to ease you into your morning.
3. Drink a Glass of Water – Make it a habit to drink a large glass of water first thing in the morning. The water will help rehydrate your body and kickstart your metabolism to help you process your breakfast easier and start your whole day off right. A big glass of water can also do a lot towards helping you feel awake, alert, and happy.
4. Don't Skip Breakfast – A healthy breakfast will give you a boost of energy and studies have shown it even improves your mood! When you've taken care of your physical needs in the morning, you can transition on to the rest of your day and be more productive and content.
5. Prepare the Night Before – Take a few minutes before bed each night to prepare for the next morning. You can lay out your clothes for the next day, jot down your to-do list while those thoughts are still bustling in your mind, or even just spend a few minutes on self-reflection or meditation to settle your mind. Clearing some of these tasks the night before helps you not scramble in the morning with last minute prep you may have forgotten about.
6. Get Enough Sleep – Allow yourself enough time to get a solid night's rest. Most adults will need 7-9 hours of sleep per night, but we're all a little bit different. When you find the sweet spot for you, stick to it and avoid late nights that will keep you from getting enough sleep.
7. Allow Enough Time to Not Rush – One sure way to a grouchy morning for the whole household is not allowing enough time to get ready for the day. Skip hitting snooze and set your alarm for just the right time to let you sleep as long as you can and yet still have enough time to accomplish all the things you need to do each morning. It's much better to have an extra 5 minutes to relax before rushing out the door then be running 5 minutes late and start out your morning feeling hectic and rushed.
8. Spend a Few Moments Reflecting – Jot down your favorite moments from the day before or add to a gratitude notebook more things you have to be thankful for. The reflecting on your previous day and focusing on what is important to you going forward can set your mind in the right place.
Waking Up with a Wake-up Light
I was a little nervous to rely on the Philips Wake-up Light to wake me up the first couple of mornings I tried it out. I figured that sure, the light should be able to wake me up at some point, but would I be able to rely on it like an alarm clock? Could it wake me up at a specific time that I needed to be up?
I have to be up really early to get my boys ready for school. Their school starts at 7:45 am and it's a little bit of a drive. That means, I needed to be up and moving by no later than 6:30 am to give me enough time to get them read, into the car, and to school early enough to be to their classrooms before 7:45.
I decided to set the Philips Wake-up Light and then send my phone alarm for a few minutes later, just in case. The first night, I woke up a little bit before the alarm and stirred in bed for a while. I have a tendency to do this if I'm worried about oversleeping an alarm, so I knew I'd need a couple more nights to try it out. Still, I laid there trying to sleep and it was pretty neat to see the earliest transitions as the light turned on from a really dull light and brighter and brighter to the brightness setting I had selected. When the alarm time came, a natural bird chirping sound began. It was really cool to watch, but I still wasn't certain if it would wake me up on its own.
On night two, I was convinced! I had gone to bed later than normal and was exhausted. I remember slowly slipping out of dream state, but still feeling totally asleep. A few minutes later, the birds started chirping and it caught my attention, while still asleep. I didn't realize the whole process was happening until I was fully awake and reflecting back to how I was slowly awaking from the changes in light and the soundtrack of birds. My phone alarm went off a few minutes later and I was really shocked by what a contrast the two approaches to waking up really are.
The Philips Wake-up Light absolutely worked for me! I loved waking up much more naturally without an abrupt, rude, awakening. The natural soundtrack works perfectly to ensure you'll wake up when you need to, I'm no longer setting a backup alarm.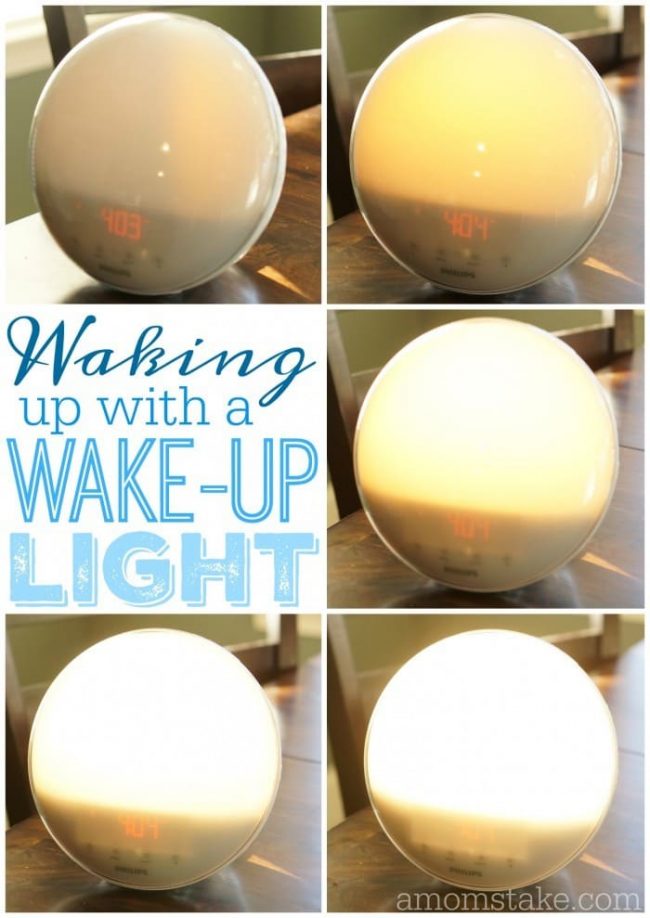 The pictures below shows you a glimpse of some of the levels of brightness (4, 8, 12, 18, 20) to give you an idea of how bright the light can get. They were all taken in the middle of the day in a bright room to let you easily see the Philips Wake-up Light.
The Philips Wake-up Light is available at Amazon and Costco.com and at www.philips.com/store.