Swimming is a fun and healthy outlet that's can be a perfectly weekly after school activity that also teaches key life skills to your child. There are a lot of reasons why to start swim lessons for kids, but these 5 stand out to me as most important!
We received complimentary kids swim lessons in order to experience Goldfish Swim School. All opinions are my own.
5 Reasons to Start Swim Lessons for Kids
1. Safety – Your children are likely going to spend a lot of time around and in the water from pools and lakes to the beach and rivers! Keeping our kids safe is of course very important to us and training them how to safely interact with water can't be understated. Be sure you take every precaution to keep your kids safe in the pool, swimming lessons for kids is a huge asset that can help!
2. Confidence – Kid Swimming lessons can help your child gain confidence as they learn new skills in a safe environment. This confidence will help them as they take on future challenges, too. They'll learn that hard work and perseverance can help them reach their goals, as they work towards earning ribbons and passing onto the next swim level.
3. Lifelong Skills – Swimming is a skill your child can gain now that will stick with them for life. There are still some adults that aren't confident swimmers or very comfortable in the water. The building blocks they establish as kids can stay with them as they continue to enjoy the water in safe ways from their experiences learned during swim lessons for kids.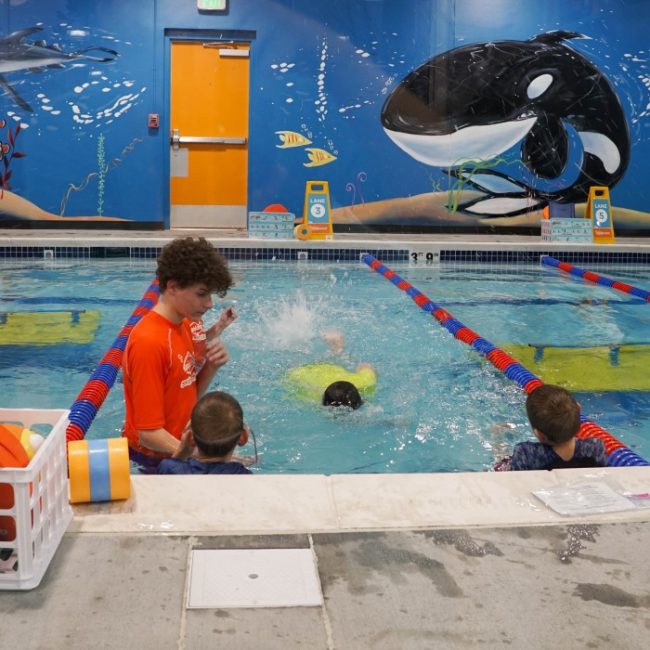 4. Healthy Habits – Taking your children to swim lessons is a great way to encourage healthy lifestyles and good habits by encouraging fitness as part of their weekly routine. Swimming is a perfect way to engage children in exercise as it's easy and fun!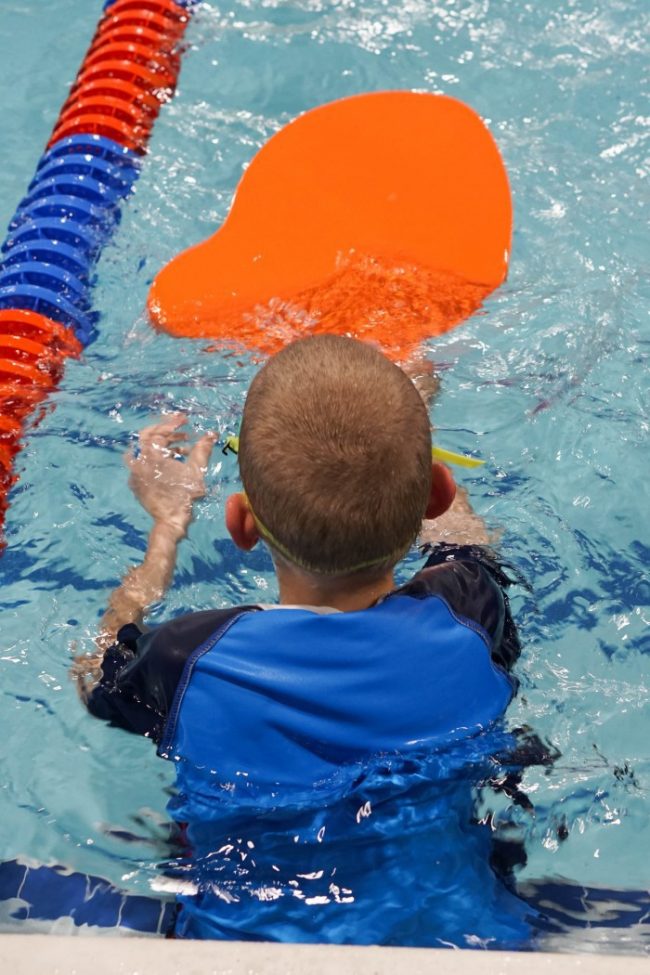 5. They're FUN! Swimming lessons will become a fun and exciting part of your weekly routine! All of my boys eagerly looked forward to their weekly kids swim lessons, that didn't feel like learning but just felt like fun playing and learning in the pool! This makes swim lessons for kids a natural choice for an after-school activity. After our swim lessons for kids, we easily were able to apply some of the fun swimming games for kids we learned during the lessons.
Why We Loved Goldfish Swim School
We recently completed kids swim lessons for my four boys – ages 3-11 at our local Goldfish Swim School. A new location opened up close to our home which made it the perfect opportunity to enroll in a weekly class and work on my boys swimming skills before summer arrived.
The thing I loved most about Goldfish Swim Schools is that there are several classes happening all at once, which meant all four of my boys could be in class at the same time, at their own levels. As a busy mom I really appreciated that all of their lessons overlapped so our entire time commitment was about an hour with their lessons and changing times.
There have been many after school programs I've looked into, but split schedules makes it really difficult to pick one child to participate or else try to do them all and end up overbooked. This way everyone could participate without creating a hectic weekly schedule.
At Goldfish Swim School everything is set up with kids in mind. There are fun elements and bright colors everywhere you look. Like a coloring table, a fish tank, even a candy reward table with 25-cent treats available for purchase if you want a quick and easy reward for their hard work. You could set up a goal like a treat each time they earn a ribbon or an advancement to keep it special.
The swim instructors were so friendly, patient, and helpful. My 3 year old was terrified his first week and class and by week 2 he couldn't wait to get to class! His teacher helped him feel comfortable and was very patient with his nervousness his very first week.
It was absolutely amazing to me to watch my son go from cowering in the corner on week 1 to floating on his back, kicking and swimming, and playing all the games just one lesson later. They definitely create a very positive and fun atmosphere for the kids during the swim lessons.
Each kids swim lesson is set up in small groups of 3-4 kids and we always had 2 instructors which made it so there was lots of individual time with each child in the class and they were able to quickly pick up on the skills in the playful, game based approach!
I appreciated that there was something for all of my boys, even my oldest. He quickly mastered the skills and was able to move up to a more advanced swim lesson for older kids by the end of his 4th lesson.
Goldfish Swim School does a great job at encouraging and praising accomplishments each week with a little meet-and-greet with the teachers at the side of the pool. They invite the parents in to the pool area where the teacher discusses what was worked on that week and gives your child a chance to show off their new skills. I loved seeing my boys beam with pride as they showed me what they had practiced.
About the Goldfish Swim School Facilities
Everything about our Goldfish Swim School was so inviting and fun. When you first arrive you'll be given a guided tour to check out the facilities and learn more about the program. The tour starts at the lockers which have a fun beach-vibe. They're roomy and accommodating. You can easily fit an adult and a couple of kids in each stall.
After they are in their suits and ready to swim, you can store all your personal belongings in the open cubbies. Since they are out in the open it's easy to keep your eyes on your stuff while not having to tote all their clothes around with you during the experience.
After the meet-and-greet with the teachers, you'll collect your children and walk down to the other end of the pool area where there are plentiful showers to rinse off any chlorine before exiting to the changing room.
You'll also find bathrooms, a vanity with blow dryers, and my boys favorite – a swim suit drying spinner! You can toss in your swimsuit and hold down the top for 8 seconds and nearly all of the water would be wrung out of your suit leaving you an almost dry suit in seconds! It was pretty neat, and a favorite for the kids to do before we left each week.
Even wrangling 4 boys, the facilities made it easy for everyone to get cleaned off, dried, and back into normal clothes before we left our kids swim lessons.
Goldfish Swim School has 3 locations in North Carolina, including their new location in North Raleigh / Wake Forest at 14460 Falls of Neuse Rd. You can find a Goldfish Swim School in 23 states, so be sure to check their locations to find one near you!
Have you ever considered swim lessons for kids?