As a newborn, my son was very colicky. Being a brand new mother, the constant crying was very frustrating for me. He would cry before eating, while eating, and then after eating. I felt so bad for my little guy, I wished I could take away his pain.
My husband and I tried EVERYTHING to make our son comfortable. Through trial and error, we came up with a plan to help relieve our son's colic; we used gas drops as often as possible, created a calm environment, swaddled our son, and held him while putting pressure on his stomach.
These four actions helped our entire family survive during my son's colicky time. Although my son, now seven months, has grown out his colicky stage, he still loved being wrapped up tight. Thankfully, Swaddle Designs provide the perfect swaddle blankets that have many ingenious uses.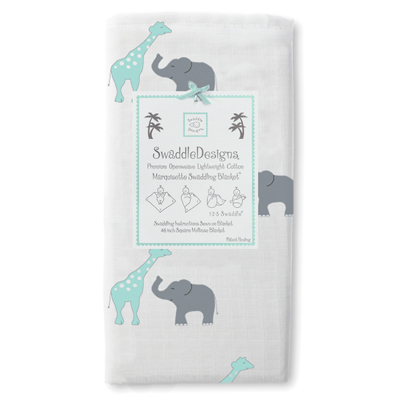 Swaddle Designs Marquisette Swaddle Blanket, SeaCrystal Safari Fun Design, is my son's absolute favorite blanket. This trendy blanket is patterned with gray and blue safari animals. Made with 100% ultra-soft cotton, your baby is insured absolute comfort.
This breathable and lightweight swaddle blanket is perfect for warmer weather! Measuring at 46 x 46 inches, this large blanket has many uses: swaddling, tummy time, nursing cover, and car-seat cover. Swaddle Designs award winning swaddle blankets include a swaddling instructions tag. Wrapping your baby in Swaddle Designs Marquisette Swaddle Blanket, you can be assured that your baby's best interest is in mind.
Living in the heat of Arizona, Swaddle Designs Marquisette Swaddle Blanket's lightweight design is ideal for my son. We use this blanket for EVERYTHING at our house. Not only do we use it to swaddle my baby, but he loves lying on this blanket for tummy time; while on his stomach, he enjoys looking at the fun giraffe and elephant designs on the blanket.
While in his car seat, The Marquisette Swaddle Blanket's breathable pattern helps block the sun from my son's eyes without trapping the heat in. I prefer to use this blanket as a privacy throw while nursing my little one.
It's large size and lightweight design provide my son with the perfect amount of comfort without making him feel smothered by a heavy blanket. My most favorite feature of the blanket is that it folds up SO easily and fits into my diaper bag without creating added bulk. Seriously, talk about a wonder-blanket!
Swaddle Designs also offers a wide variety of other products: wearable blankets, security blankets, cozy blankets, bibs, burp clothes, towels, apparel, organic products, and fitted sheets. We love using Swaddle Design's blue fitted crib sheet in my son's nursery. It's durable quality and modern design adds a perfect stylish touch to our home.
Swaddle Designs stylish Marquisette Swaddling Blanket ($16.00) is a necessity in our home. It provides my son the perfect amount of comfort and functionality. Make Swaddle Designs a part of your home by clicking HERE. For more information concerning Swaddle Designs, check our their WEBSITE.
I received product samples and/or compensation in exchange for this post. The opinions expressed above are my own. Any claims should be verified on the sponsor's site.