Now that school is out, it's time to have some summer fun! Wondering what to have on hand to get you through those long summer days? Here's a Summer Essentials list and ideas to get you brainstorming what you'll need this summer. You will be able to create lasting summer memories using these fun and unique products.
Samples were received for inclusion in this feature. All opinions are our own.
Summer Learning & Fun
Summertime can drag along without something to fill your days. Look for an educational but interesting book that will hold your child's interest, a fun game to play during down time, and something fun for the backyard, too. Here are some fun suggestions to get you started:
National Geographic has two fun books out that kids will easily get engrossed in this summer. In 100 Things to Do Before You Grow Up adventurous kids will find inspiration for fun that are perfect for those special years as a kid. Try things like stay up all night, play in the mud, or start your own business! The full color pages will draw them in and get them planning their own perfect bucket list. If you will be traveling this summer, the Ultimate Globetrotting World Atlas will get them curious and thinking about the world around them and ready to travel. It includes fun facts that encourages learning and fun at the same time.
Noodle Speedoodle is a zany game where you play together as a family trying to add in the crazy noodle design along with your assigned picture. You'll have 30 seconds to draw your design and help the rest of the players guess your design. Everyone plays together as a team working together to win! Banana Spit card game combines what you love about Spit and Speed for a fast-action card game. Try to get rid of all your cards before the other player. You can find both of these fun games at Peaceable Kingdom's website.
My boys absolutely love playing mini golf, but heading to the course can get expensive. Instead, we set up a Putt A Round which works like the "hole" you are aiming for on the putting green. The kids will get lost in the fun of putting and get exercising without even realizing it. Best of all, the design lets you putt from any angle, so no matter where their ball stops, they're ready to practice their swing again. The Putt A Round is made in the US.
Summer Stylin'
You are likely to spend lots of time out and about, which means you may want to spend a bit of extra time primping. Start with these ideas to help you get in shape for summer: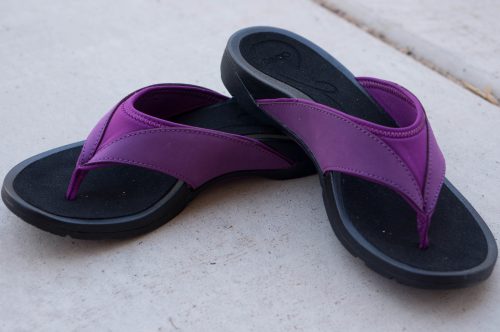 When you're walking all over town or hitting the beach or pool, the ABEO B.I.O.system Balboa sandal will give you both comfort and support. The sandals are made with a water resistant nubuck leather and lycra upper with a channeled rubber outsole to absorb shock. You'll appreciate the non-skid and slip resistant bottom that keeps your traction even on slippery floors. Best, of all, these shoes can help balance and align your body. Find these sandals in a huge variety of colors at The Walking Company's website.
Mary Kay products can give you a neutral base that can be played up or down for night or day. Dress up your eyes with Mary Kay Cream Eye Color in Metallic Taupe or Iced Cocoa. Finish your eyes with Lash, Love, Lengthening Mascara in I <3 Black for a bold finish. You can The Mineral Bronzing Powder will give you a healthy warm glow for summer. Pair it with a Mineral Cheek Color, like Sparkling Cider, for a perfectly sun kissed glow. Find all of these products on the Mary Kay website or from your local representative.
Little boys hair seems to grow twice as fast in the summer. Keep a quality pair of hair clippers on hand to trim up their unruly locks. Wahl Lithium Ion Clippers can run off battery charge letting you take it on the go, when needed. It boasts twice the run time and 50-percent more power than comparable clippers. The set comes with a variety of guide combs for the perfect style. Find the Lithium Ion Clipper on the Wahl website.
Snacks & Easy Clean-up
Summer seems to requires snacks ready to go with you, no matter where you are headed. Keep a few easy snacks in your purse and plan cool treats for backyard play, too, for those hot days.
Sneak a pack of yummy fruit snacks when you're headed to the park or other activity this summer. Welch's Fruit Snacks come in a ton of varieties like Mixed fruit, Island fruits, tangy fruits, and more that will keep snack time interesting all season. They'll give you 100% of your daily Vitamin C, 25% of your daily Vitamin A & E. Plus, these snacks are fat and gluten free and have no preservatives. That makes these a feel good snack that will have have everyone wanting seconds. You can find Welch's Fruit Snacks a retailers nationwide.
Messes are sure to happen, whether it's from sticky fingers after a fun snack or muddy faces after too much fun in the backyard. Keep Huggies Clutch 'n' Clean refillable wipes containers on hand so a clean-up is easy, no matter why it's needed. Both of these designs can be easily refilled and ready to go in any room of your home. Find the new Huggies wipes containers at local retailers nationwide!
Last, but not least – you'll need a cool treat! Hot summer days are killer here in the Phoenix valley. My son and I enjoy finding activities to keep us cool during these warm months. One of our favorite ways to cool off is sitting on the back porch with a Popsicle in hand. It's amazing how a cold treat can take the edge off of the summer heat. Our latest favorite frozen treat combines two of our favorite things: Popsicles and Jelly Bellies. Can you think of anything more delicious? These refreshing Popsicles come in 3 delicious Jelly Belly Flavors: Tutti-Fruitti, Very Cherry, and Blueberry. Lick away the frozen shell to enjoy a yummy chewy center. These scrumptious Jelly Belly Popsicles are sure to be a family favorite this summer.
Which of these would you add to your own Summer essentials list?