A cute patriotic shirt is a must have for the upcoming July 4th holiday and our DIY Patriotic T-Shirt is fun to make and would be great for girls & boys of all ages! It's made with upcycled materials and can be put together easily in a couple of hours.
July 4th – DIY Patriotic T-Shirt
Supplies:
plain white t-shirt
small rectangle cut from old blue jeans approximately 3″ wide x 1 1/2″ tall
7 strips of red t-shirt cut to 1/2″ – 1″ wide and 6″ long
white thread
needle
scissors
Instructions:
Step 1
Decide on a placement for where the flag will be sewn onto the t-shirt and lay pieces in place to mark. The pieces should look something like this. I like to place the flag at an angle for a couple of reasons. First, it will look like the flag is blowing in the air and second, I don't have to sew it on perfectly straight!
Step 2
After you have decided where the flag will be placed, begin sewing on the denim patch. You will sew this on with the white thread and this very basic stitch that will look like stars. You simply stitch a small cross in each corner with a straight stitch coming up from the middle of the cross. Knot each stitch on the backside of the t-shirt.
Step 3
Continue adding the small cross stitches and straight tips until you have many white stars against the blue.
Step 4
Using a basic strait stitch add the strips of red t-shirt to the flag as shown. The stitches are not seen and do not have to be perfect! That's great for keeping this craft quite simple. Add all stripes to the flag to finish the project.
The t-shirt scraps roll and create great stripes that look to be blowing in the wind. This great t-shirt is not only perfect and patriotic for this July 4th but for any occasion you wish to show your USA pride!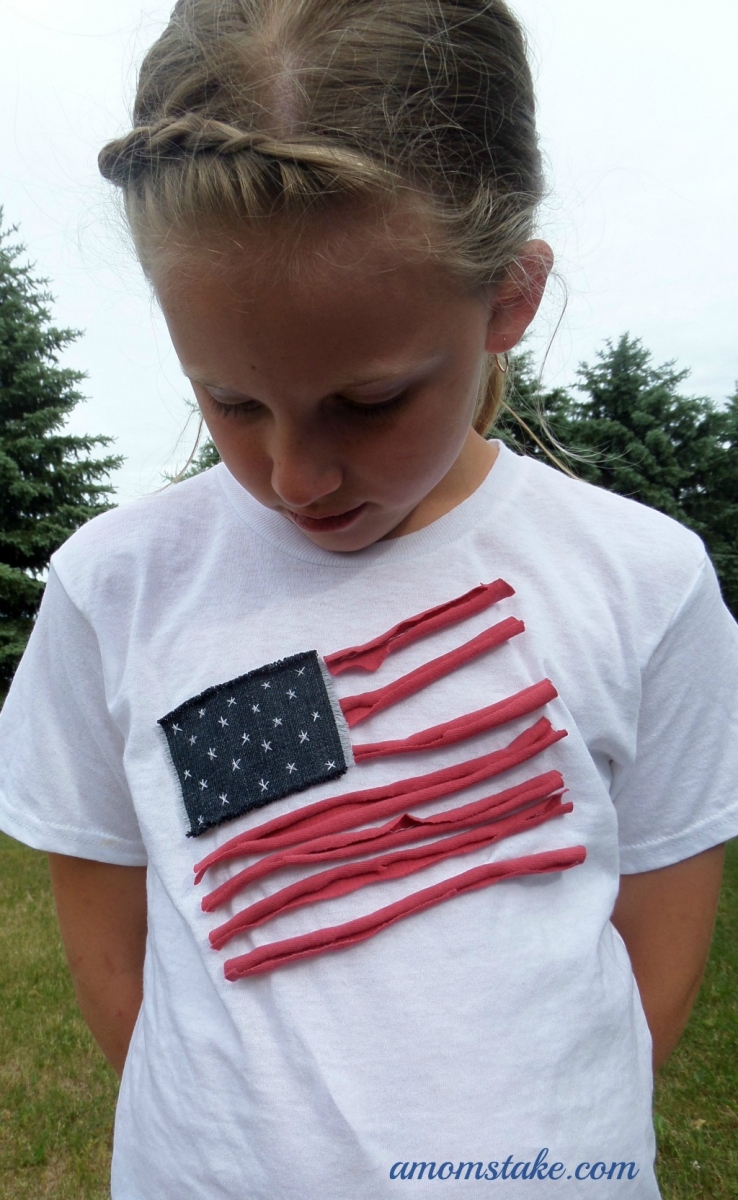 Our family has a tradition of wearing matching or coordinating patriotic shirts for our July 4th celebration. Does your family have a July 4th tradition? Please share with us!