I was really excited when my friend invited me to a Pinterest exchange party. I had seen pictures of one of the previous parties, and I was practically drooling at the adorable things people made. If you never have heard of a Pinterest exchange party, it's basically like the typical card exchange parties, but instead you find something cute on Pinterest to make, make enough for everyone attending, and come home with one of each craft handmade from everyone that went. It's the coolest.
Although I was excited, I was also intimidated. I hadn't crafted in a while, so I wanted to make something super cute but super simple. I decided to do a print for St. Patrick's Day.
I received a printer from Epson in exchange for this post. All opinions are my own.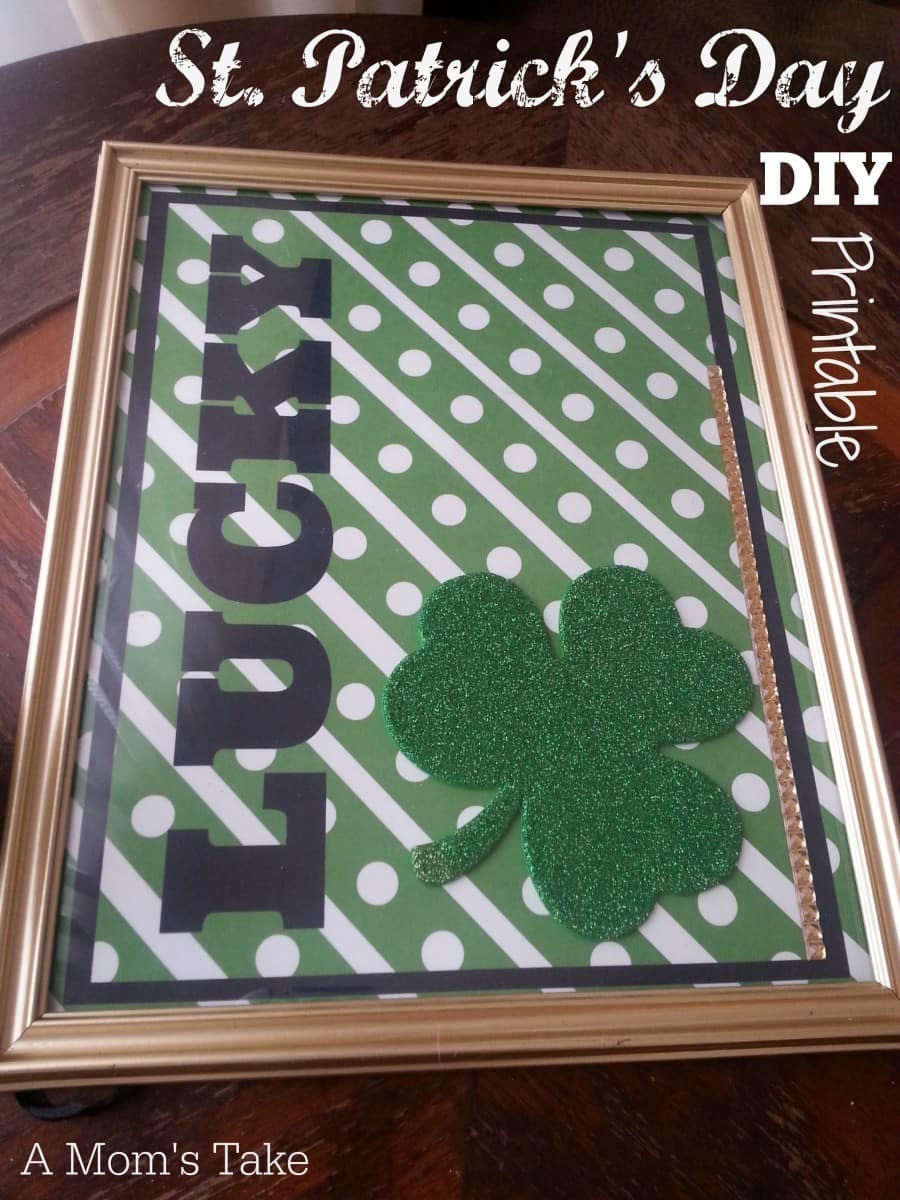 I created my own print using PicMonkey, and used some simple embellishments to make it a bit more fun. I picked up a frame from the dollar store and….done! Exactly what I needed. I was able to make 11 prints in frames, with embellishments for under $20.
Click Here for the 8×10 Lucky Print
Embellish your St. Patrick's Day printable anyway you wish, that's the fun part!
I was able to get such a beautiful color on my print by using the Epson Expression Photo XP-860 Small-in-One All-in-One Printer. I have always loved my Epson printers in the past, so I was super excited to see what the newest model had in store.
Epson makes it easy to print stunning and professional-quality photos with the Expression Photo XP-860 Small-in-One printer. The XP-860 is power, packed into a space saving design. Borderless photos printed up to 8″ X 10″ from your tablet or smartphone or photos scanned and uploaded into Facebook (hello Throw-Back-Thursdays!) within seconds.
Featuring a 4.3″ color touchscreen, 30-page Auto Document Feeder, and auto 2-sided printing, copying, scanning and faxing abilities. 6-color Claria Photo HD Inks is perfect for smooth gradations and amazing skin tones.

I was super impressed with the speed of setting up the Epson XP-860 Printer. It was lighting fast connecting to my PC, wifi and my phone. It was so cool being able to print pictures right from my phone! The colors are clear and beautiful. The functions are astounding. I can't believe you can print right onto a CD, so cool! I'm thinking about making really cute DVDs with my son's plays. My brother, my PC guru, has printer envy. He keeps hinting how it would look better at his house. That's the mark of a good printer, if the computer geek loves it, it must be amazing!
What would you print with the Epson XP-860?