One of my new goals for 2016 is to find ways to simplify my life. One of those ways I've decided to simplify is by choosing meals that are quick and easy; one of the fastest methods of cooking I've discovered is via crock pot. There's nothing quite like throwing everything into my slow cooker in the morning only to enjoy a delicious meal in the evening. Prepared in a matter of minutes, the entire family will enjoy this Slow Cooker Taco Soup. And I'm not joking when I say in a matter of minutes; simply dump a bunch of cans into your crock pot, let it simmer for a few hours, and you're done!
Slow Cooker Taco Soup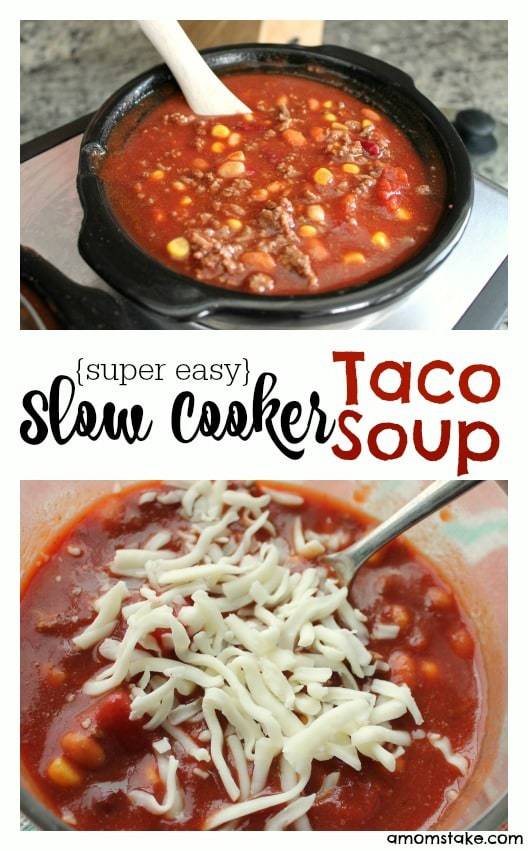 Ingredients:
– 1/2 bottle tomato juice
– 1 small can tomato paste
– 1 packet taco seasoning
– 1 lb ground beef
– 1 can corn
– 3 cans of beans (I typically use a combo of kidney beans, navy beans, and pinto beans)
– 1 can of diced tomatoes
Instructions:
1. Empty tomato juice, tomato paste, and taco seasoning in your crock pot. Stir ingredients together.
2. Place ground beef in your soup. If you're crunched for time, you can cook the meat before adding it to your soup. If you have all day to let it simmer, you can add it raw.
3. Add corn, beans, and diced tomatoes (make sure to drain all of the juice from the cans before adding).
4. Stir all ingredients together.
5. Simmer on low for 6-8 hours or on high for 3-4 hours.
6. Before serving, make sure that your ground beef is cooked thoroughly (no longer pink).
7. Serve with all of your favorite toppings. Some of ours include cheese, Fritos, and sour cream. You can also add guacamole or tortilla chips.
This recipe typically feeds my 4 person family for 2-3 meals. And you know it's a good recipe when you don't mind eating it for lunch and dinner 2 days in a row!
What toppings do you enjoy adding to your taco soup?