I am a holiday lover. Seriously, it is pretty bad. I will find an excuse to celebrate anything! I just think it adds so much fun in life to focus on fun and happy things, especially when times are hard and stressful. Here are a few cheap (practically free) traditions that we have for the day of love at our house!
Heart Attacks:
This year we are starting a new tradition of heart attacking each other. I have cut out a ton of hearts in all different sizes, we will be writing things we love about each other on them and sticking them to each others doors. I think it will be such a fun way to both express how we feel about each other and feel a little extra love ourselves!
New Clothing:
Every year I always get my kids a fun valentines day shirt, or pair of socks, or pajamas, something fun and lovey dovey! I try to make sure it is something they can wear all year though, just something in red or pink, or with hearts on it. This is really the only tradition we have that costs money! But I keep it cheap, nothing fancy!
Themed Breakfast:
Think hearts or red and pink! Here are some fun ideas: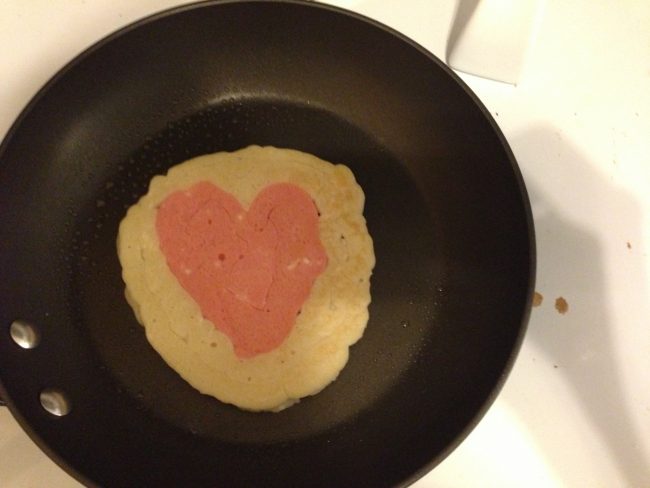 Heart shaped waffles or pancakes
Colored pancakes, waffles, or even color the milk in your cereal!
Cinnamon rolls with sprinkles or pink frosting
Colorful doughnuts
Granola with raspberries and strawberries sliced like hearts
Pink smoothies
The sky is the limit, really anything you normally eat for breakfast can be spruced up!
Lunch with Daddy:
My husband is currently in dental school so we take some time together to pack him a homemade lunch filled with notes and hearts and take it to him at school. This could easily be done at work too! Of course our lunch involves heart shaped sandwiches, love potion to drink, and a sweet treat of some kind. I love to really get my kids involved with this one!
Kids Dinner:
For my kids I make something quick and fun for dinner like a heart shaped pizza. Then we play some fun games and send them to bed. They think it is cool to have dinner without us and I think this year I will make it candlelit, get them some sparkling cider, and let them drink out of the plastic champagne flutes!
Grown up Dinner Date:
At our house we have Christmas, five family birthday's, Valentine's Day, and our anniversary all within 3 months! It is a really expensive time of year for us! Add that to the fact that it is impossible to find a sitter on Valentine's Day so, we have made it a stay in holiday. I love it so much more. My husband puts the kids to bed while I whip up a fancy candlelit dinner of our favorite things. Then we have a romantic date at home! We don't exchange gifts for Valentine's Day but we have funny card contest every year to see who can find the most ridiculous card.
Valentine's Day has become one of my most favorite days of the year, not because of gifts or things, but because of the fun we have together as a family expressing a little extra love and appreciation for each other! We show our love everyday of course but it is fun to make a big deal out of it once a year! Get out there and feel the love!