Back to school is such an exciting time! There are nerves and excitement to meet the teacher and classmates. There's a little bit of sadness as summer comes to a close. But there's also just a lot to do to help your family get back on track for the new school year and the routine and schedule that comes with it. These favorites will help you make this school year the best one, yet!
We received a variety of samples and/or compensation. All opinions are our own.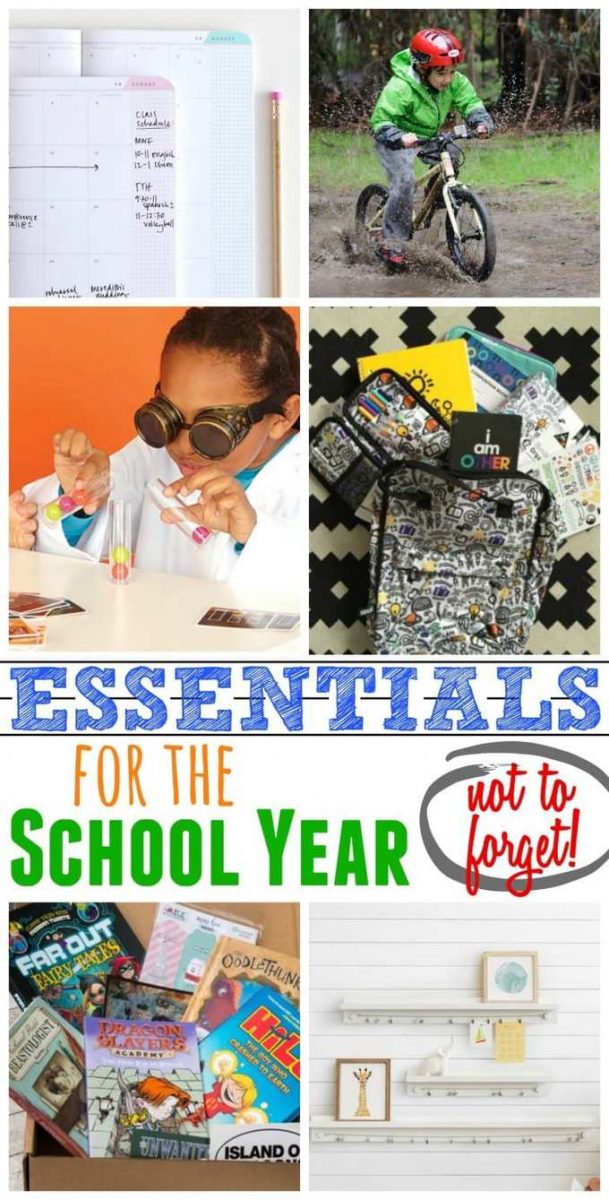 School Year Necessities
Help your child to stay organized (and keep yourself on track) with a gorgeous custom agenda or notebook from May Designs. They have three sizes to choose from and from there you can customize your cover, inside pages, even add a monogram. But what I'm really loving is all the fun options they have for inside pages – they have something for everyone! You can choose from adult coloring pages, agendas, grid or graph pages, health tracker, budget planner, prayers & gratitude journal, even a calligraphy or handwriting practice pages! How perfect with that handwriting practice be for your early elementary child! They even have teacher planners to get your homeschool or in class lesson plans mapped out through the year. Visit May Designs to customize your own notebooks for the school year.
The start of the school year is a great time to get back in the habit of good oral health care if your kids slipped over summer break. Show it's a priority with a new Philips Sonicare For Kids Electric Toothbrush they'll be over the moon excited for! Each toothbrush comes with a set of stickers to customize the toothbrush. This makes it easy to see who's is who's when you have more than one kid in the family. Right now, the Sonicare for Kids Electric Toothbrush comes with a set of Ice Age Collision Course stickers available for a limited time only. This smart toothbrush is Bluetooth connected and can sync to the free Philips Sonicare for Kids app to reward kids for good oral hygiene and help making building a habit for life fun and easy! The Electric toothbrush will also help make it easier to get kids to want to brush their teeth and to brush longer and better!
A little good music goes a long way in changing the mood. When your kids come home and the house turns into chaos, put on some calm beats and change the tempo around the home. Or when it's time to get hustling and out the door, some upbeat music can make all the difference. Sudio Earbuds are high quality earbuds that you and your older children will love for staying connected to music and tuning out the chaos around you. Each pair comes with a nice leather pouch to protect the earbuds and keep them from getting lost or ruined in their backpack. Visit Sudio and choose from one of four product lines to find the perfect earbuds for your needs and save 15% off any order with the coupon code: amomstake.
A long school day can mean y our technology drains. To stay in touch and in the loop, add a battery charger and micro USB cord into their backpack to keep them powered through the week. Ventev chargesync alloy micro cables have a tough design that can withstand a beating with a braided high tensile wrap protecting the cable. They come in your choice of six fun, bright colors so you can pick a different color for each family member and keep track of each person's cable. The Powercell 10000+ battery charger has two built in cables to making recharing your devices on the go a cinch! Visit Ventev to shop for either of these great products for the school year.
Tools for the Classroom
As a mom, I worry if my kids are drinking enough water. It's really important to make sure your kids stay hydrated. When they're at school, I can't be sure they're drinking enough so I want to be sure they have it if they need it. Keep your kids hydrated this school year with Contigo's line of leak-proof water bottles. Choose their favorite design for a stylish way to keep your drinks cold up to 12 hours. Contigo's Autospout Striker Chill's spill-proof design will keep the drinks from spilling in their backpack and making a mess of their homework.
Every kid needs a backpack stuffed with school supplies to kick off the school year. This year send them with supplies with a positive message. Yoobi has partnered with Pharrell Williams to bring you Yoobi x I am OTHER. This line of products encourages students of all ages to think outside the box, be different, and stay true to themselves. In addition to encouraging individuality, Yoobi also helps the community. For every item purchased, Yoobi also donates an item to a classroom in need right here in the United States of America. High quality, affordable school supplies with a positive message for kids that promotes charity!? It does not seem to get better than that!
Back to school time is the best time to stock up on fun colorful pens and mechanical pencils to last you the entire year. I'm a huge fan of colored inks to brighten up lists, lunchbox notes, signing my boys school planners, and just staying in touch with friends. Pilot Pen offers a huge assortment of gush-worthy pens and mechanical pencils to start the school year off right. Their innovative FriXion line of erasable pens and highlighters are perfect for kids that hate writing in pencil but still need to be able to fix mistakes as they work. The G2 line of gel pens come in over 20 assorted colors and an additional 8 colors in the G2 Metallics line! They are America's #1 selling gel pen, and write longer than the average gel ink brands on the market! You can also find a G2 mechanical pencil that has the same comfortable grip that will feel like a pen in your hand but satisfy school requirements to write with pencil – a win-win!
Engaging Learning Tools
Kids will love to play and interact with the internet-connected CogniToys Dinosaur. It's designed to be an educational and entertaining smart toy that kids (designed for ages 5-9) can interact with without needing a screen. CogniToys dinos are programmed to answer thousands of questions across a whole range of topics and provide age-appropriate answers. They can turn to their dino to ask educational questions about spelling, geography, math. He'll even engage them with games and stories creating a customized experience as it adapts to their interest and preferences. Best of all, parents can check into the Parent Panel to view progress reports. You can find the new CogniToys dinosaurs at CogniToys.com and at Toys 'R' Us available September 1st.
Kids will love to study on the School Zone Little Scholar Mini 7-inch tablet packed full of educational apps and games. The tablet comes preloaded with over 70 apps, games, videos, and songs designed ot help improve your child's reading, math, and spelling skills. For hands on practice, turn to School Zone workbooks and flash cards to help reinforce concepts learned in the classroom and drill those math facts. School Zone has been providing educational resources for over 36 year and know how to make learning fun. They incorporate games like Math War flash cards and Spelling Puzzles that make the learning exciting and fun instead of feeling like busy work. Visit School Zone's website to shop the entire collection or look for them at your favorite retailer locally.
So much learning can happen during playtime, and it's a great outlet after a long day of school. Shape Mags 5-star rated Magnetic Stick N Stack Tiles are a really engaging way to play and create. Each piece has magnets lining the edges that allows these toys to make really creative towers, buildings, and other creations just by touching the edges together and building as you go. Shape Mags magnetic toys have received high rankings and awards including honors from Parent Tested Parent Approved and the Brain Child award from Tillwig Toys Awards. Their line is fully compatible with other, higher priced, magnetic toys so you can add to your current collection or grab a full set at a great price. Pick up a set like their Magnetic Stick N Stack Magnetic Tiles 100 Piece Set on Amazon or on the Toys2Discover website.
School homework nearly always consists of nightly reading. But how do you get a hesitant reader to love reading and make it not a nightly fight? Or how do you keep enough engaging books around for an avid reader? Reading Bug Box subscription is an absolutely genius way to solve either problem. They are a monthly book subscription service for kids ages 0-12 and know how to deliver books your child will want to read! They start with a simple profile to get to know your family with child's name, age, interests, and gender. Each box will include 2-4 books hand selected based on your child's age and interests. It will also include an extra gift, game or craft item along the theme and a personalized monthly note. Add a subscription for one or two and they'll be ready with new books that will quickly become their favorites each month! We have absolutely loved our Reading Bug Box – my two older boys devoured two of the books already and are each on their second title!
Bringing the School Year Home
Back to school season is the perfect time to update your family photos around the home. We get family pictures every fall and then love to find another place to adorn our walls with our updated family photo or the individual pictures of our kids. Canvas Factory is making it easy, and affordable, to print your favorite family photos on canvas, acrylic glass, or aluminum. It's so easy to get started! You can import your pictures from Facebook, Instagram, Flickr, or Google+ or upload images saved on your phone or computer. Pick your favorite picture and then choose your edge design from mirrored, stretched, or solid color. In just a few steps you're done and ready to order. You'll save 70% off regular retail prices when you shop directly at Canvas Factory and get your prints in just 5-10 business days! Visit CanvasFactory.com to get started.
Ensuring a love of reading means keeping a variety of books your kids will love and having them out and easy to access. I'm absolutely loving this Altra Aaron Lane Sliding Door Bookshelf from Kohl's. The soft gray color of this bookshelf is inviting and easy to match any existing decor and is on trend! With the sliding glass doors, the books won't be slipping off the shelves constantly but will look organized and chic even with rows and rows of books behind the doors. It is the perfect height for kids to reach each of the shelves, too. Plus, a hidden bottom shelf in this Sliding Door Bookshelf will let you hide school supplies, games, shoes, or whatever else you need to stash discretely. Kohl's carries a wide assortment of products for the home to help you with your back to school needs including desks, backpacks, school clothes and more!
Display their hardwork they complete through the school year with the gorgeous new Art Shelves by Minted. There are 6 different designs to choose from and a couple of the styles come in different finish options to match your decor. The Little Artist Shelves (style shown above) are perfect for a playroom or kids bedroom to show off their favorite things and keepsakes on the art shelf and then change up their artwork throughout the school year to personalize their space. Each design is available in a variety of sizes to mix and match and make the perfect combination for your home.
After School Fun
Get the kids wanting to exercise and spend time outdoors with a bike they'll love! Clearly Bikes focuses on your child's growing development and safety by introducing hand brakes from their very youngest starting bikes. The traditional coaster brake (when you pedal backwards to stop) isn't enough to keep your children safe and starting with a hand brake at a young age will keep your kids riding safely and have the confidence to transition to bigger bikes. Another thing you'll love with Clearly Bikes is the cables are routed inside the bike frames for a clean, clutter free look. Visit Clearly Bikes to see their range starting from a balance bike all the way up through a 24″ bike.
The kids will feel cool with a smart watch by Sakar. They'll not only track the time like a traditional watch but can also be used to set alarms and stopwatch and monitor running and jumping around the playground. They also have an integrated digital camera and video record to let them capture their favorite moments during the school day and all their recess adventures. The Smartwatches sync with Apple and Android devices making it easy to save those pictures they capture. You can find the Hello Kitty Smart Watch or Teenage Mutant Ninja Turtles Smart Watch at Toys"R"Us.
Board games are a perfect way to unwind after a school day and sneak in learning while having fun! Dr. Eureka is a game built around experiments and comes with 3 test tubes and 6 colorful balls per player. Try to solve the scientific formula by carefully moving balls from one tube to another without dropping them and match the challenge card's formula. Double Shutter can be played independently or with up to 4 players. Roll the dice and add up the dots – then look for the best combination of tiles to shut down trying to clear both rows of tiles. It's perfect for practice math without feeling like practice! Visit Blue Orange Games for even more fun and educational games including Dragon Run, Vikings on Board, and Gigamons.