I've been anxiously awaiting cooler weather, and the boots and cardigans that go along with fall. Today, I'm sharing 3 easy layered looks for fall that will get you so excited for the season! Plus, my favorite styling tips to help you make the most of your wardrobe and make your outfits look even better.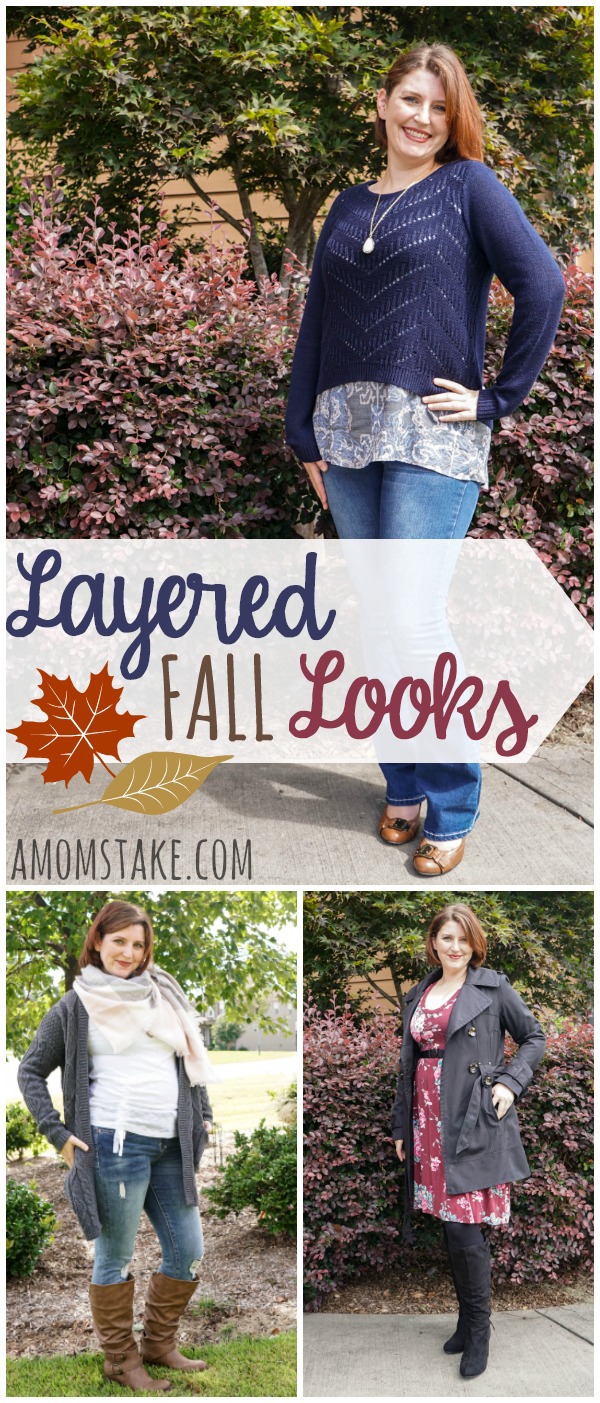 This post is sponsored by Shapermint. All opinions are my own.
Spring Dress Layered Look for Fall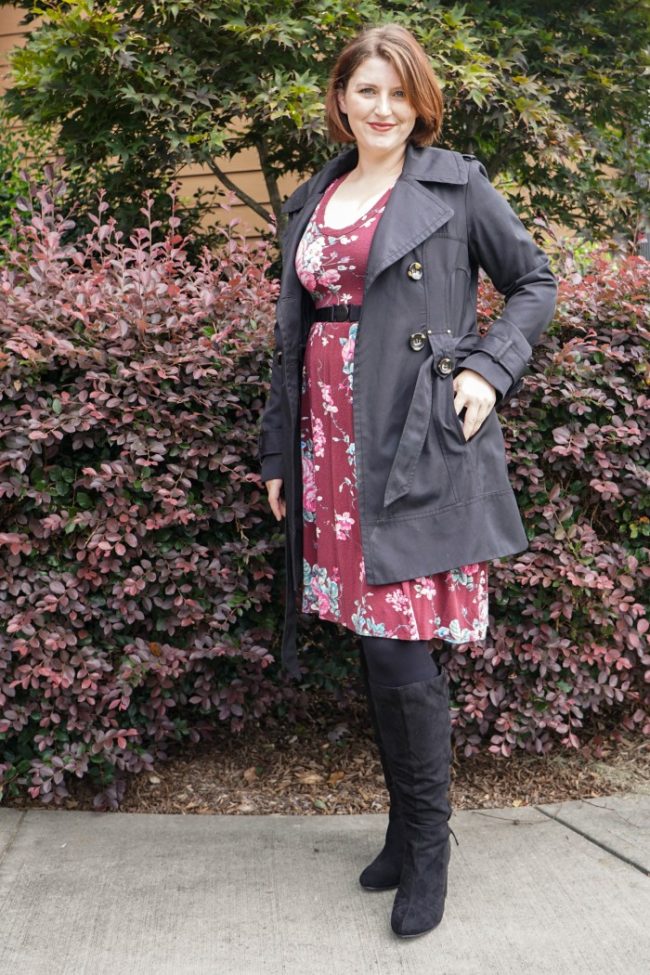 Carry your spring and summer fit and flare dresses into fall by adding some simple layering. Here, we've created a fall look by taking a maroon floral dress and layering it with black accents to transition the piece to fall.
Adding dark black boots will help give you a slimmer look and make your shorter dresses feel still appropriate for the season. I've also layered Shapermint's Co'Coon Seamless Opaque Mid-Waist Basic Black Leggings. They help really give this look a finished feel, add warmth, and help with slimming!
The finish accessories include a black waist belt to cinch in the waist and a jacket for cooler weather days.
Easy Layered Look with a Cardigan and Scarf
Turn your basic pieces up a notch easily with a few fall favorite layering pieces – a cozy cardigan and soft scarf. These two extra will give you the warmth when you need it, and the flexibility to pull off the extra layers for the unexpected warm days (or well heated spaces).
This outfit fall look starts with a textured white shirt and a favorite pair of ripped skinny jeans. They can even be a cropped length. For a versatile cardigan, look for a neutral that goes with much of your other pieces. Grey is a great pick for the season or try a light oatmeal.
Next, you'll top off the outfit with a soft-toned or bright and colorful scarf! Just about any scarf will do, and can easily change the look and feel of the outfit. Then, add a favorite pair of boots and you're ready to go.
Layered Sweater Look for Fall

Re-purpose your favorite spring and summer tops by simply layering your long, flowy tops with a fitted knit sweater. This will add texture and dimension and give you the extra warmth needed to transition to fall weather.
Pair your layered sweater look with your favorite straight or bootcut jeans. Then, wear a heel to help you look taller and slimmer. Finally, add a long and simple necklace for to finish off the look.
5 Styling Tips for Fall
1. Don't Be Afraid of Shapewear
Shapewear is a great option for fall layering. It keeps you warm, covered, and helps give you a slimmer more finished look! Just take a look at these before and after pictures to see what a difference shapewear can make. For reference, I am 5'4″ and 150 lbs here.
Without Shapewear: Notice the lack of definition and clear curves. Even the waist belt doesn't do a ton, here, without shapewear to help divine a skinny waist.
With Shapewear: A more defined bust and waistline, no roll of fat sneaking over the top of the waist belt, and clear lines that give a much more finished look.
You may also notice the Shapermint Co'Coon BIOCrystals Spaghetti Strap Shaping Cami layered below the dress that makes this deep v-neck not overly revealing. Plus, the Co'Coon Seamless Opaque Mid-Waist Basic Black Leggings really give a finished and complete look to the outfit while adding warmth!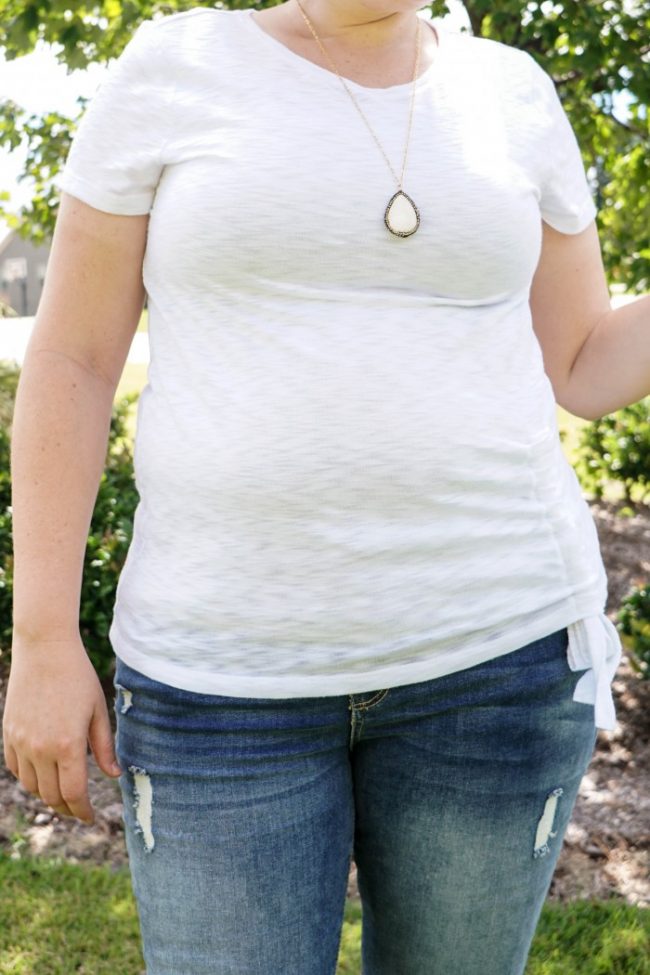 Without Shapewear: Rolling lines across my belly where my jeans hit along my hips. I still had to wear a tank top under this top, as it is somewhat sheer/see-thru. It just makes sense to make it a shapewear tank and give a better finished look with the simple swap!
With Shapewear: Clean lines from my hips through my bust and a more defined waistline. This Shapermint Co'Coon BIOCrystals Spaghetti Strap Shaping Cami is a perfect layering choice under this somewhat sheer, textured top, that needed a layering tank anyways.
2. Look for Darker Colors for the Season
Think of gem tones such as a deep emerald green, navy, maroon, and even a harvest golden yellow. These color tones all work really great for fall and can help slim your look at the same time!
Try a monochromatic color scheme – with all the same colors throughout your outfit, for even more of a slimming affect.
3. Re-purpose Your Spring Favorites
With a few simple editions, such as adding warm leggings and boots or throwing a favorite sweater on top of your favorite spring tops you can make the most out of your entire wardrobe by using your spring and summer styles well into fall!
With layering, you are both customizing the look and giving you options that will help you meet changing weather throughout the day.
You'll be able to easily ditch the cardigan in an overheated office space or pull it tight around you while filling up for gas in the chilly outdoor temperatures. No matter the need, layers help giving you flexibility.
4. Add Accessories to Finish the Look
Accessories can really add so much to the look. Whether that be adding a long drop necklace to add length or a waist belt to slim your overall appearance it can really finish off the outfit.
Other favorites I like to add include a scarf and long cardigan that helps you easily achieve a layered look!
5. Don't Neglect Your Heels!
Wearing heels to give you extra height and draw attention to your legs making youlook taller – and slimmer! When the weather turns cooler, that doesn't mean you need to ditch heels. Look for booties, tall boots, and warm toned chunky heels that will support you even with a variety of weather.
Shop Shapewear for Fall
Shapermint encourages women to not be afraid to wear their body with confidence, ad their shapewear can help you gain that extra confidence you may need to pull off the best looks for fall! A few of my favorite pieces from their selection are these three:
Co'Coon Vitamin E Shaping Bodysuit, in Nude – This is perfect for layering under a dress to give you a seamless look through your hips. Plus, you'll feel pretty and feminine and the nude color will help keep thin dresses from being revealing.
Co'Coon BIOCrystals Spaghetti Strap Shaping Cami, in White – A shaping cami is a wardrobe essential! When your tops require an extra layer, you might as well choose one that will work overtime for you by adding both the added layers and slimming! Add it under v-neck tops or to add length to shorter tops.
Co'Coon Seamless Opaque Mid-Waist Basic Leggings, in Black – These leggings are amazing under jeans! You may not realize it, but in all 3 outfits above I had on these so comfortable leggings.
They are absolutely perfect under ripped jeans for keeping you warm, and they support you up to just under your bust for shaping support through all the areas you need. They're also perfect under dresses to extend your spring and summer wardrobe into fall.
Bonus styling tip — Try putting your shapewear on from your feet and pulling up, rather than over your head. In most cases, it will be easier to pull it up over your hips then try to wrangle it over your shoulders by yourself.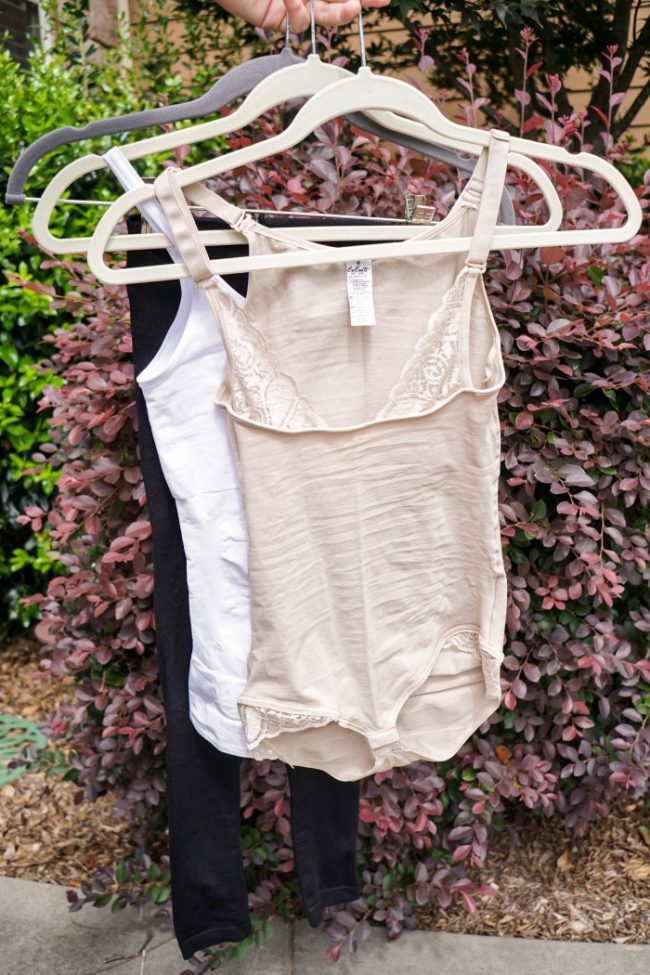 Shop for all three of my favorite items, or find the shapewear pieces that best fit your wardrobe needs at Shapermint. They carry everything from shaping tanks and camis to panties, shorts, and full bodysuits!
Shapermint offers free shipping on all orders over $50 and free exchanges! If you try something and it's not the right size or style, you can send it back to find something that will work better for your needs.
What are your favorite items to use for a layered look for fall?