I love when I am searching through my pantry or fridge and discover the ingredients that, when put together, become a family favorite. I've done this several times. I have to admit I feel a bit like a culinary genius, though I know I'm far from it. I just feel happy when my family is enjoying what I've made them.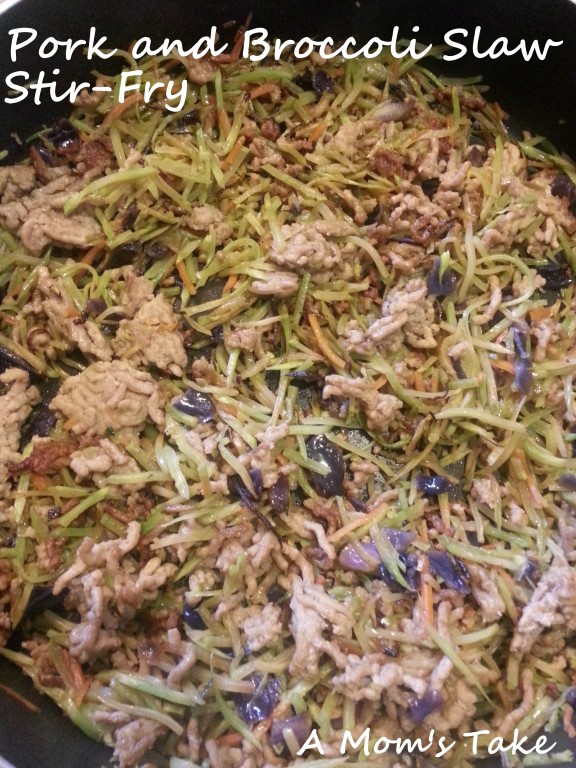 I stumbled upon the ingredients to this dish one Sunday evening. I couldn't go to the store, and our tummies were grumbling after we woke up from our Sunday nap. I had recently found on Pinterest the suggestion to use Broccoli Slaw to replace pasta as a healthier alternative, so I had grabbed several bags the evening before. The last time I made this dish, my son told me he would gladly eat it every day if he could. That's definitely a winner in my book!
Feel free to substitute any meat you would like, my family prefers ground pork. Ground pork is pretty lean and has a great flavor.
Easy Pork and Broccoli Slaw Stir Fry Recipe
Try out this easy and quick dish for dinner. Substitute any meat you would like! Increase amounts of broccoli slaw and meat for more people. 2 bags of slaw, and 2 pounds of ground pork feed my family of 7. Serve with rice if you like, but it's great on it's own.
Ingredients:
1 package of Broccoli slaw
1 pound ground pork
½ cup of water
2 Tbls Soy Sauce
Salt
Pepper
Directions:
Brown pork in skillet.
Add slaw to skillet
Add soy sauce
Add water, cover
Cook until water is evaporated and slaw is tender.
Serve
Try our Crockpot Jambalaya Recipe!