For an easy, quick, fresh baked treat morning surprise, try this Easy Apple Strudel.

Easy Apple Strudel Recipe
Easy to make with few ingredients. Will be a great breakfast treat.
Author:
Granny : A Mom's Take
Recipe type:
Breakfast/ Dessert
Ingredients:
Pre-made, store bought Pie crust
1 Large, or 2 small favorite apples
¼ cup sugar
1 to 2 Tablespoons of soft butter
2 tsp. cinnamon
sprinkle of nutmeg (if you like it)
1 Tablespoon Cornstarch
Directions:
With a box shredder, shred your apple. You do not have to peel it first or core it. Just shred it down to the core.
All all the dry ingredients together in a dish, mix well then add to the apple mixture.
Open up a pre-made pie crust onto a cookie sheet, spread with butter, then apple filling. Roll evenly from both sides toward the middle. pinch ends to help keep filling from running out while baking.
Bake for about a half hour, or until it is as brown and bubbly as you like it.
Let this set to cool for about 5 min. So you don't get burned while trying to eat it while it is too hot.
Enjoy.
Step 1: Spread butter on open pre-made pie crust.
2. I really like cinnamon, so I sprinkled the crust with cinnamon before adding the filling.
3. Shred your apple, peel and all down to the core.
4. Mix dry ingredients together in a bowl, then pour over your apples. Stir together well so all the apple is coated.
5. Then spread the apple filling out evenly over the pie crust.
6. Once both sides are evenly rolled to the center, pinch the ends closed to help keep the filling from cooking out onto the pan.
Bake at 375 degrees, for about 30 mins. It might need to bake a bit longer or shorter, depending on your oven. I should be a nice golden brown, better to go darker than lighter, to make sure the apple is cooked through.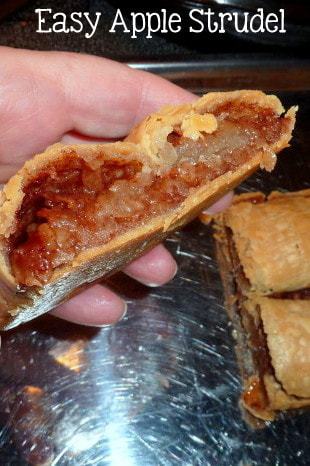 7. Remove from oven, let set till it is cool enough to handle, then cut and enjoy. This is a really wonderful unexpected fresh baked breakfast treat for you and your loved ones.
I hope you enjoy.
Granny