Are your kids constantly leaving the towels on the floor? My boys were. Hanging them on a traditional towel rod was really hard for them since my boys are still little. I knew I needed a solution so that the towels didn't end up in a pile on the bathroom floor just to get swept away to the laundry pile after every single use. I was inspired by one of my kids hooded towels, that I needed something simple like that to have our towels hang from and our diy hanging bathroom towels bar was born!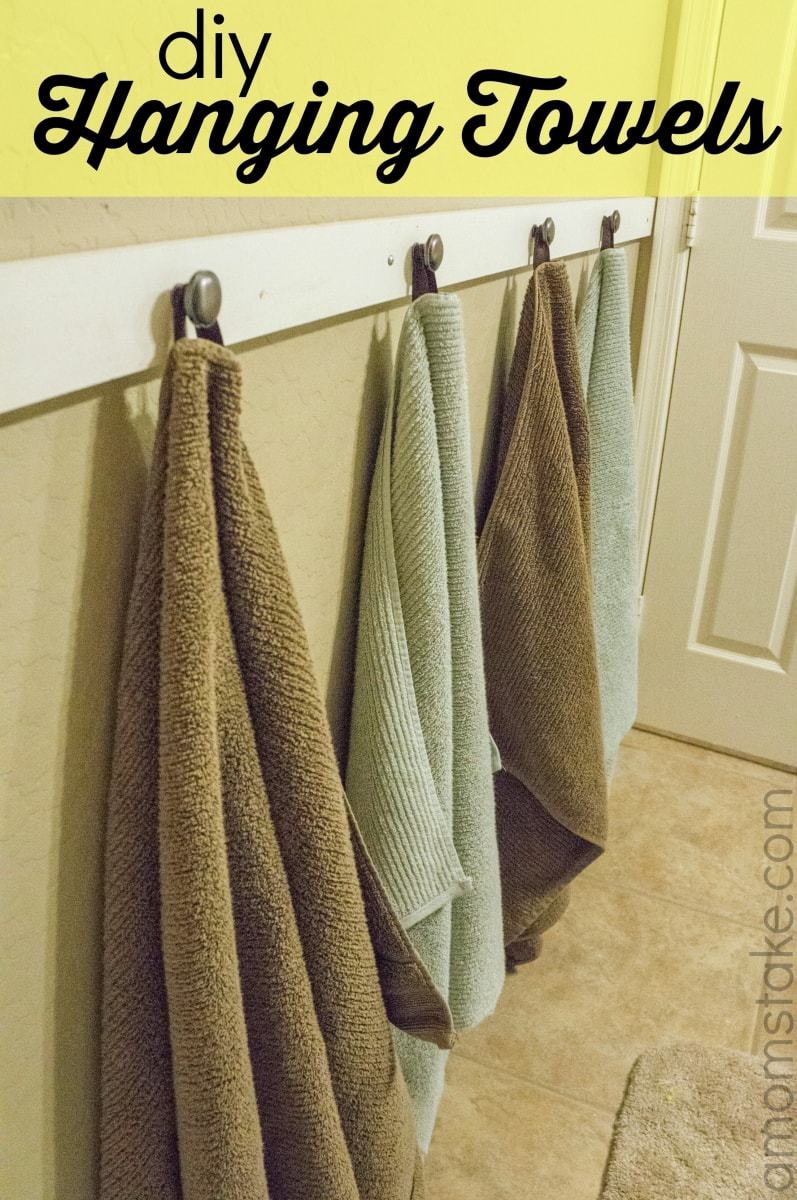 Making Our Towel Bar
We started by using a simple piece of wood cut to length at Home Depot for us so that we didn't have to do any cutting. We just measured the exact width of the area between the tub and the corner behind the door molding and also checked how thick the wood would be able to be and still fit in the small space between the door molding and the wall. Once we knew our measurements, it was just a matter of picking out a piece of wood. We didn't do anything too fancy, and we'll probably add some molding to the top and bottom eventually, but this works wonderfully for now.
Since all the molding in our home is white, we just painted the wood board with a few coats of white paint. Next, I used decorative cabinet knobs that matched all of the other knobs in our home including the two cabinet doors in our bathroom. I screwed the knobs onto the wood, spacing them out evenly for the four knobs I wanted to use. Use a screw with a flat edge, so the screw will have minimal affect on the board sticking out against the wall when you attach it there next.
Once the knobs are on, we then used anchor screws to securely attaching the board to our wall. My boys pull and hang on absolutely everything, so this was really important to us even though the towels themselves won't be all that heavy. Now that the towel bar was ready, it was time to make hanging bathroom towels!
DIY Hanging Bathroom Towels
You'll need:
Towels
Coordinating ribbon
Sewing machine
Thread
Scissors
Pins
You could probably try doing a no-sew method and use super glue or something similar, but since I knew these would make tons of trips through the washing machine, I just pulled out my sewing machine. It's super easy to attach the ribbon, it took me about 15-20 minutes to do all 6 towels.
Start by cutting your ribbon and lining it up along the long edge of the towel. I cut my ribbon into 5-inch long pieces. Then, I found the middle of the long edge of my towel and measured one each on either side of the middle and then pinned my ribbon outside of the two inch clearing. It gave enough overhang of the ribbon to securely sew in in place and plenty of clearing to slip the ribbon loop over our knobs.
I wanted the ribbon to be really secure, so I choose a double stitch and sewed a square patch around each side of the ribbon so it wouldn't easily loosen or be pulled off by my kids. To make it faster, I just lifted the foot and turned the fabric with the needle down and kept on sewing until the square was complete.
The ribbon is really secure on the edge and works beautifully hanging from the knobs on our homemade towel bar. It's so much easier for my boys to hang up their towels now which keeps them up off the floor. I wish I would have done this simple fix ages ago — it would have saved me so much time and energy fretting over dirty towels! Plus, I think it looks really cute in our bathroom and adds to our decor.
Don't they look so cute! The whole project cost me about $15. You could skip a few of the steps by looking for hooks to install directly on the wall rather than a bar if you don't need as many hanging bathroom towels as we need in our home.