"Doo… doo… dooo… doo.. doo." You know that tune, its the Baby Shark song! My boys are obsessed with Baby Shark! They love the song, the characters, and of course the hand actions, too.
This is a sponsored conversation written by me on behalf of Sam's Club. The opinions and text are all mine.#ad
NEW Baby Shark Cereal
Available at Sam's Club
Did you know, there is a limited-edition Kellogg's Baby Shark cereal coming to stores August 17th? We were so excited to taste test this special cereal and my boys loved it!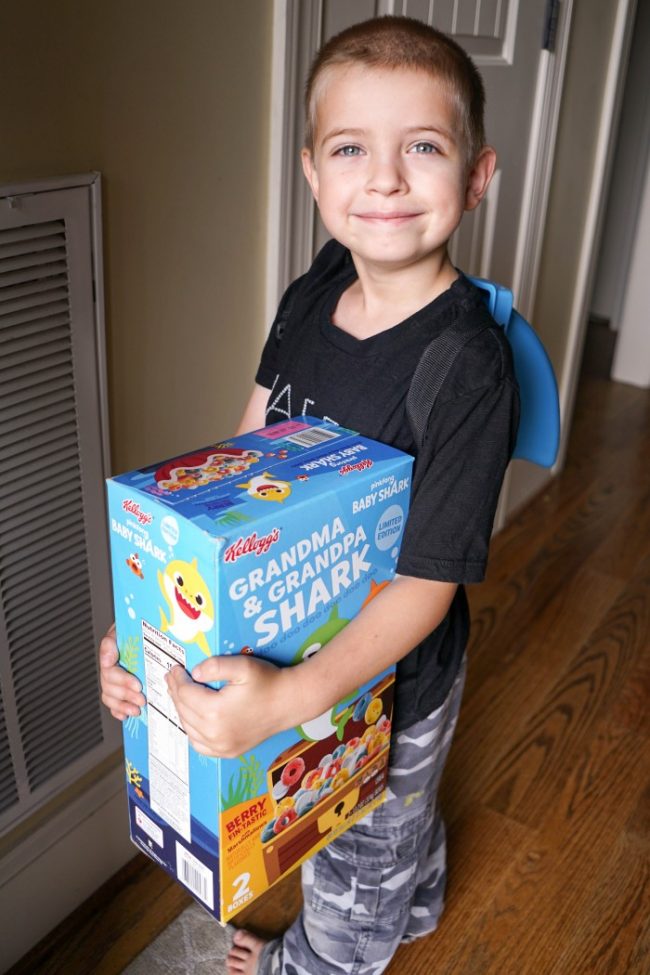 Baby Shark cereal has a mix of Berry Fin-tastic flavored rings and marshmallows, that kids are sure to love. My boys eagerly finished off their bowl of cereal and thought it was delicious — especially the marshmallows!
You can find Kellogg's Baby Shark cereal at your local Sam's Club as a 2-pack for $5.98, available now. Or, grab the single pack Baby Shark cereal at select Walmart stores beginning in late September.
The 2-pack is a great price, and perfect for feeding all the little Baby Sharks in your home. Or, share the 2-pack with Mommy Shark, Daddy Shark, plus Grandma and Grandpa Shark!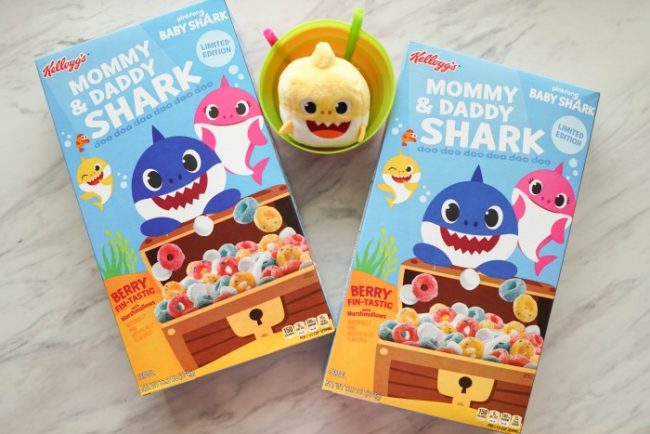 Don't miss the boat on this limited time product offering! Visit your local Sam's Club to pick up Kellogg's Baby Shark Cereal while you can.
Baby Shark Cereal for
Breakfast & Snack!
My boys could wait to rip the box open and try this fun new cereal. They loved the cereal plain as a snack and with milk for breakfast. My littlest Shark kept saying "mmm… mmmm…mmm" with every bite.
He loved the marshmallows and the colorful fruity rings. He absolutely loved it and begged to have cereal for lunch, too!
My "Baby Sharks" are always starving as soon as they walk through the door from school. It's so nice to have something made and ready to offer when they get home.
So, my little helper and I thought it would be fun to make a cereal bar for those busy mornings on-the-go and for an after school snack!
Cereal bars couldn't be easier! You'll just need 3 really easy ingredients and less than 5 minutes to whip this recipe up. Then, give it some time to chill and then you'll cut into bars and you're done!
Easy 5-Minute Cereal Bars
3-Ingredient Cereal Bars:
1 cup creamy peanut butter
2/3 cup honey
6 cups Baby Shark Cereal
How to Make Cereal Bars:
Combine peanut butter and honey in a large pot. Heat on medium heat for 2-3 minutes, stirring constantly, until well combined and a thin, smooth consistency.
Remove from heat and in your Baby Shark cereal! Then fold to combine with the peanut butter mixture until all the cereal is evenly coated.
After that, I just scooped the cereal into a 9×13 pan and pressed evenly into the pan.
We let the cereal bars chill for an hour so they would hold their shape nicely, then cut and enjoyed!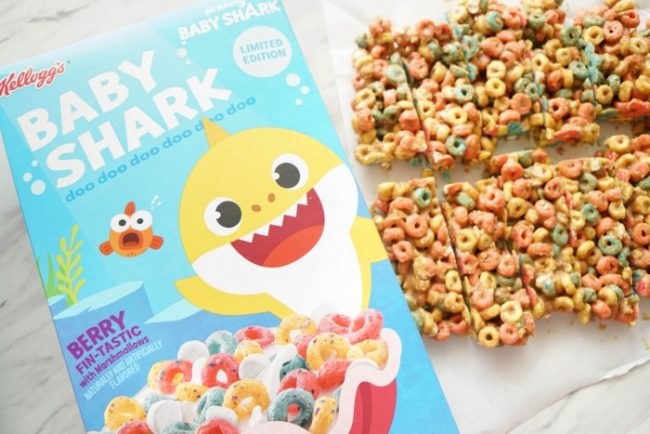 These easy cereal bars are a fun way to get even more tasty fun out of the new Kellogg's Baby Shark cereal! Or, try variations with different types of cereals for even more fun combinations.
Don't forget to pick up your own 2-pack box of Baby Shark Cereal at your local Sam's Club before it's too late!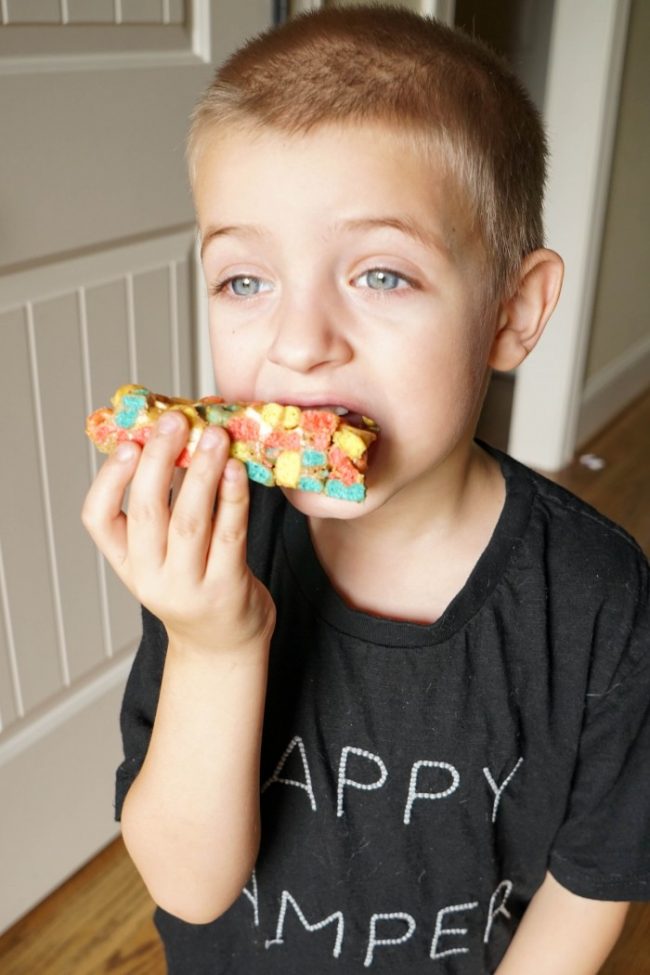 5-Minute Cereal Bars Recipe
Yield: 12
5-Minute Cereal Bars
Easy, fun, and fast to make. These 5-minute no-bake cereal bars are perfect for a filling after school snack or an on-the-go breakfast option! You'll just need 3 simple ingredients.
Total Time
1 hour
5 minutes
Ingredients
1 cup Creamy Peanut Butter
2/3 cup Honey
6 cups Baby Shark Cereal
Instructions
Combine peanut butter and honey in a large pot. Heat over medium heat, stirring constantly. Cook for 2-3 minutes until the peanut butter and honey are well combined and are a smooth, thin consistency.
Remove from heat and add Baby Shark cereal. Mix until evenly coated.
Line a 9x13 pan with parchment or wax paper. Press cereal bar mixture into the pan, pressing down firmly with a second piece of wax or parchment paper.
Chill in the fridge for one hour, then cut into squares or bars and serve!
Notes
Can substitute with any kind of cereal for more variety!
What other fun ways would your family enjoy Baby Shark cereal?