This post is sponsored by the Annual National Conference and the School Nutrition Association. All opinions are my own.
I had the unique opportunity to pull back the curtains and see behind the scenes of all that goes into the planning, preparation, and purchasing for school lunch programs earlier this month at Hot-lanta Annual National Conference hosted by the School Nutrition Association.
The conference is geared towards the decision makers in the school lunch programs and covered everything from equipment and food items to how to make school lunches exciting by following food trends and not being afraid to try something different.
It was an eye-opening experience to realize all the planning, preparation, and work that goes on before that first school bell rings to bring healthy, nutritious meals to our children. I was shown around the exhibit hall by two fantastic women, Paula De Lucca the Senior Director of Child Nutrition Services as my children's school district, and Wendy Knight Coordinator of Food & Nutrition Services President-Elect. Both women taught me invaluable lessons, that I hope to share with you today.
5 Things I Learned From the School Lunch Ladies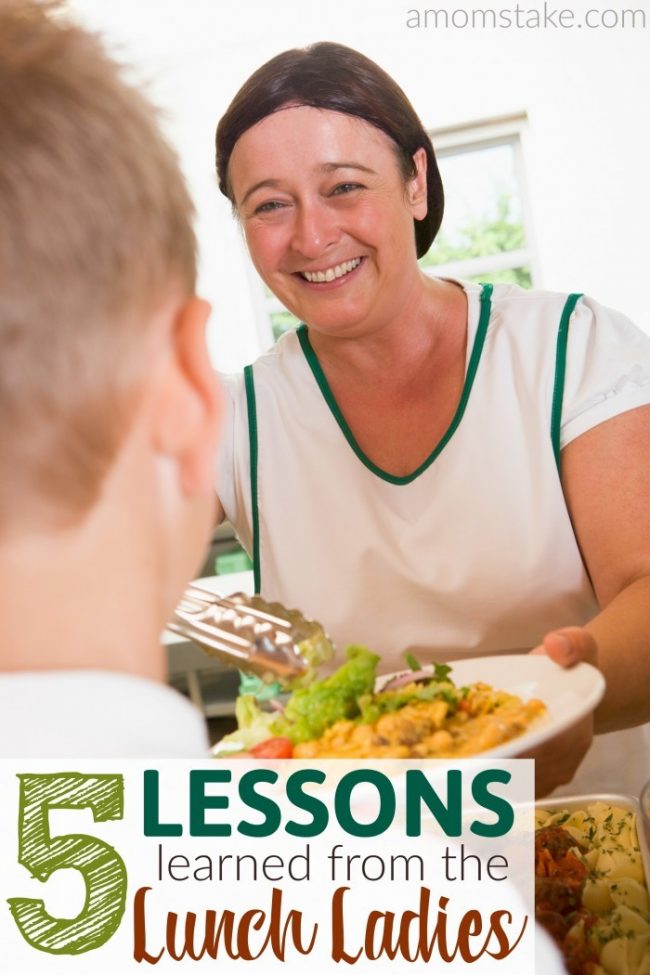 1. Our Children Matter
In every session, with every decision maker I spoke, and most especially by the two leaders who showed me around the exhibit floor – the #1 concern, thought, and driving force for those making decisions for our children is how incredibly much they care about the kids.
I spoke one-on-one with over a dozen ladies and without prompting, they would share that the reason they were doing everything they did is for the kids. They understand their unique role to make such a positive impact on a whole generation of kids. They worry about their safety and food allergies and taste all while navigating regulations and budgets. But at the end of the day, they expressed how, "the smile on those kids faces makes it all worth it."
2. The School Lunch Program is "Rocket Science"
As Wendy Knight shared, "People say to me, 'School Lunch programs aren't rocket science,' but it is! Planning for the school lunch program IS rocket science!"
Can you fathom all the planning that goes into bringing just lunchroom their classroom meals? Each year, the districts are given a budget with which they'll need to purchase or secure equipment, new tech, paper products for the meals, and start sourcing food suppliers and of course staff.
In my children's school district system there are 169 total schools and over 150,000 students. Can you imagine now trying to stretch your budget to meet the needs of each of those schools and to tackle the best interest of the students?
The School Nutrition directors for the school districts are responsible for considering major factors such as:
Sustainability
Equipment
Diet, Nutrition, & Allergies
Technology
Food Safety
Federal Guidelines and Regulations
Limited Budgets
Educating Staff
3. Personal Standards Don't Match School Regulation Standards
Each school meal has to meet federal standards and regulations within their planning. It's not as simple as family meal planning where we base our meals around our taste preferences, favorite meals, or even what's on sale at the grocery store. In fact, the schools have many more requirements on each meal they plan that we as parents practice in our own homes.
This is one of the food vendors I was introduced to with a whole wheat based
pizza that's delicious! It definitely breaks all the school cafeteria stigmas.
As an example, do you count the calories for each meal you prepare and portion for your children? Do you plan a fruit and veggie side with every meal? Do you cook with whole wheat noodles, bread, rolls, and rice? They're certainly great standards to strive for at home, but we often don't have to be so strict in our planning. These requirements, however, are something the school lunch ladies need to navigate each day as they plan the meal calendars and try to still keep the meals exciting and tasty for the kids.
Regulations for K-5 school lunches include:
All grains must be whole grain-rich
Must offer fruits and vegetables with every meal
Each week needs to include a variety of legumes, dark green, and red or orange vegetables
Must be between 550-650 calories
Under 935 mg sodium
Meal cannot contain added trans-fat and only less than 10% of calories can come from saturated fat
Must offer fat-free or 1% milk with every meal
4. They're Imaginative, Resourceful, and Non-Competitive
The sharing, idea swapping, and connections I saw at the Annual National Conference were inspiring. Without the need to compete for clientele (the students are assigned based on geographical location, not competition), there was such an openness of sharing the wealth of resources, ideas and new things to try with each other.
Instead of holding your cards close, everyone openly shared what they've tried, what has worked, and what didn't go over so well. It created an environment that was so positive and helps everyone move forward towards a better school lunch program for every district with new ideas and takeaways to try.
Here's just a couple of ways different school lunch programs across the country are making innovative changes to keep school lunch exciting:
Seasoning shakers the kids can use
Giving students tours of the lunch room to make it more inviting
Starting school farms to locally source some of the food
Learning from food trends and incorporating where they can
Getting the students involved with cooking competitions, naming the entrees, and a build the menu challenge
Utilizing the high school tech department to create videos highlighting the lunch program
Planning themed cafeteria days
Inviting parents to join for lunch
5. School Breakfast Programs Make an Impact
While my boys have regularly eaten hot lunches at school, I had never given much thought to the school breakfast program. It seemed like a program meant for before-school care, and my kids could eat from home before leaving the door. It was one of the questions I posed to these two experts while exploring the exhibit hall at the Annual National Conference. I had noticed that there seemed to be a push towards encouraging the school breakfast program and I was curious why. These knowledgeable women were able to share and explain that the studies clearly indicate that children that participate in school breakfast programs do better in school.
Often, it comes down to the fact that many children may skip breakfast completely in the morning rush or not get a sufficient breakfast to fuel them until lunchtime. It really gave me pause to step back and think about our breakfast habits at home before the school day. Were they rushed and sometimes skipped? I know there have been times that I've sent them out the door with a breakfast bar when they were running late to catch the bus.
It's one change I'm making for this upcoming school year to continue to place my trust in the school lunch ladies and decision makers for my district and have my children start participating in the school breakfast program. Since my boys ride the bus, they're up really early and aren't always ready or very hungry that first half hour in the morning while they're getting ready and out the door. They also have that time readily available to them as a bused student to take the time for a nutritious breakfast while at school.
I invite you to learn more about your school's lunch program and get involved! You can learn a lot about how the schools operate with all the resources and information at SchoolNutrition.org. You can learn more about the school nutrition standards, stats about the school lunch program, and even ways you can be more involved in your child's school lunch experience.