Has your family been looking for the perfect after school activity for kids? As a mom of 4 boys, it's always been a struggle for me to find a sports league that will work with our busy schedule to give my kids an outlet and place to grow with positive role models without it taking over our whole week.
One sport that might be often overlooked is Flag Football for kids! It's an engaging way to play while staying safe with the no-tackle approach to the game that's perfect for kids ages 4 and up!
This post is sponsored by National Flag Football.
5 Reasons Love
National Flag Football
League for Kids
1. Get Exercise in a Fun Way – With our families cooped up this past spring season, it's time to make sure your kids get outside, exercise, and have fun while doing it! What better way to stay healthy then with a sport that makes it fun to exercise!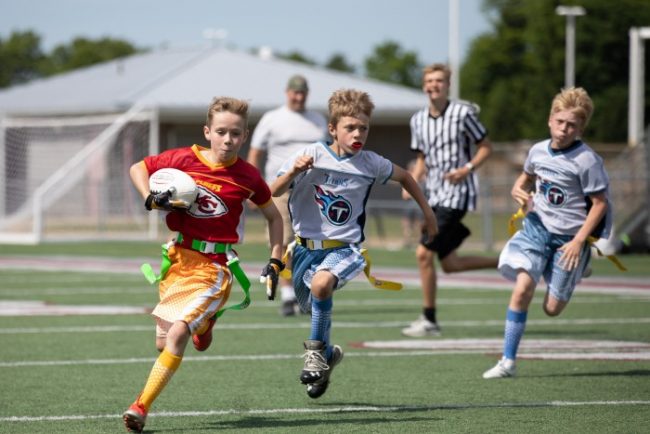 Most National Flag Football league games are scheduled for Sunday's, so they don't compete with your already busy school week. Participants have an hour practice and then follow with an hour game to help eliminate mid-week practices and extra appointments on your calendar. It's only a 2-hour commitment per week making it easy to add to any schedule.
2. Create Friendships – What better way to make new friends than having meaningful teamwork and play together with kids with similar interest. While the kids work hard and play they'll form positive friendships that will help boost their self-esteem.
Parents can also form new relationships on the sidelines as they cheer on their athlete and the team. It's a great way for the whole family to get out together and meet people in their community.
National Flag Football teams are formed from students from the same schools and grades, where possible, to help bring that close knit community and get your kids together with their friends when playdates may not be easy to manage. Leagues are also co-ed and girls are welcome to join the league!
3. A Safe Sport to Play – Flag Football is a no-tackle alternative to traditional football. It's perfect for introducing football to your child and learning some of the key aspects of the game such as passing, catching, and teamwork in an environment that is safe for kids.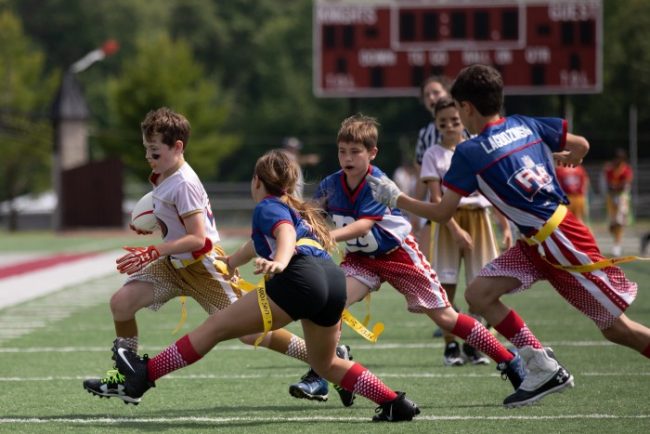 You'll eliminate all the heavy protective gear and extra equipment needed to eliminate the barriers while learning how to play football. Flag football is intended as no-contact sport as your child reaches for the flags, attached near the hips, of the player currently carrying the ball to call a down. It's a great way to safely reintegrate into sports following Covid-19 as it's played outdoors and with minimal contact and small teams.
4. Minimal Equipment Needed – The equipment list for a flag football league is already mostly included with your registration costs. Each participant will need a jersey and a flag belt to participate which are already covered with your registration. The only additional equipment you should need is a mouth guard.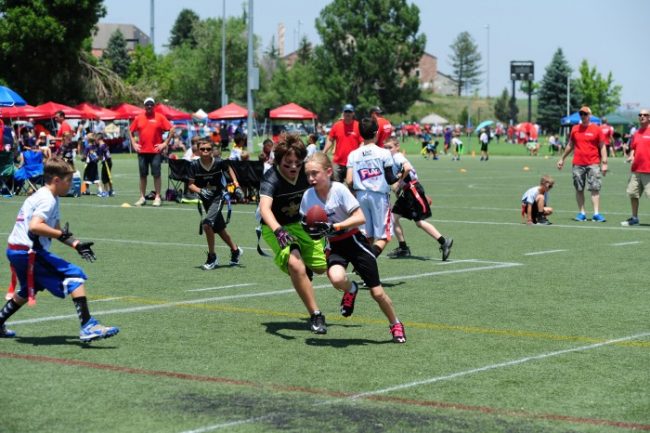 The National Flag Football sports jerseys are a cool reversible design the kids will love featuring favorite NFL sports teams! All participants receive a jersey and it's theirs to keep at the end of the season.
5. Small Teams – Each National Flag Football team consists of a roster limit of 10 children per team. The games play as 5 vs 5 giving your child enough playing time while still building on cooperative teamwork and adequate time to rest between runs.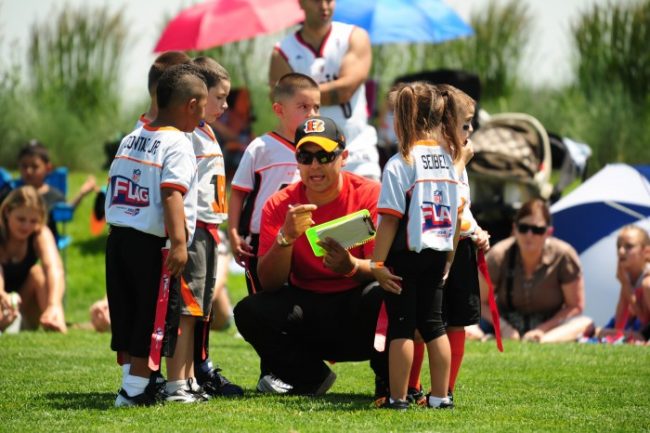 With the smaller sized teams than many other sports, your child will have more coaching support and will be easier to spot and cheer on while on the field. A smaller team sport is the ideal way to help your child grow in their athletic skills in learning how to follow a coach, perform drills efficiently, and hone their skills.
Why Choose National Flag Football?
National Flag Football is the largest NFL youth flag football in the country. It helps to organize leagues of boys and girls Pre-K (minimum 4 years) up through 8th grade.
The program launched in 2006 and has been educating youth athletes about football in a safe environment ever since. Rather than focus on the "must win" attitudes of some sporting leagues, with National Flag Football your child will be involved in a supportive atmosphere that encourages and uplifts all participants.
Here's a sneak peek at the fun and teamwork behind a National Flag Football league for kids:
Find a National Flag Football
League Near You
National Flag Football has an easy to navigate platform to help you find a flag football league near you. They have leagues in 17 states with multiple leagues in some states. In North Carolina, for example, there are 9 different leagues across the state to accommodate a variety of areas including North Raleigh, Charlotte, Greensboro, and more.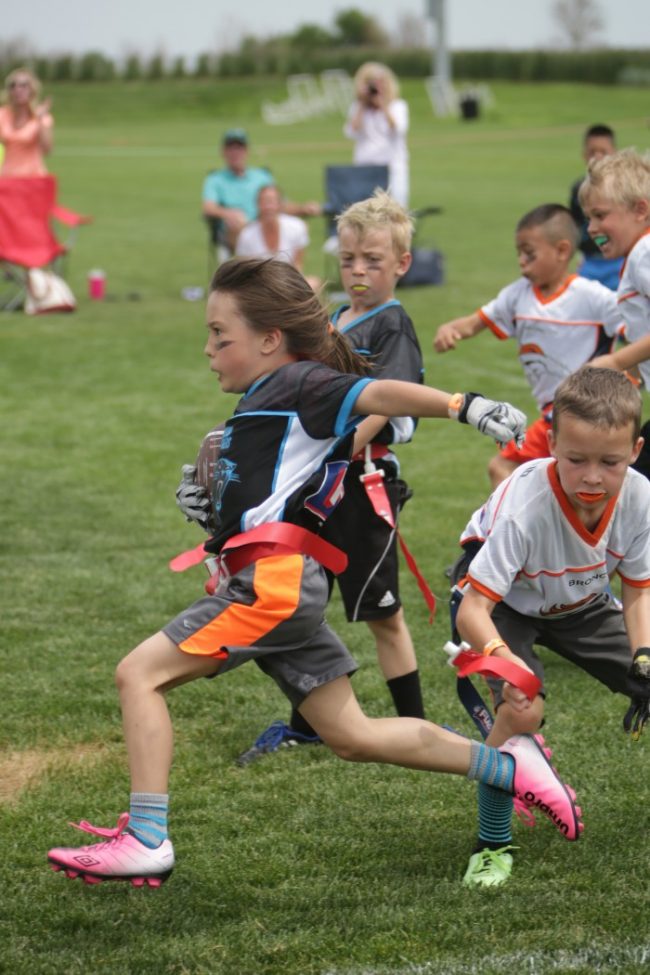 If there are no leagues near you, you can start your own flag football league with the help of National Flag Football! Registration is open now for fall leagues.
What's the top reason your family would love to join a flag football league?