My family LOVES eating Italian food; spaghetti, lasagna, pizza, etc. Whenever I make an Italian dish for dinner, I enjoy making breadsticks for our side dish. However, being a busy mom, I don't have a lot of time to sit around and wait for my dough to rise. I'm so grateful that an old college roommate shared this delicious and EASY 5 Minute Garlic Breadsticks recipe with me; we eat these breadsticks on a regular basis. I love that these breadsticks are extremely versatile; you can adapt them to your taste buds. Enjoy!
5 Minute Garlic Breadsticks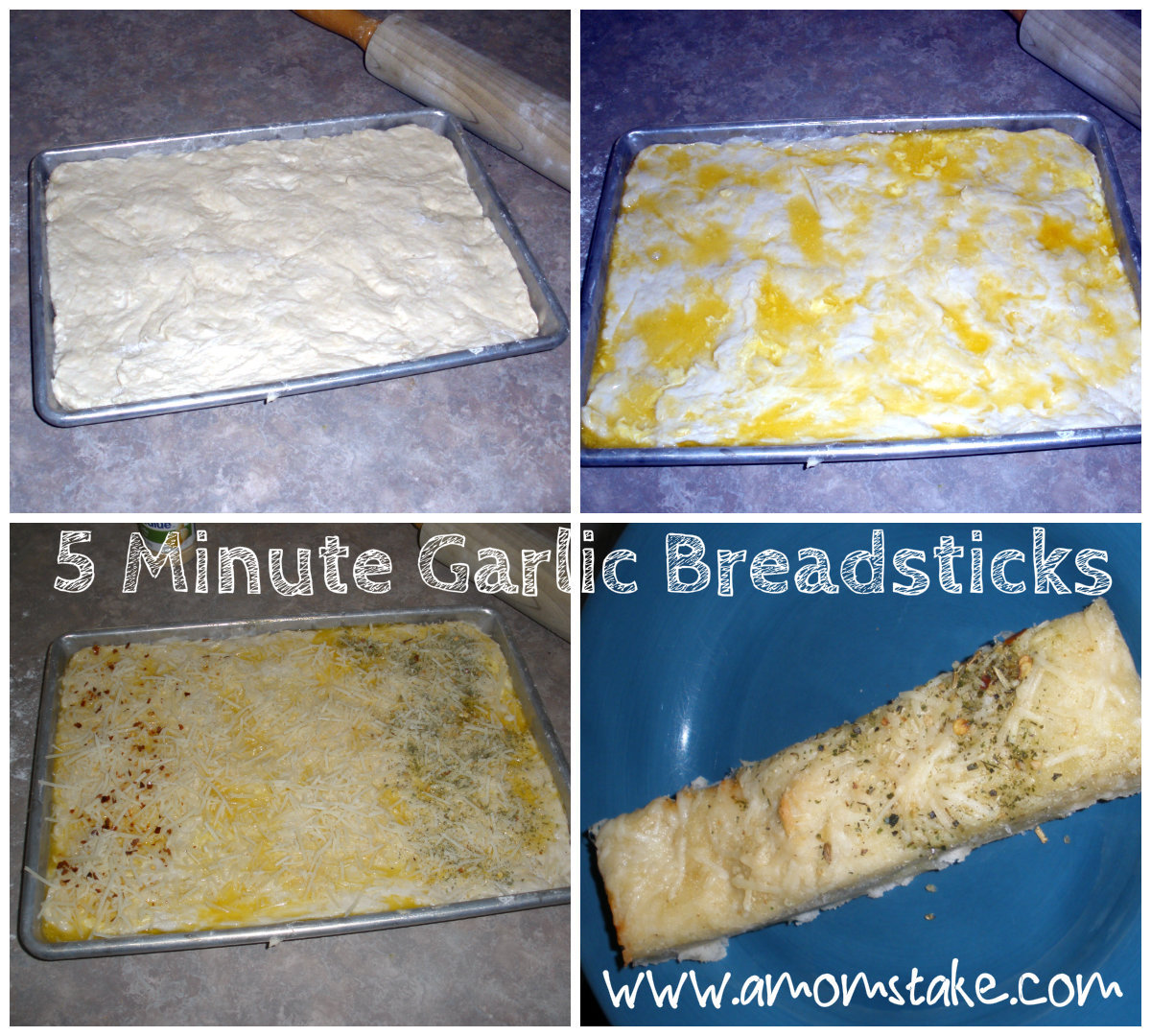 5 Minute Garlic Breadsticks
Author:
Meagan - A Mom's Take
Ingredients:
2.5 cups of hot water
1.5 T sugar
1 T instant yeast
1.5 t salt
5 cups flour
3 T butter
Directions:
Dissolve instant yeast in hot water (I put my water in the microwave for a minute or so and then dissolve my yeast).
Mix in sugar, salt, and flour.
After all ingredients are combined, roll out dough with a rolling pin (to avoid dough sticking to rolling pin, cover rolling pin with flour).
Place dough on a greased cookie sheet.
Melt butter and spread on top of dough.
Cover dough with seasonings of choice (I typically use Parmesan cheese, garlic salt, garlic powder, and pizza seasoning).
Cut into strips (I typically cut the dough after it is cooked because it is easier, but you can cut beforehand if you'd like).
Bake at 350 for 15-20 minutes.
I have tried a variety of seasonings on top of these Garlic Breadsticks, and here are a few of my favorite ingredients: crushed red peppers (be aware, they add a little kick), Parmesan cheese, garlic salt, garlic powder, dry Italian seasoning, oregano. In the picture, I covered the entire dough with butter, graded Parmesan cheese (powder works just as well), garlic powder, salt; on one half I added red crushed peppers and the other half I covered with pizza seasoning from Winco. Enjoy experimenting to find the ideal seasonings for your taste buds!