I received samples and compensation for this post. All opinions are my own.
As a busy mom, I turn to Odom's Tennessee Pride most mornings to speed up our morning routine. They have a snack size Sausage & Buttermilk Biscuits breakfast sandwich all of my boys absolutely love. Since they are full of protein and a hearty breakfast choice, it keeps them filling full until lunch. Plus, it's a warm breakfast so I feel like I'm serving homemade, without the time and effort required.
20 Breakfast Sandwich Toppings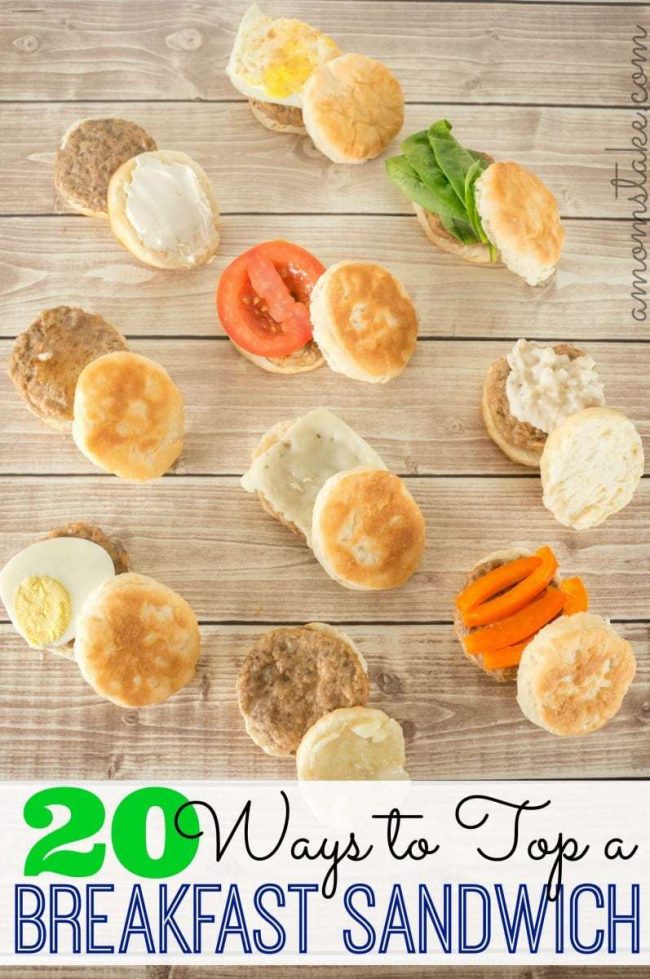 To keep our morning breakfast routine exciting and fun, I have been experimenting and coming up with a whole bunch of different toppings I can add to their breakfast sandwich to make breakfast feel different every time, with still little extra effort required. Here are a bunch of ideas to get started, but let your creativity shine and come up with your own unique toppings!
Add More Protein
Odom's Tennessee Pride Sausage & Buttermilk Biscuits breakfast sandwiches are already a great source of protein that will keep your kids feeling full longer, but these easy topping ideas can give an extra boost of protein.
1. Cheese – Add your favorite cheese like cheddar, havarti, swiss or another variety of cheese that you like best.
2. Ham – Use leftover sliced ham or top with a favorite thinly sliced lunch meat.
3. Hard Boiled Egg – Boil a batch of eggs at once and store them in the fridge. Then, just peel, slice, and add on top!
4. Bacon – A crispy slice will add a crunchy!
5. Fried Egg – Fry up an egg and add it on top. The snack sized sandwiches perfectly fit one half of a fried egg so you can cook one, cut in half, and go!
6. Pepperoni – Top with a few slices of pepperoni for a yummy after school snack.
Top with Fruits & Veggies
Use a breakfast sandwich your kids already love, and top it with veggies to help meet their daily goals.
7. Tomato – A juicy tomato slice adds color, taste, and texture!
8. Onions – Just like adding a ring of onions to your burger — they will add a kick of sweet and crunch.
9. Bell Peppers – You can use whatever bell pepper color you prefer. Red and orange bell peppers are sweeter and make a great choice as a topping.
10. Avocado – A simple slice will work or smash it up and top as guacamole.
11. Mushrooms – Use pre-sliced baby bellas or another favorite mushroom variety.
12. Spinach – They may turn up their nose at first because of the green color, but spinach has very little taste so it's a great veggie for the reluctant vegetable eater (if you can get them to try it).
Dipping or Topping Sauce
These next ideas can be be added right on top of your sandwich, or served on the side for dipping. Kids love to dip their food!
13. Barbecue sauce – With a BBQ sauce on top this will transform into a perfect after school snack.
14. Gravy – Think traditional biscuits and gravy, in a snap!
15. Ranch – Ranch is surprisingly good with biscuits.
16. Butter – An easy dab of butter on the biscuit melts and moistens the biscuit.
17. Honey Mustard – Add a kick of flavor with a traditional honey mustard sauce.
18. Cream Cheese – Spread cream cheese onto the biscuit for a cream sandwich.
19. Ketchup – Maybe not one adults will want, but sure to be a kid favorite!
20. Syrup – Keep with the breakfast theme, syrup pairs perfectly with these Sausage & Buttermilk Biscuits sandwiches!
No matter how you decide to serve them, I'm certain Odom's Tennessee Pride Sausage & Buttermilk Biscuits breakfast sandwiches will be a hit! Our family has enjoyed these yummy snack size sandwiches for breakfast, after school snacks, and sometimes even a late night snack.
You can find Odom's Tennessee Pride products at Walmart and Sam's Club and a variety of grocery store chains including Kroger, Harris Teeter, Food City, Dillions and more. Use their store locator to find them near you!