School lunches get boring, fast, if you just stick to the same staples you are used to day after day and week after week. The secret to keeping lunch exciting is by mixing it up and trying new things and keeping it fresh and interesting. To help you make amazing school lunches this year, I've complied a list of 100 school lunch box ideas to get you started! If you mixed and matched these fillers, your child could go to school with a different combination every school day!
I received compensation and Nude Food Movers sample for this post. All opinions are my own.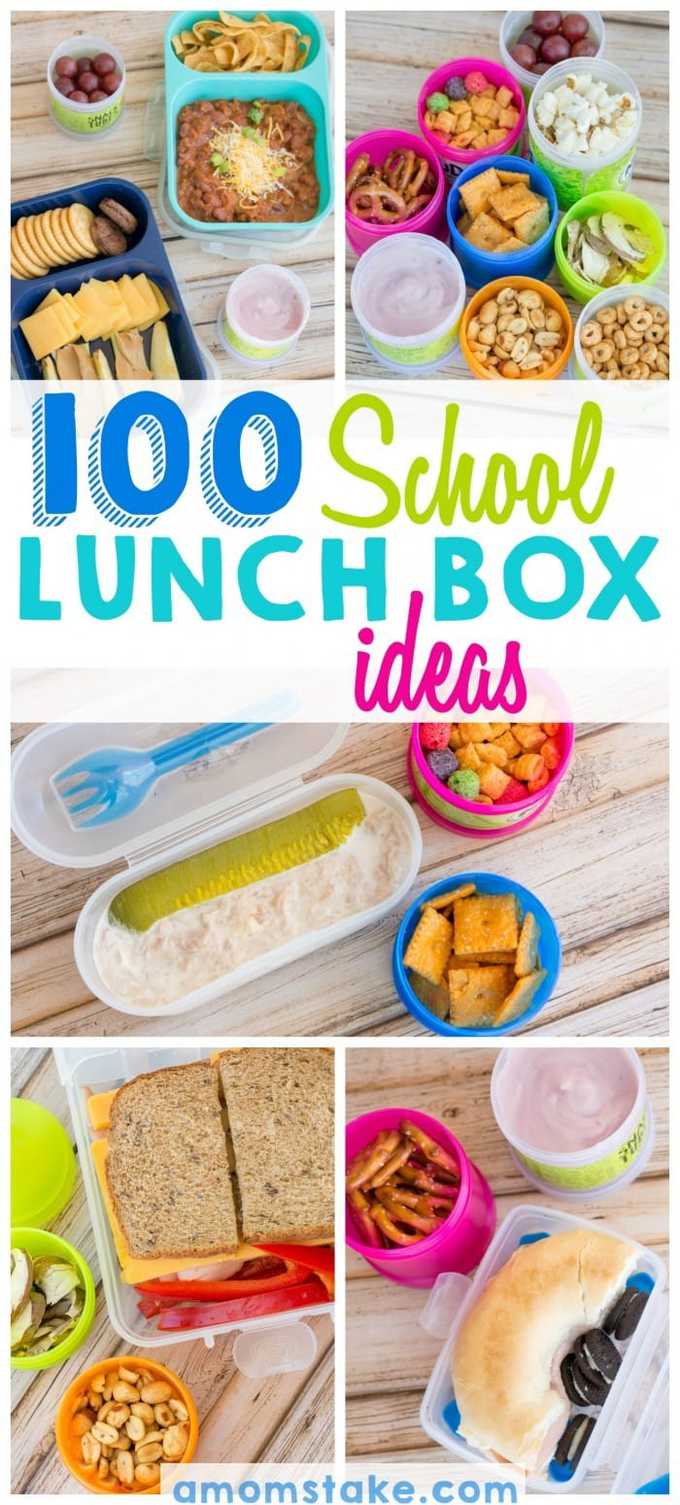 100 School Lunch Box Ideas
Entree:
1. PB&J
2. Lunch meat sandwich
3. Tuna sandwich
4. Chicken wrap
5. Cold meat & cheese
6. Salad
7. Pizza
8. Chicken salad sandwiches
9. Pasta salad
10. Dinner leftovers!
11. Chili
12. Waffles
13. Crackers & cheese
14. Tuna & crackers
15. Bagel
16. Nachos
17. Mini corn dogs
18. Soup
19. Fish sticks
20. Chicken nuggets
Sides:
21. String cheese
22. Fruit cups
23. Crackers
24. Pretzels
25. Dry cereal
26. Nuts
27. Jerky
28. Raisins
29. Muffin
30. Yogurt
31. Goldfish
32. Dehydrated fruit chips
33. Fruit salad
34. Potato salad
35. Popcorn
36. Pumpkin seeds
37. Biscuit
38. Cornbread
39. Graham crackers
40. Hard boiled egg
41. Chips
42. Apple sauce
43. Granola bar
44. Fruit leather
45. Naan bread
46. Hummus
47. Pepperoni Sticks
48. Lunch roll-ups or kabobs
49. Rice
50. Craisins
Fruits
51. Apples
52. Raspberries
53. Strawberries
54. Grapes
55. Peaches
56. Pineapple
57. Cantaloupe
58. Orange
59. Watermelon
60. Banana
61. Mango
62. Nectarines
63. Pears
64. Blueberries
65. Blackberries
66. Mandarin oranges
67. Kiwi
68. Pomegranate
69. Plum
70. Apricot
Veggies:
71. Baby carrots
72. Cherry tomatoes
73. Broccoli
74. Snap peas
75. Sliced bell peppers
76. Mushrooms
77. Corn
78. Peas
79. Green beans
80. Cucumber
81. Pickle
82. Celery
83. Squash
84. Radish
85. Zucchini
Sweets:
86. Jello
87. Cookies
88. Trail mix
89. Strawberries & whip cream
90. Brownies
91. Rice krispies
92. Mini marshmallows
93. Yogurt parfait
94. Frozen smoothie
95. Mini donut
96. Caramel dipping sauce
97. Pudding
98. Mini cupcake
99. Chocolate chips
100. Fun size candy
Packing School Lunch Boxes Made Easy
We're packing our school lunches this year with Nude Food Movers. This Australian-born company focuses on eliminating all the rubbish (trash) that goes with school lunches. You don't need any plastic baggies, foil, wrap, or even individual sized lunch supplies. Since I'm preparing lunch for my 3 boys that are in school, buying one big bag of pretzels or a big tub of yogurt saves me a ton versus buying individual portion sizes. But I was tired of all the trash that would come home and the repackaging that was sometimes needed to keep portion sizes manageable.
Nude Food Movers are awesome and perfect for school lunches! They come in bright kid-friendly colors that my kids are drawn to. They have a vast product line from snack tubes that can be stacked together to sandwich boxes, lunchboxes, and more! Their entire line is BPA free so they're perfect for kids lunches, and adults too! You can find Nude Food Movers at HEB, Walgreens, Kroger, and at The Container Store in the USA.
Have more school lunch box ideas? Share them in the comments to add to this list!