I received Olive Garden gift cards in order to try their new menu. All opinions are my own.
Taking our boys out to a sit down restaurant always feels like a special occasion. They love coming along and getting a kids menu and feeling like an adult getting to pick out a meal from the menu. We headed to Olive Garden to check out all their new menu items. We had just a quick 5 minute wait and my 5 year old excitedly waved the blinking buzzer to let us know it was time.
Olive Garden has an updated menu with over 20 new items. Every page you look at shows a little "new" banner next to many of the items. It felt like a whole new experience to get to come to a restaurant I already know and love and try something completely different.
Here's a highlight of some of the new menu items:
Cucina Mia – Create your own perfect pasta entree with a choice of 6 pastas and 5 sauces, just $9.99 every day!
Small Plates – Choose from 8 small plate dishes to explore a variety of flavors
Lighter Italian Fare – New dishes expanding the under 575-calories options
Specialty Entrees – New culinary-forward entrees added to the chicken and seafood sections of the menu
Antipasti and Caprese Salads – Enjoy the classic signature salad with new antipasti or caprese topping!
Tuscan Trio Lunch Combination – The popular soup, salad and breadsticks lunch now can be combined with an additional pasta side, small plate, or salad topping
We all ordered from the new menu items. My husband tried one of the new specialty entrees, Pappardelle Pescatore which includes sauteed shrimp, baby scallops and clams with pappardelle pasta, fresh asparagus and tomatoes in a creamy red pepper seafood sauce. My husband loved his dish and kept raving about his sauce, especially.
I decided to give creating my own pasta a try with the Cucina Mia menu. I combined their Tri-Colored Vegetable Penne with the Spicy Diavolo sauce – whew talk about spicy! I topped it with the chicken meatballs, recommended by my server. I'd go with their sausage meatballs in the future, I think I would have like those better. The pasta tasted great! I love spicy marinara sauce so it was right up my alley. I did need my glass of water close by at all times, though.
We also ordered a Cucina Mia plate for our 4 boys to share since they would have breadsticks as well. We ordered them the Creamy Garlic Asiago sauce, which is very similar to an alfredo sauce, with a twisty noodle. As you can see they completely downed their plates – not a noodle left! My 5 year old ended up eating nearly two full bowls of Zuppa Toscana soup and was stuffed before the entree arrived.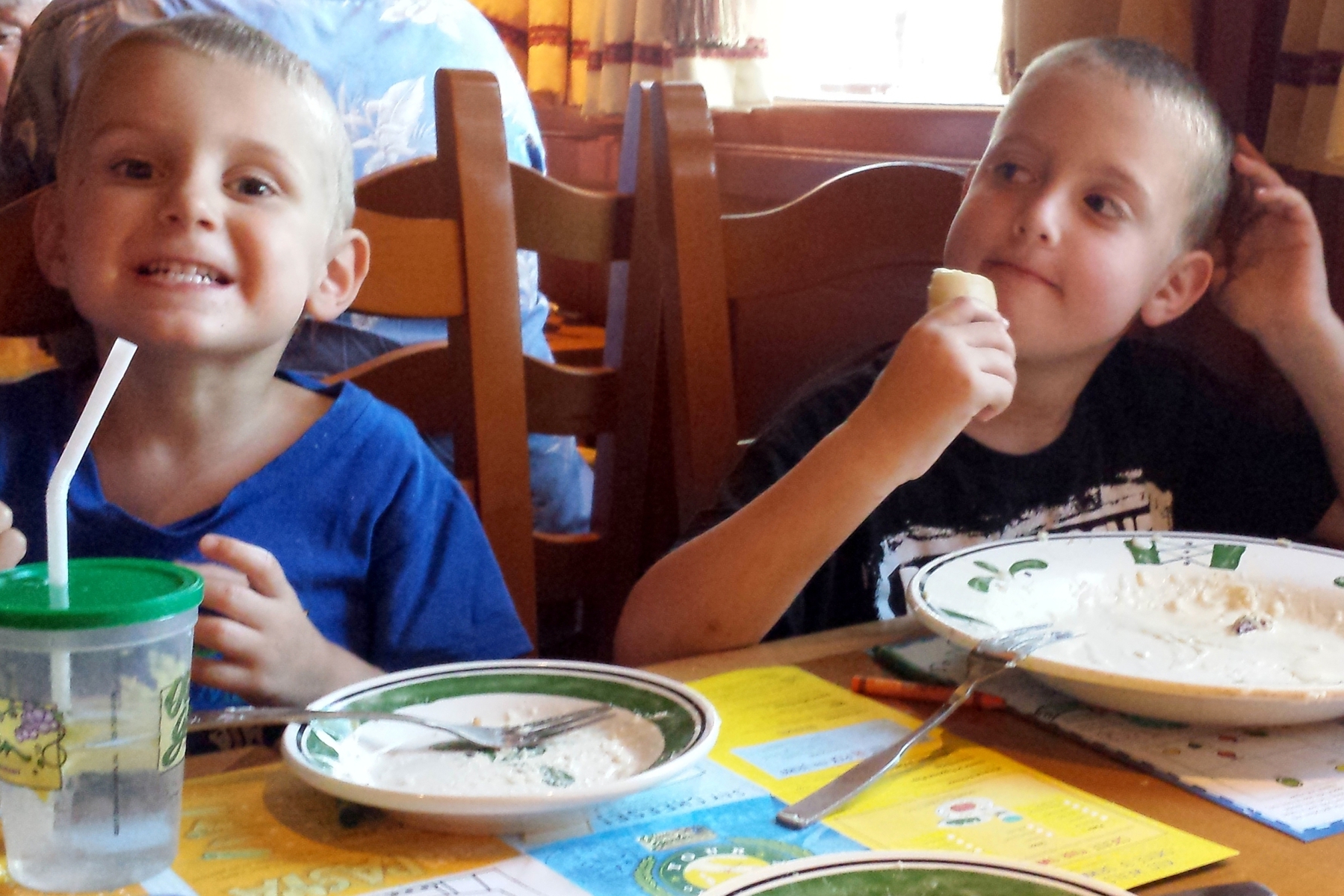 We also ordered the new Wild Berry Layer Cake, but unfortunately they were out of it so we went with the Lemon layer cake instead, which was yummy and a great way to end our meal by sharing a slice of refreshing cake. We had a really nice evening out together and really enjoyed being able to relax, eat, and enjoy each other's company while trying something totally different from Olive Garden!
Which new menu item do you want to try?