I love to bake! Love it. I would bake a whole lot more frequently than I do, except then I'd have baked goods in my house all the time. And heaven knows I don't have any self control. So it's best I don't bake all the time. 🙂 But, when I do have the chance, I soak it up. Baking is a lot more of a science than cooking. You need to have the ingredient amounts, temperatures, and cooking times exact or else something's bound to come out wrong. And it just fills me with satisfaction to pull out a cake, cookies, or other yummy treat that is perfect and delicious!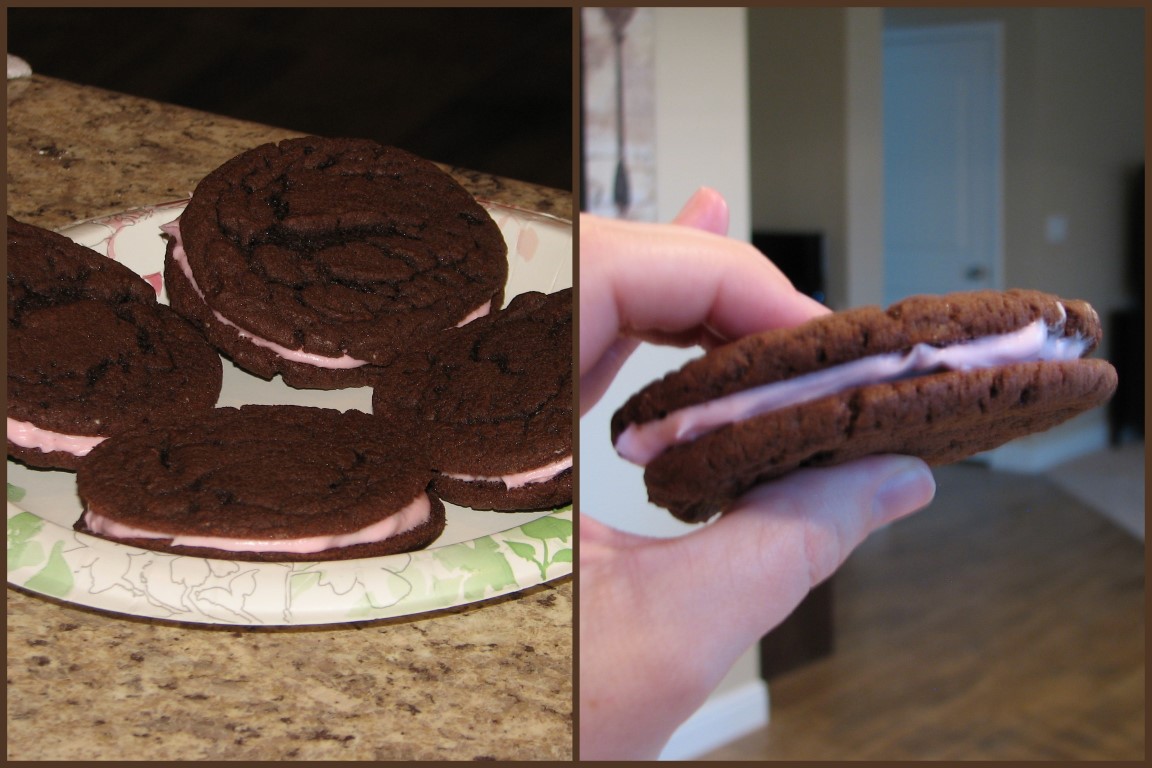 You know how some people make the best chocolate chip cookies? When you think of that person, you think chocolate chip? My aunt makes incredible gingersnaps. Soft, chewy, delicious. Well, I have a signature cookie, too. Mine is the homemade oreo. People know I'm going to bring these to various gatherings. And they're always a hit – I never have any to bring home with me! I've seen variations of this recipe, but I'm telling you, this is THE ONE. The key is using shortening, not oil. I know, just the thought of these ingredients makes me kind of ill. Just ignore it. They're worth it!
Homemade Oreos
A soft, chewy oreo cookie with a cream cheese filling!
Ingredients:
COOKIES:
2 pkgs. Devil's Food Cake Mix (Important that it's not just chocolate!)
1½ c. shortening
4 eggs
FROSTING:
1 pkg. (8 oz.) cream cheese
½ cube butter or margarine
1 lb. powdered sugar (4 c.)
Directions:
Mix together the cookie ingredients.
Place on cookie sheet in about 1" balls (I use a cookie scoop).
Bake at 350 for about 8-10 minutes.
Cream the frosting ingredients together (add food coloring, if you'd like).
Frost cookie to make cookie sandwiches.
Store in fridge to allow to set.

Here's a great Caramel Cashew Popcorn Balls Recipe