Every year we get swept away by the fun and excitement of the Easter holiday. The kids get thrilled about thoughts of candy and the Easter Bunnies visit. Sometimes amid all the anticipation, we forget what the holiday is really about. The crucifixion and resurrection of Jesus Christ. To help my kids remember Christ in Easter, I do this simple, yet fun, Christ centered Easter activity.
Each egg has a little token in it that coincides with the scripture that goes with it. As you open each egg, the scripture in it will explain it's meaning and how it pertains to the events leading up to Christ's death and resurrection. The 12 eggs take you through the whole account. So you can teach about the meaning of Easter in a fun and interactive way.
What you will need:
12 Plastic Eggs
A Cup (sacrament cup works great)
3 Quarters
A Little Piece of Rope
A Piece of Soap (Travel/ Hotel sized soap is easiest)
Red cloth cut into the shape of a robe/cape
Little cross (Make by gluing little sticks or toothpicks together)
2 Dice
A Little Bag of Dirt
A White Cloth
Little Stone
Little Bag of Some Spice
Printed Strips of Each Numbered Scripture Below
Scriptures (New Testament)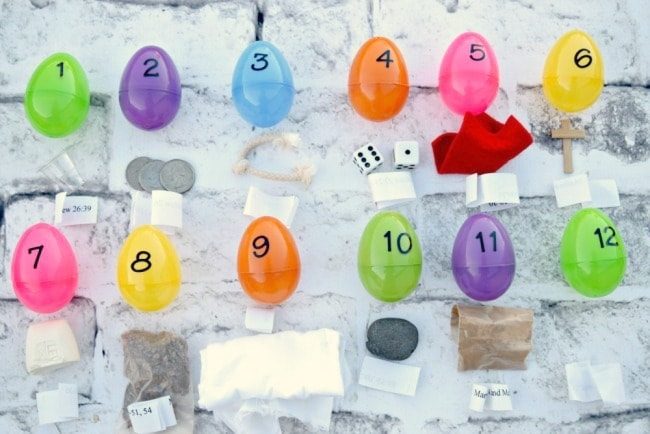 How to make:
Find and prepare the materials above
Write the numbers on the outside of the eggs so you know which order to open them in
Print off the scriptures below and cut into strips
Fill each numbered egg with it's corresponding scripture and material
You may choose to hide the eggs to make it more exciting, or just open and read as a quiet family activity. Make it a scripture chase or a family scripture study. These work great for Sunday school lessons too. They can be saved and used year after year.
List of scripture strips
1. Matthew 26:39 -Cup
2. Matthew 26:14-15 as in Zechariah 11:12-14 -Quarters
3. Matthew 27:1-2 -Rope
4. Matthew 27:24-26 -Soap
5. Matthew 27:28-30 -Red robe
6. Matthew 27:31-32 -Cross
7. Matthew 27:35-36 -Dice
8.Matthew 27:50-51,54 -Dirt
9. Matthew 27:58-60 -White cloth
10. Matthew 27:60,65-66 -Rock
11. Mark 16:1,3,4 and Matthew 28:6 -Spices
12. Matthew 28:6 -Nothing
Keep Easter centered around Christ with this fun Easter activity for the whole family. Whether you have younger kids or older, they will all enjoy this activity for years to come. Help them get into the scriptures and understand the meaning of Easter, all while having some fun.
What's your families favorite Easter tradition?