If you peeked into my mini-van, you'd find it completely packed to the brim with car seats! It's an interesting stage of life I'm in with my oldest being 8.5 and still riding in his backless booster seat which contributes to the chaos of so many buckles and seats to navigate around. I don't mind the car seats, in fact I'm a bit obsessed with them.
Unfortunately, I think many parents don't get all the information they need on proper use of car seats and often overlook important car seat safety rules that can keep their children safe on the road! I see this all the time here in Arizona where there is sometimes a culture gap. I always cringe and try to inform when I can when I see young children in the front seat or kids standing up while the car is moving or any other improper car seat use. Here are 7 rules of car seat safety that are often overlooked but can make a big difference in keeping your child safe and secure.
I received an Evenflo Advanced Transitions 3-in-1 Booster car seat and compensation for this post. Affiliate links are used below. All opinions are my own.
7 Often Overlooked Car Seat Safety Rules
1. Rear Facing Car Seats –
Most state laws require that a child remain rear-facing until they turn 1 and at least 20 lbs. However, the American Academy of Pediatrics highly recommend your child remains rear-facing until at least age 2, or as long as they can comfortable continue rear-facing within the height/weight limits of their car seat. Studies have show children under the age of two are 75% less likely to die or be severely injured while rear-facing.
2. Chest Clip – The upper chest clip on a 5-point harness car seat is intended to be fastened and level with the child's armpit. Often, this center clip will move lower and lower over weeks of use, so be sure it's at a proper level to be able to keep their upper body held back in their seat in the case of an accident.
3. Loose Straps – Straps are much easier to get a snug fit these days with the easy lever that lets you tighten and loosen the straps without messing with the straps at the back of the seat. Go ahead and loosen the straps before you place your child in the car seat, and then retighten the straps each time. For the straps to be secure you should not be able to pinch any slack in the straps.
4. LATCH System Weight Limit – We love using LATCH anchors, but be aware that they have a max weight load they can accommodate. The cutoff weight may vary based on how heavy your car seat is. Keeping children in a 5-point harness toward the upper weight limits will likely mean your child will surpass the upper weight limit for using LATCH installation. Don't worry, just switch to a seat belt installation if your child reaches over the weight limit and you want to continue to keep them in a 5-point harness.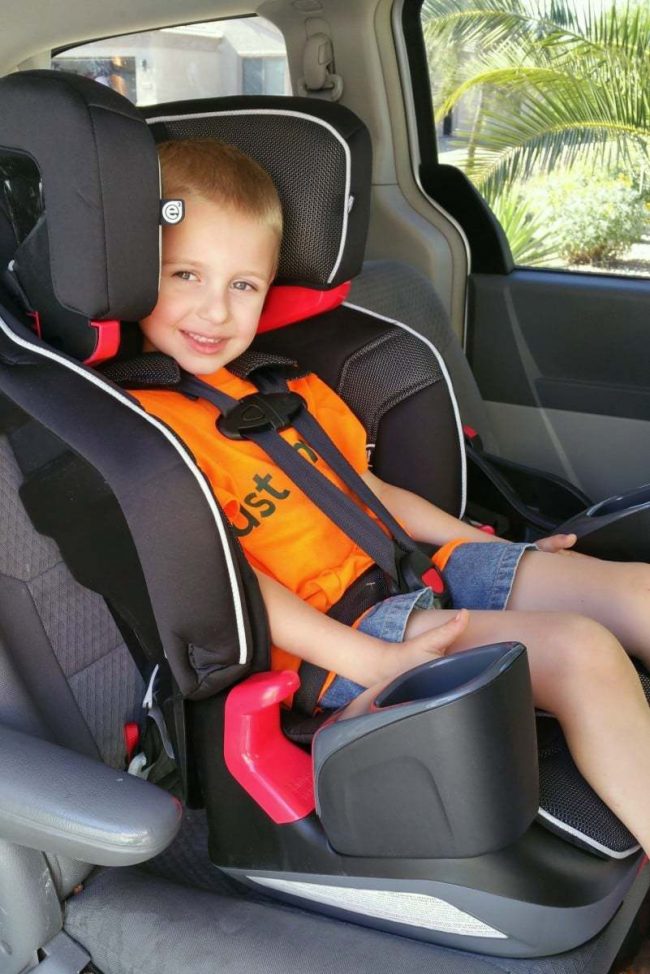 5. Adjust the Shoulder Strap – When your child moves up from a highback booster, you might think it's as easy as tossing in the no-back booster and letting your child buckle up. However, that nearly always will lead to a shoulder strap not properly placed which will be both unsafe and uncomfortable for your child. Backless boosters come with a shoulder belt clip with a strap and clip that come up off the bottom of the seat and can be clipped onto the shoulder strap to hold the strap even with the top of your child's shoulder.
6. Outgrowing the Booster – You may be surprised, most states have laws that require children to be in a booster seat until they are at least 8 years old and 4'9″ tall. Each state has varying laws, but in general the best practice is to keep your children in a no-back booster as long as they are within the manufacturer requirements.
7. Front Seat – Keep kids out of the front seat until they turn 13. The back seats are much safer than the front drive and passenger seats for children because of the airbags. Even if your airbags are disabled in the passenger seat, it is still best for your children aged 12 and younger to ride in the back.
The Evenflo Advanced Transitions 3-in-1 booster car seat can be used in three different modes — 5-point harness, high back booster, and booster. This lets the car seat grow with your child. Or, in our case, give you the flexibility to use one seat in different ways, depending on the child and need at the time. Since the car seat has high weight capacities in each of the modes, you can keep your child better secured until the upper weight and height ranges of each mode helping to keep them safe in the car.
I was really impressed with the quality and the flexibility of the Transitions booster. My 4 year old feels like a superstar in his new car seat! He's comfortable and well protected in his seat. I love how easy it is to get this car seat tight in the car with an easy to install LATCH levers. I've had many battles in the past trying to get car seats tight and properly installed struggling to pull the adjustment straps, so I was happy to find the seat installed easier than I could have imagined!
Following the safety rules above, do note that you can use the Transitions car seat as a 5-point harness up until your child is a max of 65 lbs, but the LATCH installation method cuts off when your child reaches 45 lbs. The seat can be used up through through 120 lbs and 57″ as a backless booster.