I'm honored to be serving in my church as the Young Women's secretary! I love my calling as I get to play around with excel and word and come up with fun ideas as well to enrich the lives of the young girls in my area. Early this year, for New Beginnings, we were looking for a cute and inexpensive gift we could make for each girl. We decided on making DIY hair ties and I created a fun printable bookmark and hair ties holder to go with them. This project is very easy to make, but may be time consuming if you have a bunch of girls in your Young Women's group.
DIY Hair Ties
You'll need:
5/8″ thick Fold Over Elastic (FOE)
Scissors
Ruler
Directions:
I ordered my fold over elastic off of Etsy and picked out colors to coordinate with each of the Personal Progress values. You can pick any 5/8″ width fold over elastic that you like.
Start by cutting your FOE to 9″. This mean, you'll be able to get 4 hair ties out of each yard purchased. Just lay out the elastic by a ruler and cut at 9″ while the elastic is relaxed (don't pull tight when cutting!).
Next, fold the elastic in half, matching the cut ends together.
Now, wrap the cut ends around your fingers, tying a knot.
When you have your loose knot, pull at the knot to slide it towards the cut ends, tightening the knot as you pull. You want just a short amount of elastic on the cut end. Just enough that the knot won't slide off the end.
That's all there is to it, it's really that simple! You don't need to burn the edges or anything fancy. If the elastic starts to fray, it won't get far.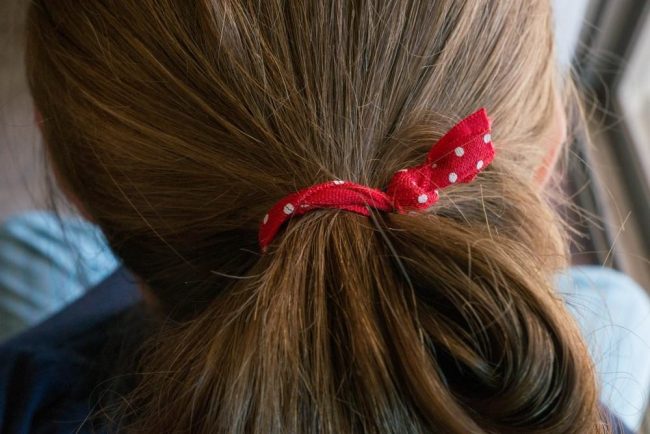 You can use the hair ties as you would a normal elastic, pulling your hair through the now larger loop you created with the knot. These DIY hair ties also look really cute on your wrist when not helping to pull back your hair.
If you want to make these as a gift with the Personal Progress values, you can download and print my free Young Women Values Bookmark PDF. It comes with three printed to a page. Just use a paper cuter to cut between the bookmarks and to shorten the ends. As you tie up your value hair ties, slip them on covering each of the traits that coordinate with a value.
This cute favor would make a wonderful gift for New Beginnings, Girl's Camp, Young Women in Excellence, or even as a nice reward for those that complete Personal Progress.