Ladies, it's time to update your Christmas wishlist! We've rounded up amazing gifts that will treat you throughout the year. There's lots of perfect gifts for your girl friends, mother/mother-in-law, and co-workers here, too!
We received samples and/or compensation in exchange for this post. All opinions are our own.
Perfect Christmas Gifts for Women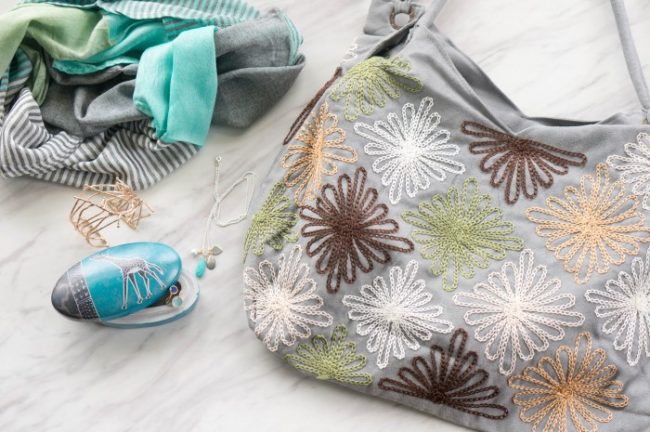 Give a handcrafted gift that gives back from the World Vision Gift Catalog. You can choose a thoughtful gift carefully crafted by individuals from across the globe using their skills to help support their family. They have lots of fashion accessories and pretty jewelry picks like the Infinity Scarf, Wraparound Ring, or Charm Necklace featured above. An African Soapstone Box will be a beautiful gift to collect their favorite keepsakes. This Vietnamese Tote is hand-embroidered. One of my favorite pieces from the gift catalog is The Heaton Hope Bracelet, designed by Patricia Heaton. See all the wonderful gifts that do good at the same time on the World Vision website.
Get a clean start for the new year with the amazing products by H2O at Home that give cleaning a natural approach. With products that work harder at tackling dirt and grime, you can clean using just water or a natural cleaner. Tackle kitchen cleaning with a Scrubette, Essential Kitchen Towel, and a Luxury Kitchen Towel set to make your way through any mess. The Cleaning Clay Kit will help you as a all-in-one cleaner for any area of your home. This all-natural product works great on stainless steel, granite, to clean shower doors and pots and pans, even for cleaning glass and jewelry. There are even gifts for the car with a Car Diffuser ceramic disk paired with scented extract. It's easy to find a gift you'll love at H2O at Home.
Getting cozy by fireplace or out on your next adventure just got easier with a Rumpl Fleece Puffy Blanket. One side is backed with abrasion resistant ripstop Nylon fabric to tackle your adventurous side. The other side is a super soft moleskin fleece with a polyester fill middle. Roll it up with the built-in roll strap to tote it along with you easily wherever you go. There's a zippered pocket to tuck away the carry straps or secure your valuables. The Rumpl Fleece Puffy Blanket is so incredibly comfy and would be heavenly on a trip. I really appreciate that it can be machine washed and quickly dries so the adventures don't have to come indoors with you.
Break the ice and get the conversations flowing in the two games by Personalogy, perfect as a stocking stuffer! Choose the Party Edition to work on relationship building or prompt new conversations for date night or a girls' night out. The questions range are presented with multiple choice options that easily prompt explanations and spur a new conversation but make it easy to get everyone involved. Choose the Pesronalogy Family Game version to increase family conversations – they're great for the dinner table and road trips! My family has had a great time with the Personalogy games to get to voice their opinions. We take turns trying to guess what we think the other family members will choose.
Update her space with a quality piece of furniture from Bellacor, where you'll find something to update any area of the home. There's a wide assortment of products to find just the perfect item for your space and style! We're loving the Magnussen Home Penderton Natural Sienna Wood Small Rectangular Cocktail Table. It has a beautiful finish and feels like an expensive designer piece, but it's 40% off retail with Bellacor and ships free! It gives the perfect rustic and industrial feel to our room. Find the perfect piece she's been hoping for to surprise her this year from Bellacor.
We're loving the tech accessories by Toddy Gear that help you be prepared for anything. My favorite is the Smart Charge Power Bank Deluxe! It can recharge your devices on the go with a compact size that's easy to bring along with you. The 7000mAh battery can charge up to two devices at once. Plus, they come in beautiful prints that you can coordinate across the other accessories! Add charging cables, screen cleaners, a Toddy tie, and more! I adore the floral prints, but there are styles for everyone. Find the perfect accessories at Toddy Gear to add to her stocking this year.
Tackle unwanted hair with the FDA cleared Venus Silk-expert 5 IPL by Braun. You'll be able to achieve permanent hair reduction at home with this one device that's easy to use with fast IPL treatments that can treat an entire large area like legs or arms in just 8 minutes! The Venus Silk-expert 5 IPL has a gliding mode that makes it easy to move along your skin between flashes to avoid missing areas and speed up the process. It includes a Gillette Venus razor to start with a smooth, close shave before your treatment and customized modes from normal, gentle, and extra gentle modes to better accommodate beginners and sensitive areas. Add the Silk-epil 9 SkinSpa Epilator Beauty Set that can exfoliate, shave, massage, and epilate legs for soft and smooth skin. Visit Braun's website to see all their hair removal solutions for the perfect product for you.
Everyone will gather round for a fun evening at home when you gift her a Singing Machine Carnaval. This easily portable hi-def karaoke system can really start the party. It has a built-in LED dome light that quickly changes the atmosphere and makes it feel like a party. Follow along with the lyrics on the 7″ color LCD monitor or connect to the Singing Machine Carnaval via Bluetooth to stream your favorite music. The Carnaval is a great choice for a karaoke machine because you can access music however it works best for you – download songs onto the include USB to play HD karaoke videos, use your personal tablet or device to stream your own files with bluetooth, or use the line-in options to link music. The two included microphones will let you sing a duet, or add plugin a keyboard or guitar for even more ways to use your Singing Machine Carnaval.
Throw away her old pans and get her some shiny new ones from Chicago Metallic Bakeware. Nothing is worse than trying to cook on pans that are old and scratched. If the woman in your life likes to cook or bake, Chicago Metallic has something for her. With their great line of high-quality cookware, there is something for every woman. Check out their heavy-duty non-stick jelly roll pans or cooling racks. There's lasagna pans, popover pans, pie pans, 3 tier cake pans and much much more. She will appreciate having great pans to make baking easier. Check out the Chicago Metallic Bakeware site to find something that she will love.
Give her the gift of ultimate relaxing with these two cozy sleep products available at Amara. The Women's Duffield Bathrobe is so soft and comfortable, it's perfect for snuggling up in by the fire through winter. Or wrap up in it after a bath to quickly warm up. Pair the robe with a Stitched Silk Eye Mask by Amara. They are so luxurious and will help her drift off to sleep, even if it's still light outside. You can find amazing luxury gifts on Amara's website that will really spoil her this year, no matter what it is she has on her wishlist. Be sure to check out their exclusive A by Amara line for fantastic products for the home and for gifting.
Fill her stocking with new make-up favorites to give her a confident start to the new year ahead. Rimmel London has amazing make-up at very affordable prices making it a great choice for gifting. Go for bold eyes with the a Soft Kohl Kajal Eyeline and Scandaleyes Mascara to add lots of volume. Try Provocalips 16hr Kissproof Lip Colour or Stay Matte Liquid Lip Color, both are kiss-proof giving you color that lasts! Control shine with the Stay Matte Pressed Powder for a flawless finish.
Audiobooks are so in right now, they're the perfect way for her to multitask her responsibilities around the home or her favorite project while indulging in a new book. Penguin Random House Audiobooks makes it easy to find a favorite new book to get lost in while staying busy on the go, at work, or in the home. Try one of their new release titles like Turtles All the Way Down or Otherworld. We also love Penguin Random House Audiobook collection of family titles that are perfect for chauffeuring kids, including: Tortall: A Spy's Guide, The Bone Thief and Minecraft: The Island narrated by Jack Black! #PRHpartner
Dress her up this Christmas with some bling from Erica Lyons Jewelry. She will love the stunning craftsmanship and durable design of every piece. With their team of industry veterans, Erica Lyons Jewelry searches the market for the hottest new styles. Their on-point designs will leave her looking and feeling runway fabulous. Spoil her this year with a beautiful jewelry set from one of the statement collections from Erica Lyons Jewelry.
Give her instant access to taking and saving her memories with the KODAK PRINTOMATIC. It's a sleek new instant-print point-and-shoot camera that offers 10 mega-pixels and brings back the nostalgic feel of days past with Zero-Ink Printing Technology. She won't need a computer, Wi-Fi or any wires – it doesn't even use ink cartridges or film. She'll just need the camera and ZINK heat activated paper to instantly produce pictures that are water- and tear-resistant. The KODAK PRINTOMATIC prints 2″x3″ photos that are perfect for sharing and fit in wallets and back pockets to snap your moments and save or share them as you go! The KODAK PRINTOMATIC is only $69.99 on Amazon.
Nothing says "Merry Christmas" like a brand new stylish diaper RYLA diaper bag backpack. I can't even begin to tell you how much I absolutely adore this bag. I love that wearing it as a backpack frees up my hands, I LOVE all the pockets, the gold zippers, basically everything. This bag keeps its shape, is the perfect size (which helps me not over pack), comes with a changing mat and a wet bag, and helps keep all of my baby's supplies organized. Every time I wear my Beach Beige RYLA bag out in public, I get so many compliments about the bag. The faux leather design makes it stylish enough to wear with or without kids in tow; yes, I even wear it on date nights. Available in 3 beautiful colors, you won't want to miss out on a RYLA Backpack this Christmas. Use coupon code TAKE10 and receive a 10% discount with your purchase!
There's nothing quite like looking back on past memories and reliving those precious moments with your little ones. TreeRing Memories makes it a cinch to collect your photos and turn them into a chronological photo book. Then, customize each page as much or as little as you need to create a personalized baby book she will cherish. Within TreeRing Memories are prompts that help you remember milestones and memories to start recording those moments before you lose them, from first experiences to important dates! You can even coordinate with family members to collect photos and create a memory book that brings together everyone's pictures which make a beautiful keepsake for grandparents. The TreeRing Memories app is completely free to use, and then you can print a bound book of your memories starting at just $9.99.
For the athlete or busy woman in your life, give her the gift of music with Altec Lansing. These high-quality waterproof, Bluetooth, headphones are great for listening to music on the go. With a variety of colors to choose from, she can pick from her favorite color. The long-lasting battery will survive up to 6 hours between charges. Altec Lansing Sport In-Ear Earphones even have a built-in mic so she can talk hands-free while she exercises or chases the kids. She will appreciate every minute of her blissful music listening with Altec Lansing Sport In-Ear Earphones.
Pamper your littlest ones with the baby care line by Just Hatched! The products are all natural-based, mild and gentle, with their "no yucky stuff inside" policy, that are actually affordable! My favorite product is their Happy Baby Body Wash (it smells amazing!), but I've loved everything I've tried. Just Hatched has a baby line and ALSO has a mama-care line which I just discovered, including a nursing balm and Stretch Marks & Scar gel. I wish I had known about this line when I was still nursing. Their products are even gentle enough to use on a newborn. These gentle products are perfect for adding to stockings, this year!
Need a unique gift? Something for the crafty lady in your life? You should check out one of the many online classes at Craftsy. There is something for everyone on your list from beginning crochet to decorating cupcakes and cookies for all occasions. You can also find the supplies needed for the classes on the website too. If you plan to take one of the amazing cookie decorating classes, you can also find the Wilton Master Tip Set to help you get started. It'll be a gift that your loved one can use time and time again. Does she not like streaming classes? You also can get the classes on DVD to wrap and put under the tree. She'll be so surprised to unwrap a class from Craftsy this season.
If there's one thing that women love, it's a good smelling candle. This year I'll be welcoming the smell of Christmas into my home with Village Candles. Whether you love the scent of cinnamon, gingerbread, or pine trees, Village Candles has a variety of scents that will make your Holiday guests feel right at home. A few of my very favorites this holiday season include Coastal Christmas, First Frost, White Cedar, and Let it Snow. Available in a variety of scents, colors, and sizes, there is a Village Candles candle perfect for every woman. These candles smell so good that she will want to use them all year round.
Need more gift ideas and inspiration?
See our Holiday Gift Guide landing page for more great gifts for everyone on your list!
Which of these gift ideas are going on your Christmas wishlist?