I contacted Oopsy to see if I could review a product from their line! I got to pick a very cute Kids Apron which I picked the design for and I think it's darling! I choose khaki because I have boys and they are always dirty!! In fact we used the Apron right away when making a meal from the Toddler Cookbook (Did you notice it on my son? Go and check!!)
The apron has two deep and large pockets that could hold markers, crayons, cars, toys, cookie cutters, smaller spatulas, you name it! It would be great for multiple uses especially cooking, arts, and helping daddy with a project to help hold tools! It has an attached loop on the top that doesn't adjust so it's easy for kids to just slip right over their heads. It ties in the back. I really like this apron and it is darling on my boys! My 3 year old son felt so special to be wearing his apron while we cooked! When my 18 month old tried it on he loved the pockets and started putting crayons and toys in them. He's still too little for the apron and I had to tie a knot at the top, but he had fun wearing it anyways! We look forward to getting to use this apron for many different things to come!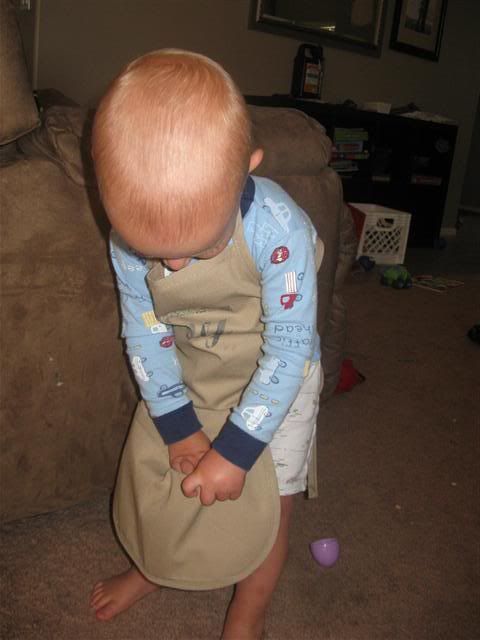 Oopsy is all about customization! You can start with the very base product of an item, say a T-Shirt for example, and upload your own picture, add your own text, and choose from several colors, where available! Or you can browse the gallery of already designed or uploaded images and customized it from there! Customized products make great gifts and Oopsy has something for everyone!
You can find Oopsy
products at http://www.zazzle.com/bd5178
!
*I received a child's apron for free in order to try the product and form an opinion for this review. I was not compensated in any other manner.

This review was made possible by MomMadeThat.com.