Munchie Mugs sent me one of their blue mugs to review and I really like it! I have tried several other ways to do snacks for my kids and none of them have been great. From ziploc bags and tupperware which can easily spill to other snack traps which I personally always thought look difficult to use! My niece has one with big rubbery sections that all meet in the middle and it's always looked more like a monkey trap to me – once you grab the snack it's always harder to get your hand out!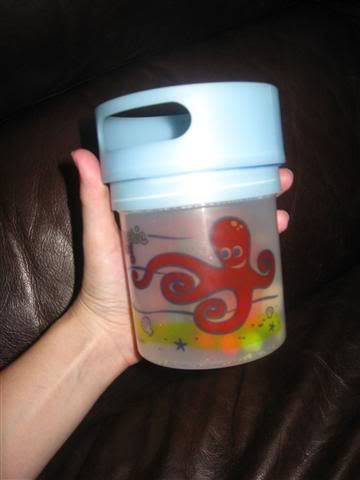 I was very impressed with the Munchie Mugs though! It has a thick high quality stretch fabric that overlaps on the top so it can be flipped over and tossed about and the snacks don't fall out. To get the snacks out you just stick your hand between the layers where they overlap – just stick your hand straight in and they naturally part! The mug has a deep lip around the top which is great for littler kids who might grab a fistful of snacks, and then loosen their grip once out of the cup to eat the snacks. If their hand was still over the mug they would still be contained, above the cloth (they would spill now if tipped) but not instantly to the floor. There is a cut out along this rim for a handle (or at least we used it as such) but you could also attach a product to the mug so your kids couldn't throw the Munchie Mug. The cup section of the mug is very large and can fit a TON of snacks! 
Overall I really love the mug! It is so useful and convenient for keeping snacks and keeping you still sane! We used it recently on our day trip and loved having it with us. I didn't have my camera along with me that day so the pictures are from that evening after bath and in the jammies. The mug is quite a bit bigger than traditional snack traps. Also, I put a mix of snacks into the cup (dehydrated bananas, trix, and raisins) and my kids would have prefer to see what they were grabbing as they kept digging for the raisins. The side is clear but the fabric panel is solid. Your child can split the cloth to the side and hold it open so that they can look into the cup if they really want to find a certain treat. My boys liked the Munchie Mug as well and I didn't see them get frustrated trying to get snacks once! They also threw the cup a TON (they were very tired!) and NO snacks were spilled, not once!
You can find Munchie Mugs
at http://www.munchiemug.com/
! 
The Munchie Mug comes in Pink, Yellow, and Blue.
*I received a Munchie Mug for free in order to try the product and form an opinion for this review. I was not compensated in any other manner.