*** Mr. Bobbles' Blankets has a brand new name! BobbleRoos! Be sure to check out their updated domain at http://www.bobbleroos.com***
I contacted Mr. Bobbles' Blankets to see if they would be interested in hosting a review and giveaway on my blog! They enthusiastically said yes and asked me what I would like to review! I told them 2 of their products that caught my eye that I'd be more than happy to review either one. They very graciously responded that they would be sending BOTH! I was so excited!! I have never had any sheets for my playard and I use it full time the first 6-8 weeks I have a baby so the baby can be in my room. In the past I've always just thrown a blanket down and tucked it under the sides of the mattress pad but they always came loose and they were such a pain!! I couldn't wait to try out this product especially!! I was also excited to get a fun toddler pillow and blanket set for my boys to try out!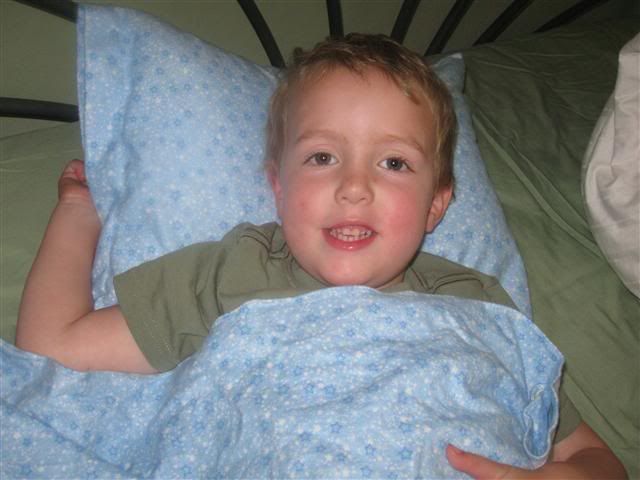 The pillow is super cute and about half the size of an adult pillow. I loved that it had a piece of fabric that went back towards the pillow form to make it so the pillow wouldn't slip out like a normal pillowcase typically does. The blanket was thin and light which is great for a toddler! It is easy for both of my boys to carry around. I love the flannel these products were made from! All of the products were SO soft and cozy even I used them while traveling! They kept me nice and warm too, but not super hot. The pillow would actually make a great adult travel pillow and the blanket would be perfect for flights or road trips!
The playard sheet is really neat! It acts like a pillowcase towards your playard mattress pad and easily slips over it. The back fabric is very stretchy so it slipped on really easily! I didn't once have to reposition the sheet during our trip! The mattress pad was thin but served it's purpose. It doesn't have anything to hold it to the mattress but that didn't present a problem for us with the playard sheet over top they held nicely into place. We didn't have any accidents to really test the mattress pad for absorbency.
The sheet was very easy to remove at the end of the trip as well and washed up very nicely! It's not pilly from the wash! The playard sheet was my favorite product I really liked it and I'm excited to get to use it in my playard when the baby comes and for future trips! Here's my son actually using both products. This was nap time, he wasn't thrilled about going to bed.
BUY IT!
You can find Mr. Bobbles' Blankets at http://www.mrbobblesblankets.com/!
*I received a toddler blanket/pillow set and a playard sheets and mattress pad for free in order to try the product and form an opinion for this review. I was not compensated in any other manner.