After winning List PlanIt for myself from a giveaway on March 23rd, 2010 from The B Keeps Us Honest blog I contacted the sponsor to see if they would be willing to offer a giveaway to my readers! I also won a download membership and that first week of my membership I downloaded a TON of lists! There are SO MANY lists! There has to be over 200 lists! I kept thinking to myself as I was downloading and previewing the lists that while I could probably make some of the lists without too much effort, I value my time at a measly $10/hour (my income at my last job several years ago) and there is no way I could make anywhere NEAR the lists included in 3 hours time! Seriously I could maybe make 2-3 lists an hour.. if I'm not distracted by my kids! Plus, I wouldn't have all the fun lists included! Things like and American Idol journal/notes sheet, camping checklist, neighbor information, or resturant quick lists!
I dreamed of printing up a "Home Management" journal with all the pertinent contact information, babysitter lists, and menu resources that would save me so much time in the long run! I am in fact going to do just that! I have all the files downloaded and saved and now I have to work on gathering phone numbers, recipes, menus, etc to make up the lists and then I will print them all nicely typed up and organized and whip up a binder!

The menu planning section of lists is my personal favorite but I also love the contact information section (so great for emergency preparedness and just generally making life easier!) and the home management lists to help me make a plan for staying on top of cleaning! Thanks List PlanIt for your wonderful resources!
Let me show you some of the lists available from List PlanIt (Taken from their trial section, available free of charge here).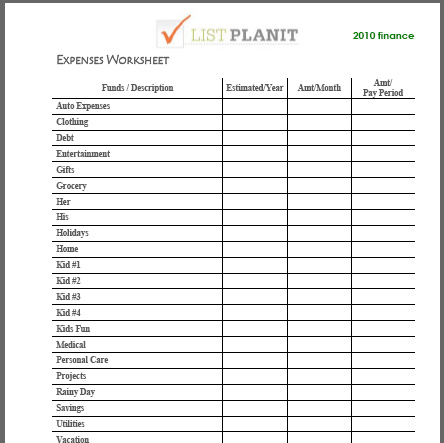 (Click Here to view the original sample)
How about a nice expense worksheet to help you begin a budget and think of things you might have forgotten to budget for on your own? With easy columns to help you figure out how much to play by year, month, or pay period so you can work backwards to the other areas. If your rent comes out once a month then you could use that number to figure out your yearly budget and also your pay period budget.  
(Click Here to view the original sample)
How about a Daily Reminders List to give you a quick and concise overview of what important things need to be done for each member of the family that week. See where everyone will be each day quickly! Need to jot down reminders for medicines, watering the garden, appointments? This would be a great file to hang from the fridge that everyone can add to and see what is going on!
You can find List PlanIt
at http://ListPlanIt.com/
!
A one year membership comes is available as:
-Print Version – $20 allows you to print any of the files as often as you'd like
-Download Version – $30 membership allows you to download the PDF files and type into the files and print them as often as you'd like. You can also save the files to your computer.
(Professional Version also available)
*I did not receive a product for doing this review. I won the product from a giveaway and am offering my honest opinion to help sponsor the giveaway.