My daughter Sophie is a great lover of any type of bag, from kids backpacks to purses.  Anything she can store and carry her beloved dolls, books are crayons.  She used her kindergarten backpack until it literally fell to pieces.
Kids backpacks really need to be sturdy, but as we also know kids want them to look cool. A backpack is your calling card in school or the playground.  It tells all about what you are into.  It's usually graced with something from a television show, and if not flowers for girls and camouflage for boys.
But what if you could have something that reflects your child's personality, is tough enough to stand even the craziest adventures, and gives your child a way to show off their imagination?  SuperME backpacks are what you need!
SuperME backpacks are perfect for toddlers, preschoolers and younger grade school kids.  They are made with completely water-resistant material so they won't get discolored when your kiddos water bottle leaks all over the inside of the backpack (speaking from experience).  They are really light and not bulky at all.
But here is the best part!  On the top of the bag, under a zipper is a hidden cape!  That's right your kiddo can transform from humble preschooler to a superhero with a single zip!  Under the flap in the front of the bag is a hidden superhero mask, ready to complete the look of your amazing superhero.  The backpacks can also be personalized with special patches that reflect your child's interests and personality!
My Sophie loves her backpack.  She loves surprising her friends by pulling out her cape and mask and flying around.  "Super Sophie" is here to save the day!!  I love that it's easy to clean.
About SuperME Kids Backpacks
SuperME was developed by two super moms – Daphne Kaufer and Rena Stern.  The inspiration for SuperME came from their children, who loved dressing up and carrying their own bags to school, parks, day trips, or for vacation.  Daphne and Rena wanted to create functional products that are fun to play with and reflected the uniqueness of each child.  After numerous play dates and a lot of hard work, SuperME was born.
The SuperME cape backpack came about when Daphne's son asked for a superhero backpack.  Not wanting to give him the standard, commercial product that everyone else has, Daphne came up with the cape backpack – making her son his own superhero.
The SuperME messenger bag was inspired by Rena's daughter, who loved carrying her lunch to school, but would often leave the bag at home or ask Rena to hold onto it so she could run and play.  Wanting to provide her a fun, hands-free way to carry lunch and gear, the messenger bag was created.
Both moms wanted the products to celebrate each child in a fun, meaningful and sustainable way.  Inspired by the traditional Girl and Boy Scout achievement patches, Daphne and Rena came up with SuperME patches as a way to personalize the bags. Their hope is SuperME will in some small way, help encourage children to be proud of who they are and be accepting of others.  And by making it easy to update the look of the bag with new patches, they hope SuperME will do its part to help the environment by reducing the number of products that are thrown away just because kids get bored of them.
Win a SuperME Backpack!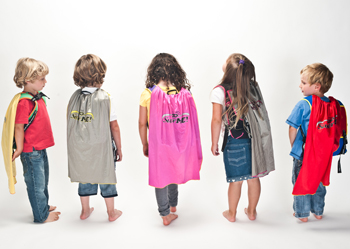 – Rules –
Enter in the Rafflecopter Widget Above. If you have problems using rafflecopter, be sure you are running the latest version of your web browser and have javascript updated. For full rules of entry, view the Rafflecopter "Terms & Conditions" and my "Contest Rules" page.
I received a SuperME cape backpack in exchange for this post. The opinions expressed above are my own. Any claims should be verified on the sponsor's site.