I received Just Pretend Kids product in exchange for this post. All opinions are my own.
In my training's that I have attended and my many years as a childcare professional, I have learned the importance of children spending time in imaginative play. It is true that they can do this anywhere and  at anytime, but when they have the opportunity to dress up it somehow transports them.  Dress up gives them the tools to be anything and do anything they might not otherwise think they are able to do or be.
I can not even tell you how many times I have learned very important information about a child's needs while listening to them play in their imaginary world.  Listening to children as they pretend, gives us as their caretakers clues and tools that we need to better meet their needs.  Often times they will be battling emotions, hurts, thoughts and struggles that we might not otherwise no anything about. It is important to take note of these things, and bring them up later to be able to help our children reach their highest potentials. We can speak words of encouragement about their struggles to help them overcome what ever they might be facing.
Just Pretend Kids offers us a great opportunity to present our children with very well made costumes and dress up clothes that can transport them into that imaginary world. I received a couple products that girls would enjoy, but they also have some great choices for boys as well.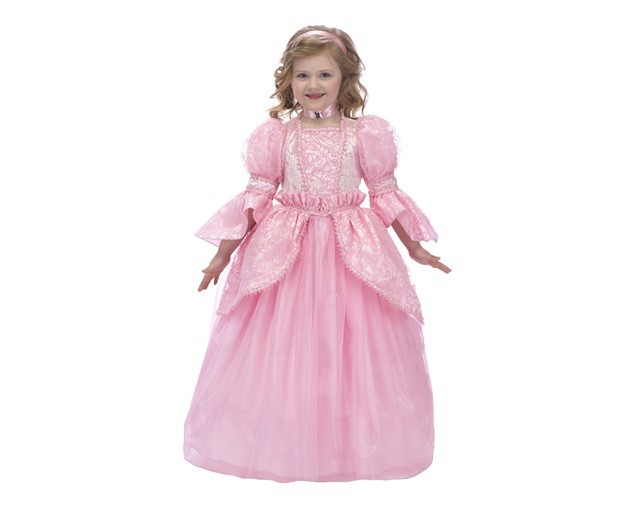 This is the pink princess from their enchanted collection. It has a loop at the bottom of the petticoat to hold the shirt out in a full circle. It also comes with the necklace. I have children that love to dress up. When they put on a costume there are times when they want to wear it all day long. It is important to me that the outfit can take this kind of wear and tear.
I just wanted to show you that all the seams are finished and as a seamstress, it appears to be a very well made garment.  These items do need to be hand washed and hug to air dry to keep them looking good.
This is the second costume that we received to try.  It is the Strawberry tutu collection.  They offer a whole world of tutu collections.
This is a part of their fruit collection.  There is nothing like having a magic wand that I can wave and make or change anything I like.
I hope you will take the time to go and see all that Just Pretend Kids has to offer you.
Your child can have the chance to be anything they want with costumes and dress up from Just Pretend Kids.