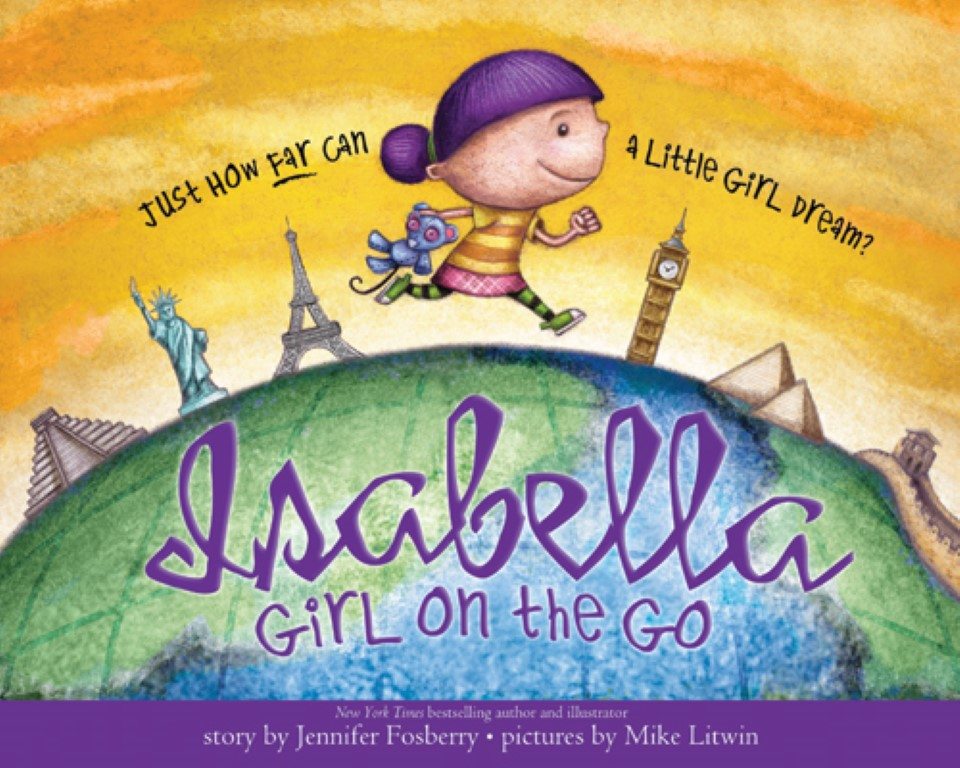 Just How Far Can a Little Girl Dream?
Jennifer Fosberry has created an inspiring follow-up to her New York Times bestselling series featuring everyone's favorite purple-haired little girl. Previously, Isabella discovered her favorite heroes in My Name Is Not Isabella. Now she travels around the world experiencing its greatest wonders without ever leaving her own backyard.
Isabella, as precocious as ever, spends the day playing with her dad as she discovers that the far corners of the world are closer than you may think. She pretends everyday things (like the sandbox) are extraordinary places (like the desert and pyramids of Egypt).
Travel around the world to places like:
Pyramids of Giza
Eiffel Tower
Great Wall of China
Chichén Itza
Big Ben
Statue of Liberty
Isabella ends the day in her own home-sweet-home, the most wonderful place to be. A back-of-the-book "Places That Changed the World" section features descriptions of all the places Isabella visits.
These books are so adorable!  I am a sucker for kid's books, especially picture books and was SO excited when I heard about these!  I have read each of them to my kiddos several times and they enjoy them just as much as the first!  I love how the characters and places in the Isabella books relate to real people and places.  We always end up having a conversation about one of the places Isabella went, with some help from the back of the book.  My son is finally starting to read after fighting me for years, and this was one of the first books he actually picked out himself and read from beginning to end.  The illustrations are bright, crisp and colorful.  The story was the perfect length and kept their attention the whole time.  I would recommend Isabella: Girl on the Go to any family who loves learning about the world around them and getting their kid's excited about it as well!
Isabella: Girl on the Go can be purchased on Amazon or at Barnes and Noble.
It retails for $16.99
Win It!
One A Mom's Take readers will win
a Isabella: Girl On the Go Book!
Ends 2/10/2012 at 11:59 PM ET. Open to US Only.
*** GIVEAWAY CLOSED ***
Disclosure: I received My Name is Not Isabella and Isabella: Girl on the Go in exchange for my honest review. I was not compensated in any other manner. The opinions expressed above are my own and any claims should be verified on the sponsor's site.