Chicken Tikka Masala Recipe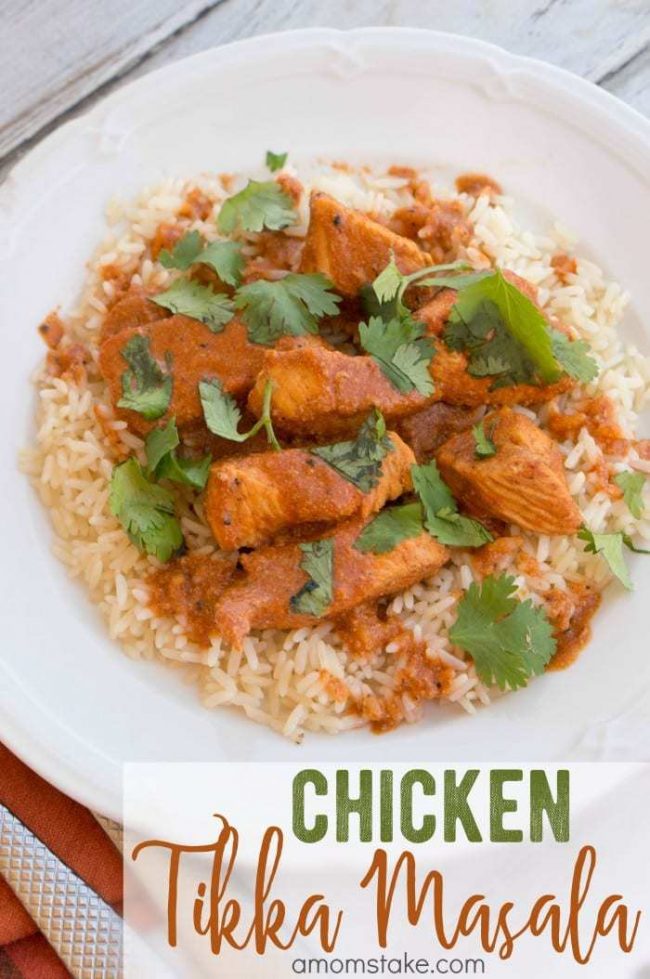 Author:
Janel at A Mom's Take
1.5 cups plain greek yogurt
2 Tbls lemon juice
3 lbs chicken, cubed
2 tsp crushed red pepper, grounded to a powder
2 tsp cumin
1 tsp cinnamon
2 tsp black pepper
1 tsp salt
1 tsp minced ginger
3 cups Uncle Ben's Rice
1-2 Thai peppers, depending on level of heat desired
3 Tbls butter
1 12-oz can tomato sauce
1¼ cup whipping cream
3-4 gloves garlic, minced
2 tsp ground coriander
1 tsp ground cumin
1 tsp paprika
2 tsp garam masala
½ tsp salt
Combining greek yogurt, lemon juice, and spices in a bowl. Mix until combined.
Add diced chicken and stir to combine.
Allow chicken to marinate for an hour in the fridge.
Spoon chicken mixture onto a baking sheet, evenly spread.
Broil the chicken at 500° F for 15-20 minutes, until golden brown.
While the chicken cooks, prepare 2-3 cups of rice.
Begin the sauce by melting butter in a large pot over a medium heat. Add spices and garlic and stir.
Add tomato sauce and heavy whipping cream.
Allow sauce to simmer on a low heat until the chicken is ready.
Add finished chicken to the sauce and simmer for 30-40 minutes.
Serve the chicken on top a bed of rice.
Recipe by
A Mom's Take
at https://www.amomstake.com/chicken-tikka-masala-recipe/