Books and Baking: A New Holiday Tradition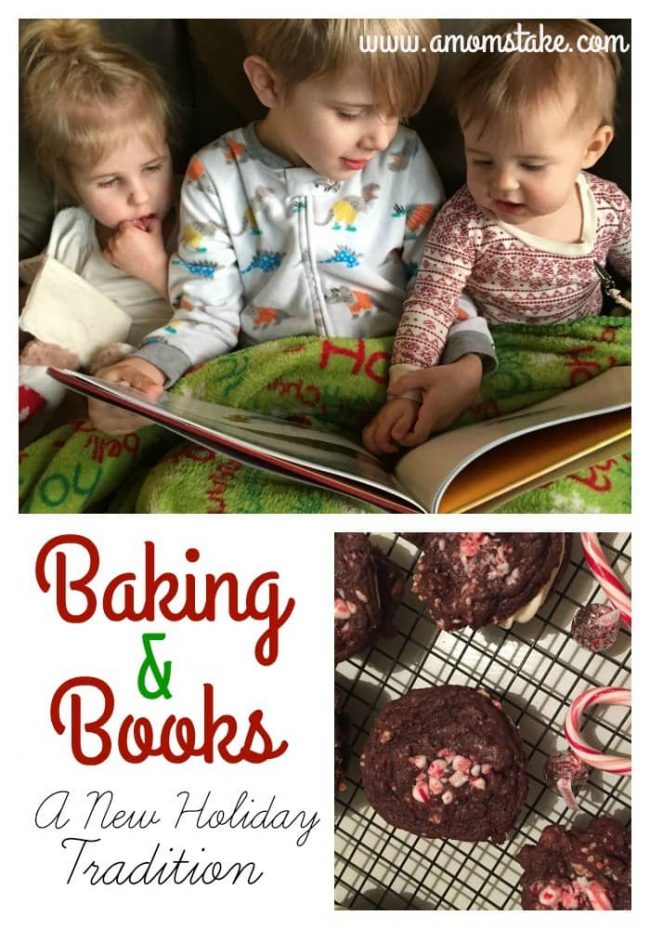 Serves:
12 Doz. Sandwiches
1 cup unsalted butter, softened
1½ cups sugar
2 eggs
1 tsp vanilla extract
1 tsp peppermint extract
2 cups all purpose flour
⅔ cup cocoa powder
¾ tsp baking soda
¼ tsp salt
1 Cup chocolate chunks
½ Cup Hershey Candy Cane Kisses (roughly Chopped)
½ cup candy cane pieces (Broken into chunks)
1 Jar 7oz. of Marshmallow Creme
1 Cup of Butter
2 Cups Powdered Sugar
1 Teaspoon Vanilla
Preheat oven to 350.
Beat butter, sugar, eggs, vanilla and peppermint until light and fluffy.
In a large bowl stir together flour, cocoa powder, baking soda, and salt.
Slowly add flour mixture to butter mixture until well combined.
Stir in chocolate chunks.
Use cookie scoop to drop cookies onto ungreased baking sheet.
Press candy cane pieces on top.
Bake 8 to 10 minutes.
Cool slightly then transfer to wire rack to cool completely.
Mix butter and marshmallow creme until smooth, add powdered sugar and vanilla.
Mix until smooth.
Spoon onto cookies and top with another cookie!
Recipe by
A Mom's Take
at https://www.amomstake.com/books-and-baking-a-new-holiday-tradition/