Freezer Meal: Stuffed Shells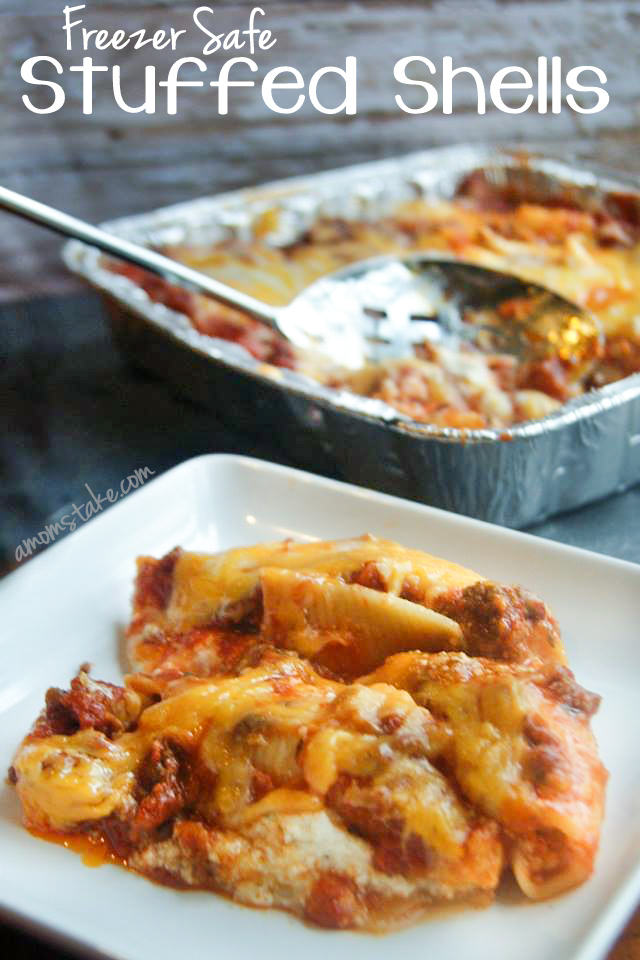 Author:
Janel at A Mom's Take
½ pound ground beef
1 jar spaghetti sauce
2 cups shredded mozzarella
¼ cup grated Parmesan cheese
½ box large shells
2 cups ricotta
1 egg
1 tsp. Rosemary
1 tsp. basil
1 tsp. Oregano
1 tsp. Garlic salt
Boil noodles for 8-10 minutes, until tender, drain, and run cold water over top of noodles to stop cooking process, and to make it easier to handle.
Brown ground beef, season to taste with salt and pepper.
Stir cooked ground beef and the entire the jar of spaghetti sauce together.
In a medium bowl, combine ricotta, egg, 1 cup shredded mozzarella, Parmesan cheese, rosemary, Oregano, Basil, and Garlic salt.
Spread about ⅓ of meat sauce on bottom of pan.
Fill each shell with ricotta mixture, place in pan.
Top with remaining meat sauce.
Sprinkle remaining cheese on top of dish.
You can either pre-bake this dish and freeze ( unless you thaw it will take almost another hour in the oven) or put it freezer uncooked and bake when your ready.
Cover with foil and place in freezer.
Don't forget to write the directions on top of foil, or lid for when your ready to cook.
Place in oven preheated to 350 and bake for 50-55 minutes, until top is golden and bubbly.
Recipe by
A Mom's Take
at https://www.amomstake.com/freezer-meal-stuffed-shells/