I had contacted Boogie Wipes to see if I could try out their product and before it arrived I actually saw it at my local Target store and took a look at them before it arrived! The Boogie Wipes are similar to diaper wipes but are made specifically with "boogies" in mind! They have saline in them to help clear up the cause of the running nose in the first place whether that be from a cold or allergies. They also do not contain alcohol and are hypoallergenic! 
    I wasn't sure at first what to expect thinking these would be just like a wet wipe. They are SUPER soft and felt really moisturizing rather than a hard tissue. I even specifically buy tissues with the lotion because those ones are so much softer on your nose but these are SO much better! These don't make the nose red or irritated though like the tissues begin to do after a few uses. I also didn't realize this until I began to read the packaging that they actually help to CLEAR UP the running nose, not just clean it up! I also loved that the wipes didn't get soggy with the mucous in them and start to soak through like tissues sometimes do. My hands felt clean after a sometimes yucky job of helping a toddler blow their nose!
    I tried the wipes out on my own nose and they were very soothing and soft. They were easy to use and made clean up a breeze! These are great for sweet little noses and especially when they would have the dried on boogers that are hard to get off with a tissue and a wiggly, complaining toddler! I received the Fresh Scent and thought the scent was was nice and gentle. Luckily we haven't had to deal with REAL runny noses over the last couple of weeks to get a consistent trial out of the wipes, but we did use them on their occasional runny noses that children seem to get for no reason! 🙂
You can find Boogie Wipes
at http://www.boogiewipes.com/
!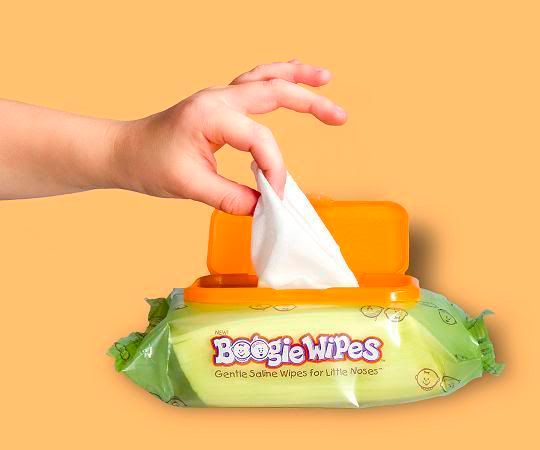 *I received package of Boogie Wipes and several samples for free in order to try the product and form an opinion for this review. I was not compensated in any other manner.